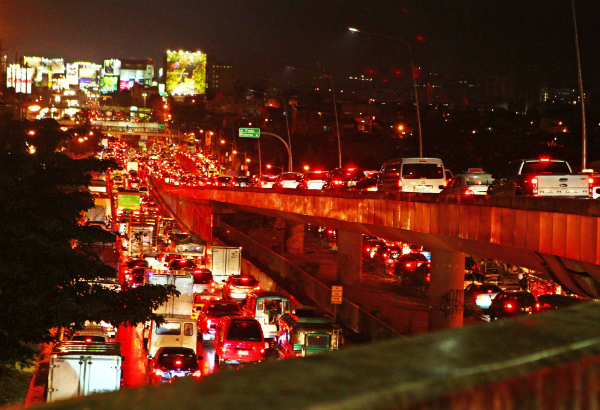 DOTr wanted a blank check that would make it a super department exempted from all the rules of government on procurement and staffing even if not remotely related to dealing with EDSA traffic. They said completion of everything on their list is uncertain without emergency power.
DEMAND AND SUPPLY
-
Boo Chanco
(The Philippine Star) - September 16, 2019 - 12:00am
For crying out loud… all Sen. Grace Poe wanted to get from DOTr so she can sponsor the bill granting emergency power to President Duterte to fix Metro Manila traffic was a simple plan of action. She and the other senators wanted to know how the emergency power would be used.
But DOTr didn't have such a plan. Instead they sent a draft bill to the Senate that effectively covers all the activities of DOTr from land, air and sea transport nationwide. The conversation was only supposed to be about Metro Manila traffic.
In effect, DOTr wanted a blank check that would make it a super department exempted from all the rules of government on procurement and staffing even if not remotely related to dealing with EDSA traffic. They said completion of everything on their list is uncertain without emergency power.
There is a revealing exchange during the last Senate hearing between Sen. Ralph Recto and Engr. Rene Santiago, a Filipino transport expert being consulted by other Asian governments and multilateral lending agencies.
As it turns out, there is a JICA developed Dream Plan which Santiago helped design. But even that is long term in nature. We need a plan we can use today on the ground in EDSA. Here is a portion of that exchange.
Recto: Has the government adopted that Dream Plan?
Santiago: The NEDA in 2015 adopted the Dream Plan as the masterplan.
Recto: Are we following that masterplan?
Santiago: The construction of a subway, the Mega Manila subway, the North-South commuter railway are part of that plan. The BRT is not…
Recto: May mali ba sa plano na kailangang baguhin?
Santiago: Adjustments are acceptable, but if it changes the whole behavior of the network, it changes the integrity of the plan…
Recto: That is the danger of emergency powers kung walang plano, tama?
Santiago: Yes, senator. But I think if you want to issue emergency powers, it has to be a sniper tool rather than a (shotgun).
Recto: Correct. I understand where you're coming from… It all begins with a plan… are our institutions capable of implementing that comprehensive plan or do we have a structural problem?
Santiago: I must admit we have institutional deficiencies in many of our agencies. Because the expertise sort of disappear or evaporate after a few years. The government has no capacity or capability to retain this experience. I noticed that deterioration and I pity Sec. Tugade for coming in an organization that is depleted of technical experts or people. (There had been seven turnovers of Usecs at DOTr in the last three years.)
Recto: So what you are saying is that we do not have the technical experts in DOTr?
Santiago: I think it started deteriorating after year 2000.
Based on the documents submitted by DOTr to Sen. Poe, they wanted emergency powers for, among others, procurement of drivers license cards, plate making machine, construction of a training room, installation of welcome signage at Subic airport.
They also wanted emergency power for a number of projects that were eventually accomplished without it like PITX, transfer of DOTr to Clark, P to P bus services including airport bus, NAIA projects including construction of rapid exit taxiways.
Other uses of emergency power in DOTr's list: demolition of Philippine Village Hotel, construction of third runway at NAIA, NAIA employee compensation plan, compromise accounts receivable from airlines, construction, rehab and procurement of aviation instruments of airports in Roxas, Dipolog, Ozamis, Tuguegarao, Catarman, Cauayan, Pagadian, Masbate, Calbayog, Dumaguete and Naga. Also, for expedited procurement for CAAP, creation of a National Airport Corp., firetrucks for Clark airport and believe it or not, Mindanao Railroad, etc.
Looking at the list, it is no wonder the senators didn't think DOTr was serious. DOTr entitled their proposed bill, Traffic and Congestion Act of 2016. The scope should be limited to land traffic management primarily in MetroManila. Yet, it goes well beyond the intention.
Sec 9 of proposed bill on single authority for traffic management includes CAAP and CAB. The draft bill had no clear strategy or game plan for immediate execution in EDSA.
I remember our initial discussion clearly identified things that can yield immediate results – like opening of roads (most of which are public, in the first place) and a protocol for opening private roads. ECC as a requirement will also be lifted as it has delayed the Sta. Monica Bridge from BGC to Pasig Kapitolyo, the flyover on C3/Lacson, the flyover on Katipunan/CP Garcia, among other projects.
We were also looking at a provision to skirt the "Lina Law" on relocation. The provision on procurement is automatic application of alternative mode, a three-month process, rather than 12.
It became crystal clear to the senators that DOTr didn't know what to do about Metro Manila traffic congestion. Absolute powers would fail out of sheer incompetence.
Good example of incompetence: Additional trains for MRT-3 could've been realized by now (third year) – whether Dalian LRVs or another supplier, even without emergency power. It takes about two years for a manufacturer to fill up the order, and six to 12 months to follow the procurement process.
What do we have now? Use of Dalian train still ambiguous. The Sumitomo maintenance deal is only to restore the system ex ante over three years. That means running 22 trains per hour by 2021, which was the level in 2009. In short, no capacity increase after 12 years!
The PUV Modernization program was launched in 2016. A good program that is failing, because of poor execution. DOTr preferred implementation method is King Canute style: issue an order and expect the tide to recede. However, in public, a very active PR group provides glossy recitations of good intentions made to look as accomplishments.
That's why we are where we are today. Dreaming of a plan.
Boo Chanco's e-mail address is bchanco@gmail.com. Follow him on Twitter @boochanco