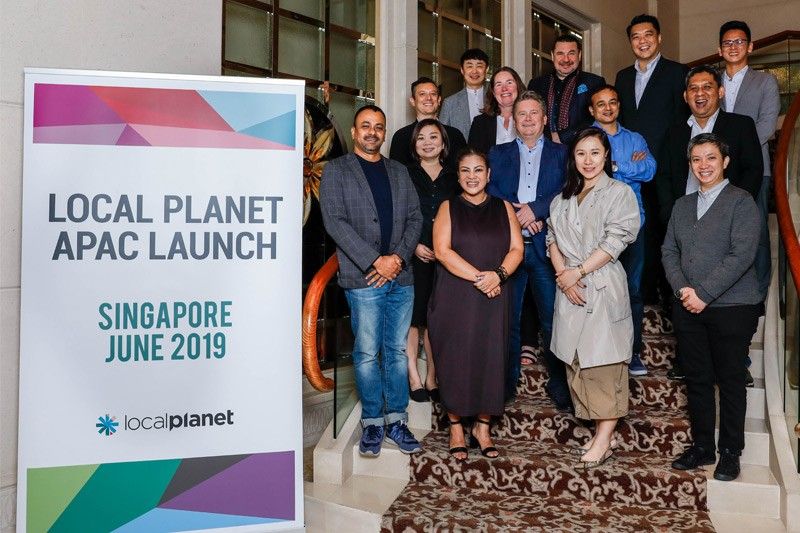 With the aim of helping clients seize growth opportunities globally, Local Planet combines the best-in-class, best-in-market, and most progressive independent agencies in the world.
Photo Release
Local Planet launches network hub in Asia Pacific
(Philstar.com) - August 22, 2019 - 5:00pm
SINGAPORE — Local Planet, the world's largest privately-held agency network, has launched a hub in Asia Pacific with nine leading independent agencies.
These are Nunn Media in Australia, BlueFocus International in China, Percept in India, Media Muscle in Indonesia, Ad-Comm Group in Japan, Entropia in Malaysia, The Media Shop in Singapore, Nasmedia in South Korea, and The Huddle Room in the Philippines, all of which are the best in class, fastest-growing, and most respected independent agencies in their markets.
"For decades and decades, traditional global networks have merchandised a deeply oversimplified view of Asia and its people—a view that is homogeneous, uniform and frequently Western. As 3 billion Asians are an integral part of the global economy, Local Planet is designed to flip the whole picture and take a local up approach. We are a network of local giants who've built credibility exactly with this local up view of what clients deserve," said Martyn Rattle, global chief operating officer for Local Planet.
With the launch of its APAC nexus, Local Planet aims to drive the union of nine leading independent agencies, servicing 21 markets across APAC in strategy, media planning and buying, performance marketing, brand consultancy, e-commerce, content creation and production, mobile marketing, social media and data analytics.
Here's what partner agencies have to say:
"Local Planet brings a seamless, local model to a complex and digitally advanced region, simplifying yet respecting its cultural and technological diversity to the benefit of both regional and global clients," said Andreas Dannenberg, founder and chief operating officer of Ad-Comm Group, Japan.
"Local Planet represents a unique alternative in an increasingly standardized category—local expertise paired with proven global experience, a fresh perspective underpinned by entrepreneurship and dynamism," said Holly Zheng, chief operating officer and president of BlueFocus International.
"Joining the Local Planet network allows us to get the best of both worlds, by providing clients with deep local knowledge coupled with the strength of a global network. As part of the network, we share knowledge, insights, and tools with other leading independent agencies to help drive client growth," added Matt Nunn, founder of Nunn Media Australia.
"The Local Planet model will fuel media innovations and bring about a solid foundation to accomplish remarkable things. Being part of the world's leading independent network lets us propel our clients' need for growth to greater heights," said Jessica Toh, chief operating officer of The Media Shop Singapore.
"I am delighted that Local Planet has been able to bring together such high quality, talented and successful owner-managed agencies to form a powerful and ambitious new network across the Asia Pacific, in order to help service clients who want to expand across the region and, in fact, the world," Rattle said.
"I am convinced that the entrepreneurial spirit and drive of our individual agencies will now be replicated at scale in order to help many clients unlock and maximize local opportunities in order to achieve regional success and growth," he added.
With the purpose of helping clients seize growth opportunities globally, Local Planet was established in 2016, uniquely combining the best-in-class, best-in-market, and most progressive independent agencies in the world. It is the world's only owner-managed international agency network, now operating with 117 offices in 67 markets worldwide.
Local Planet now services 46 international clients across its markets and regions and has won over 230 awards in the last year alone. In 2018, independent agencies won their largest share ever of international pitches, $2.7 billion (20%) of the $13.4 billion which moved agencies.