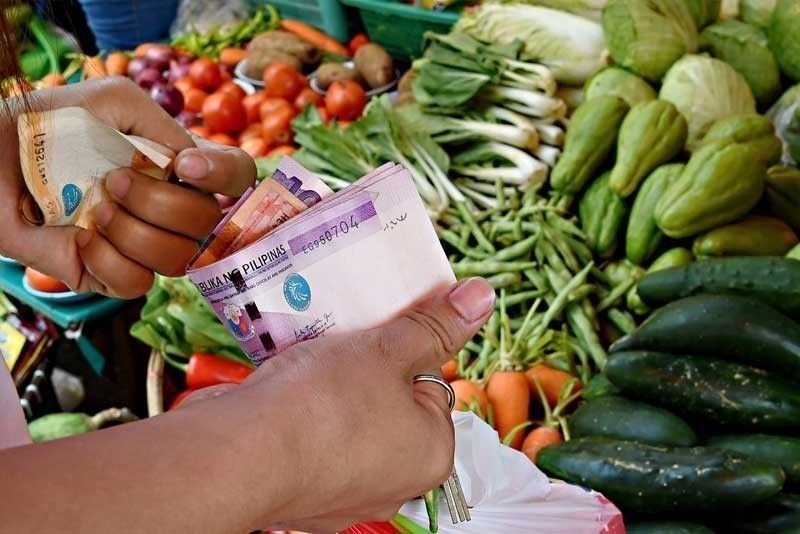 For 2021, private economists see inflation averaging 3.4 percent.
File
Inflation seen falling within 2 to 4% target
MANILA, Philippines — Private economists expect inflation this year to fall within the two to four percent target set by the Bangko Sentral ng Pilipinas (BSP), according to a survey conducted by the central bank.
BSP Governor Benjamin Diokno said inflation expectations of private sector economists are now lower and aligned to the inflation target.
"Analysts expect inflation in 2019 and 2020 to settle within the target range, with downward pressures seen to dominate the risks to the inflation outlook," Diokno said.
Dennis Lapid, director of the BSP's Department of Economic Research (DER), said the survey showed a lower inflation forecast of 3.3 percent for 2019 and 3.4 ipercent in 2020.
For 2021, private economists see inflation averaging 3.4 percent.
"Possible downside risks to inflation include the implementation of the Rice Tariffication Law, which is expected to improve domestic rice supply and stabilize prices, and lower global crude oil prices," Lapid said.
Lapid, on the other hand, said key upside risks to inflation are seen to emanate from adverse weather conditions such as the El Niño, volatile global oil prices and foreign exchange market, and possible interest rate cut.
He also cited the higher domestic demand due to the upcoming mid-term elections and school enrolment as well as higher electricity rates.
Gotianun-led East West Banking Corp. has the lowest inflation forecast of 2.2 percent for this year followed by state-run Land Bank of the Philippines with 2.6 percent, Yuchengco-led Rizal Commercial Banking Corp. (RCBC) with a range of 2.6 to three percent, Standard Chartered Bank with 2.7 percent, Bank of Commerce with 2.89 percent, UBS with 2.9 percent, and Ayala-led Bank of the Philippine Islands (BPI) with 2.9 percent.
On the other hand, Korea Exchange Bank has the highest inflation forecast of 5.2 percent followed by Al-Amanah Islamic Bank with four percent, BDO Unibank with 3.6 percent.
For 2020, Metropolitan Bank & Trust Co. (Metrobank) has the lowest inflation forecast with 2.5 percent followed by EastWest with 2.6 percent and Maybank ATR-KimEng with 2.8 percent, while Korea Exchange Bank has the highest with 5.2 percent.
Based on the probability distribution of the forecasts provided by 21 out of 26 respondents, Lapid said there is an 81 percent probability that average inflation for 2019 would settle between the two and four percent range, while there is a 16.1 percent chance that inflation would exceed four percent.
For 2020, he said the respondents assigned a 79.8 percent probability that inflation will fall within the target range and 17 percent chance that inflation would breach the upper end of the target.
Diokno said the BSP would remain data-driven at all times in policy decision-making and actions would be determined by inflation outlook as the central bank remains focused on safeguarding and promoting price stability conducive to a balanced and sustainable economic growth.