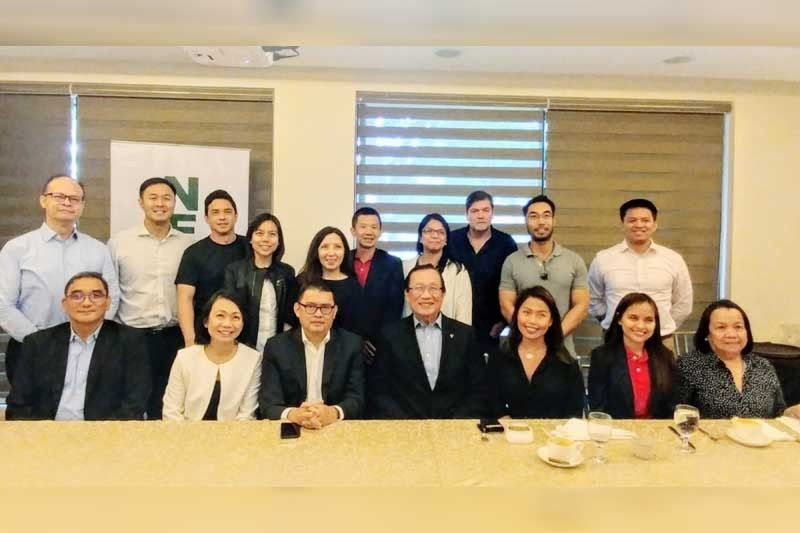 PA Joey Concepcion together with business chamber and digital platforms heads during the meeting yesterday to discuss market digitalization.
Digitalization is pro-poor!
GO NEGOSYO PILIPINAS ANGAT LAHAT!
-
Joey Concepcion
(The Philippine Star) - January 10, 2019 - 12:00am
Yesterday we had an insightful discussion together with the heads and leaders of business organizations to hear their programs and concerns. We were joined by Angkas, Grab, Lazada, Shopee, Honestbee, Lalamove, GawinPH, and Quad X, who all shared the details of their enterprise to the business chambers in order for them to better understand and support digitalization.
Bangko Sentral ng Pilipinas, led by Governor Nestor Espenilla, focuses its efforts on digital transformation on money. As for us, this is the start of a more concrete collaboration focused on the market that would eventually lead to a bigger group for the benefit of micro and small entrepreneurs. This is following the meetings with different digital platforms and finance technology institutions last year in our pursuit to create more programs for the market and money. The role that we would like to play is to try and make the older generation and the government understand that digital transformation will really force inclusivity.
One concern raised was the lack of a framework and a governing body that would regularize and monitor various platforms and their partner-members. While there are existing laws that would support micro and small entrepreneurs, such as Barangay Micro Business Enterprises (BMBE) Law or the Ease of Doing Business Law, there must be a further collaboration between government and these digital players for accreditation that would implement security and regulation in their processes.
There must be, as well, a middle ground where both parties can agree on which areas to regulate and monitor. For example, if one seller in Lazada is reaching higher sales, he can now apply for business registrations and permits that would enable him to further improve his sales using the platform. Eventually, every entrepreneur using these platforms will be properly documented. Moving forward, this is where the stronger partnership between the government and digital players can take place.
Imagine a typical low-income family who has a basic skill set and education, but wants to earn a more sustainable income. For one, the father is a licensed driver, while the mother sells small items. The older kids are licensed motorcycle riders and have enough time to do some part-time work. While it is still a hard competition to apply for a job, this family can earn more through the use of digital service platforms like Grab, Angkas, Lazada, and Shopee, among others.
Just like how our old family driver joined Grab instead because of higher income rates. Or how Angeline Tham of Angkas shared that some are even managers who joined them as riders. On the other hand, some housewives have joined Lazada or Shopee and earn by selling products or becoming personal shoppers for Honestbee. These are just some of the many stories of Filipinos who left their jobs to become self-employed entrepreneurs.
This is why digitalization can create greater impact in the lives of many Filipinos today. The digital transformation that we are experiencing helps achieve the goal of the government on inclusive growth and development. Through these digital service platforms, they are actually turning Filipinos into self-earning entrepreneurs by providing marketplaces for services and products.
For example, GawinPH is a marketplace for service providers like plumbers, technicians, electricians and others. Their concept is to keep skilled people in our country and offer their services to fellow Filipinos. Honestbee eases the burden of grocery shopping through the help of their "shopper bees" who will deliver the goods right to the doorstep of every customer.
Lazada and Shopee technically provide a platform for micro and small entrepreneurs to sell their products to a wider digital market without the need for a physical store. Angkas and Grab provide transportation and delivery services without having to own any of the cars or motors.
These are just some of the many digital platforms today which democratizes the market, offering better access to both consumers and micro and small entrepreneurs.
Together with the rest of the private sector, we would like to influence and educate more Filipinos about digitalization. This is the 4th Industrial Revolution and this is where we are all headed towards. Some countries have embraced this well – just like in Hong Kong where they have cashless payment schemes in most stores and even transportation. We should empower more people to go digital and enjoy the convenience, efficiency, and effectivity of these platforms.
With this, I can say that digitalization is pro-poor where people from low-income communities can benefit and achieve prosperity!
* * *
I would like to congratulate one of Go Negosyo's partner advocates - Feliciano Torres, president and CEO of Yazaki-Torres Manufacturing Corp. – for being conferred with the Order of the Rising Sun, Gold Rays with Neck Ribbon by Emperor Akihito of Japan. The Order of the Rising Sun is Japan's first honor system and is the highest distinction bestowed by the Japanese government. He was recognized for his contribution in creating a stronger economic relation between Japan and Philippines.
* * *
After more than a decade of recognizing Filipina entrepreneurs' capacity to be agents of change and progress in the country, Go Negosyo will once again celebrate women and their entrepreneurial prowess through the annual Go Negosyo Inspiring Filipina Entrepreneurs Awards 2019. For interested participants, you may download the application form at www.tinyurl.com/GONEGFILIPINA2019 or email us at gonegosyoinspiringfilipina2019@gmail.com