Roque on runaway inflation: Take it easy, it's still normal
(Philstar.com) - September 7, 2018 - 4:50pm
MANILA, Philippines — Malacañang on Friday downplayed concerns about spiralling domestic inflation, which has been hitting the poor the hardest and slowing down the country's growth engine.
Philippine inflation rose to a fresh nine-year high of 6.4 percent in August, increasing the odds of another interest rate hike to discourage bank lending and cool down consumer demand that could have pushed up inflation.
The August print was also the highest among Southeast Asian economies. In the first eight months, inflation averaged 4.8 percent, well above the central bank's 2-4 percent target range for the year.
At a press conference in Jordan, presidential spokesperson Harry Roque said the government is pulling out all the stops to rein in runaway inflation.
He said compared to previous figures, the August inflation print was "high but not ridiculously high."
Roque then slammed the opposition for supposedly taking advantage of the rising commodity prices to criticize the Duterte administration.
READ: Leni Robredo to Duterte admin: 'Fight inflation, not opposition'
"Take it easy, it's still normal. Inflation is higher than usual but it's nothing to worry about," he said.
"Inflation is under control. It's becoming a political issue because election is just around the corner and the public should not forget that. There are people who will take advantage of the issue on inflation," he added.
The Bangko Sentral ng Pilipinas has lifted its benchmark rate by a cumulative 100 basis points from May to August to fight inflation. But economists have said that much of the inflation uptick is beyond the control of the central bank since it concerns supply constraints.
"An unfortunate confluence of cost-push factors continue to drive consumer price inflation in August beyond the acceptable target range," BSP Governor Nestor Espenilla Jr. said following the release of higher-than-expected August inflation data.
According to Roque, the recent rise in employment rate amid surging inflation shows that the economy is healthy.
But based on latest government data, while employment rate was at a 10-year high in July and jobless rate eased, more Filipinos sought additional work and income after underemployment worsened to 17.2 percent from 16.5 percent.
READ: Unemployment rate down in July, but more Pinoys want additional work, income
Reforms
Policymakers have been worried over rising prices this year after it slowed economic growth to a three-year low of 6 percent in the second quarter.
Some analysts expect economic growth to continue to decelerate over the second semester of the year as tighter monetary policy and higher inflation weigh on consumer spending, which accounts for about seven-tenths of the Philippine economy.
Inflation has been hitting the poor the most as prices of rice, a Filipino main staple and pivotal political commodity in the Philippines, continue to climb due to the reported shortage of cheap rice.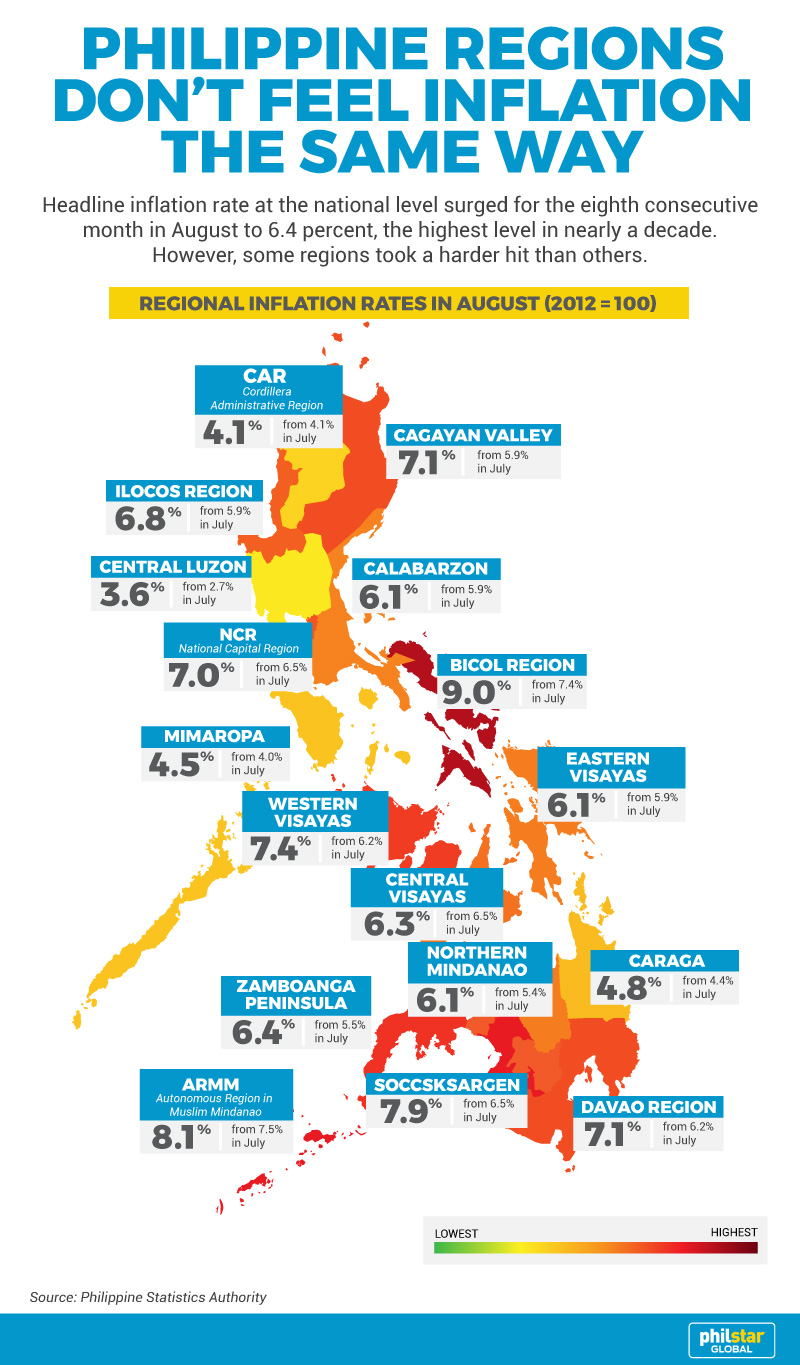 According to government data, average retail prices of regular-milled rice rose 12.76 percent, while that of well-milled rice went up 9.89 percent. Both were the fastest annual increases for the year.
Aside from dwindling rice supply, global oil prices have risen this year, translating to higher local pump prices. As of Aug. 28, energy data showed gasoline prices rose P6.90 per liter, while that of diesel increased P7.15 per liter.
Higher fuel prices pushed power distributor Manila Electric Co. (Meralco), the largest in the country, to jack up power rates by 0.0265 per kilowatt hour in August.
The country's economic managers on Wednesday presented a list of planned reforms that they said could immediately cool down runaway inflation if implemented this month.