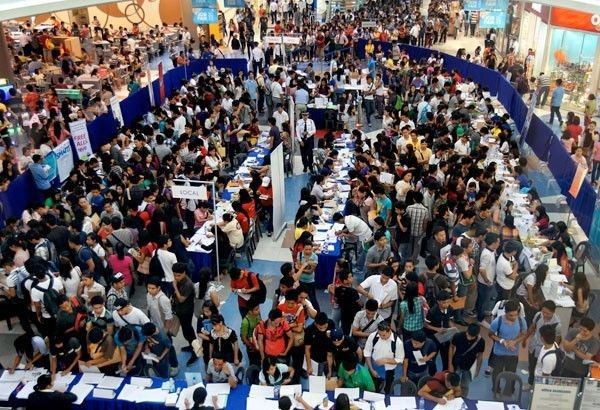 Unemployment rate went down to 5.4 percent in July from 5.6 percent a year ago.
File
Unemployment rate down in July, but more Pinoys want additional work, income
(Philstar.com) - September 5, 2018 - 10:25am
MANILA, Philippines (Update 2, 2:04 p.m.) — The proportion of jobless Filipinos declined in July, the government's statistics agency reported Wednesday, although more people sought additional work and income during the month.
Unemployment rate went down to 5.4 percent in July from 5.6 percent a year ago.
Among the regions, Ilocos Region (6.5 percent), Central Luzon (6.3 percent), CALABARZON (6.3 percent), Bicol Region (6.3 percent) and National Capital Region (6.1 percent) posted the highest unemployment rates, data showed.
"The share of inactive youth remains a concern. The government must equip students with industry-relevant competencies as well as increase their opportunities for work experience. A stronger academe-industry linkage should orient students better on career prospects," Socioeconomic Planning Secretary Ernesto Pernia said in a statement.
However, the quality of available jobs eroded as the proportion of those underemployed — or employed persons who are still looking for more work or longer working hours — worsened to 17.2 percent in July from 16.5 percent.
"In order to meet our employment targets, government should provide an environment that is conducive to creating more and better jobs. It should prioritize policies and programs that address the issues of unutilized youth, unemployed youth, underemployment, and vulnerable workers," Pernia said.
Meanwhile, employment rate in July inched up to 94.6 percent from 94.4 percent in the same month last year.
Inflation has been soaring above the government's 2-4 percent target range this year, prompting Filipinos to look for better jobs and labor groups to seek wage hikes.
The country's labor force participation rate in July 2018 was estimated at 60.1 percent from 60.6 percent a year ago.
"An average of 1.17 million additional employment has been created so far in the first three rounds of the Labor Force Survey. And this puts the government on track in meeting its target of 900,000-1.1 million employment generation for 2018," Pernia said. "With remarkable improvements, the government should not let up on its efforts to continually improve the employment situation in the country." — Ian Nicolas Cigaral