Infra spending up 25% to P43.3 billion in January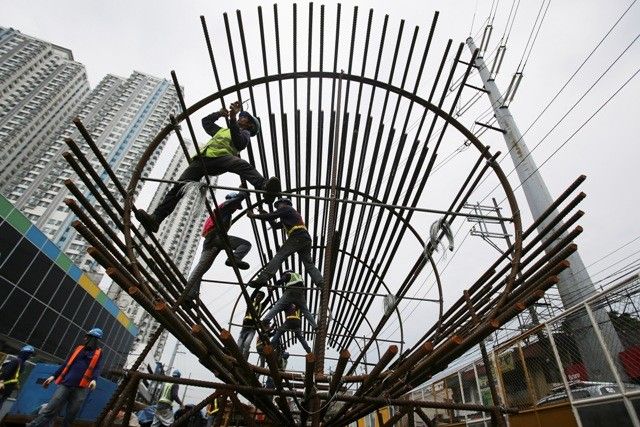 MANILA, Philippines — Government spending on infrastructure rose 25 percent to P43.3 billion in January from P34.5 billion in the same period last year due to the completion of school and road projects, as well as the military modernization program, the Department of Budget and Management (DBM) reported yesterday.
Budget Secretary Benjamin Diokno attributed the expansion to the completion of projects by the Department of Public Works and Highways (DPWH), such as school buildings, flood control projects, and lahar control works.
The increase was also driven by the purchase of communication equipment as part of the Department of National Defense- Armed Forces of the Philippines Modernization Program, according to Diokno.
However, Diokno was not happy with the 25-percent increase in infrastructure spending in January, as it was still slower than expected.
He said the budget of the DPWH rose more than 40 percent, and so should infrastructure expenditures.
"I think the DPWH's budget is higher by around 47 percent. So 25 percent, I'm not happy with the 25 percent growth," Diokno said.
Despite this, Diokno expressed confidence the government would be able to catch up in the following months as project implementation follows an S-curve pattern, wherein it starts slow and picks up in the middle.
"We still have eight months to go. And this is not going to be finished within one year, so as long as we are addressing the right-of-way, the construction, the contractors, I think it's easy to catch up," he said.
According to Diokno, the government is expected to complete the construction of the new Panglao International Airport and Mactan Cebu International terminal by June.
He said the expansion of the Clark International Airport is in full blast, while the Metro Manila Subway System is seen to commence in November or December of this year.
With increased spending, particularly on infrastructure, Diokno expressed confidence the Philippines would be able to hit the lower end of its seven to eight percent GDP growth target in the first quarter of 2017.
Infrastructure projects form part of the government's capital outlays, which climbed 20.7 percent to P52 billion in January, as compared to the P43.1 billion in the same period in 2017.
Other forms of capital outlays include equities – or investments of the national government in the authorized capital stock of state corporations – and capital transfer to local government units.