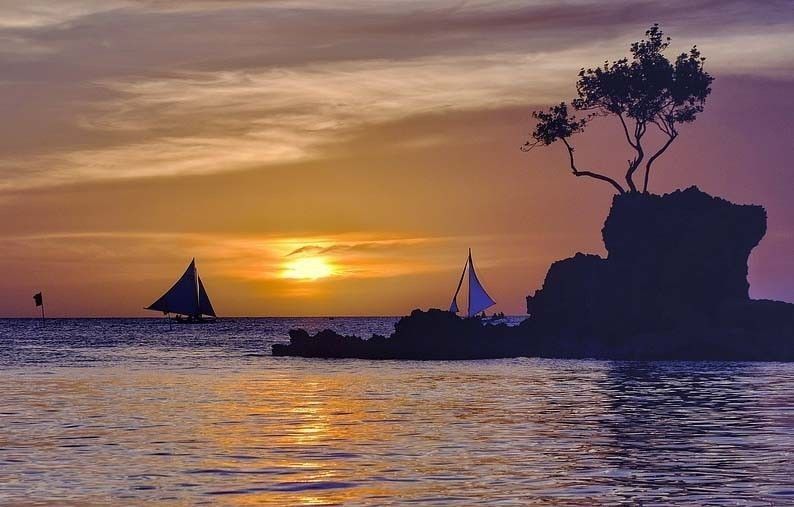 Boracay—which is known for its powdery white sand, rich water sports and vibrant nightlife—recently grabbed the headlines after President Rodrigo Duterte called the Philippines' top tourist draw a "cesspool."
File
San Miguel's Ang backs Boracay rehab
MANILA, Philippines — The operator of Caticlan Airport on Boracay Island backs the government's efforts to rehabilitate the world famous tourist destination, saying the redevelopment is a step "in the right direction."
Boracay—which is known for its powdery white sand, rich water sports and vibrant nightlife—recently grabbed the headlines after President Rodrigo Duterte called the Philippines' top tourist draw a "cesspool."
Malacañang late Wednesday announced that Duterte approved the recommendation of three government agencies to close Boracay for a maximum period of six months, effective April 26, ostensibly to pave the way for a major cleanup.
In a statement released on Thursday, Ramon Ang, San Miguel Corp. president and COO, said he supports the government's initiative to rehabilitate Boracay and eventually transform it into a sustainable tourist destination.
"Addressing long-standing problems with sewage and solid wastes brought about by rapid growth of tourism, commerce and unfettered development now, is critical to ensuring Boracay's long-term sustainability," Ang said.
"The island needs to be rehabilitated and we have to support the government. Yes, we will endure some short-term pain but it's a step in the right direction and in end we are hopeful it would bring about long-term gain for all," he added.
SMC currently operates the Boracay Airport in Caticlan, one of the holiday hotspot's gateways, where domestic airlines like Cebu Pacific, Philippine Airlines and AirAsia Philippines will cut flights following Duterte's decision.
Caticlan Airport is undergoing a makeover to turn it into a world-class airport that will cater not just to domestic but also to international carriers.
Boracay has attracted millions of visitors and brings hefty revenues. According to stakeholders, closing the island resort will wipe out 36,000 jobs and P56 billion in tourism receipts.
The Department of Interior and Local Government has said the process of rehabilitating Boracay can be cut by at least two months "if everybody comes into the picture."
Building a bridge
Duterte had blamed what he called "overzealous" tourism and development for Boracay's environmental woes, with many businesses polluting the island's surrounding waters by discharging waste directly into the sea.
In the same statement, Ang said a "novel approach" to solve the island's problems is to build a Caticlan-to-Boracay bridge that would bring about growth to other areas in Aklan.
The accessibility of Boracay, through the proposed bridge, would enable developers to build hotels and resorts outside the island, he said.
"Tourists and visitors will have the option to go to Boracay during the day and in the afternoon or at night for accommodations outside the island," SMC's president said.
"The development of neighboring areas would boost Aklan's economy as a whole, while keeping island of Boracay sustainable for generations to come," he added.