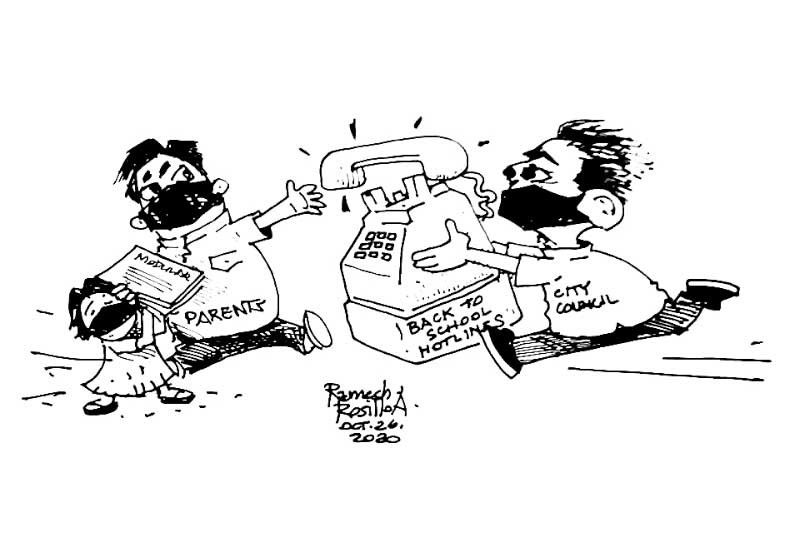 EDITORIAL - Go beyond school opening issues
(The Freeman) - October 26, 2020 - 12:00am
The Cebu City Council wants the Local School Board officials to tell them about the issues and concerns that might have cropped up during the opening of classes last October 5.
According to a report in this newspaper, the aim of this move by the council is to ensure that the students are getting quality education despite the challenges being posed by the COVID-19 pandemic.
They also want to talk to teachers and parents about education-related matters.
"It is of utmost importance to create a platform to discuss and thresh out issues and concerns related to opening of classes and a continuing discussion and assessment of education-related matters so as to prompt appropriate actions and interventions," Councilor Alvin Dizon was quoted as saying in the report.
While they are on that track, and because they plan to talk to educators as well as teachers and parents, can they also go as far as to determine if these online classes and modules are effective teaching methods?
The issues facing these teaching methods are too many to ignore. People are pointing to issues like erroneous modules and the possibility of parents doing the answering instead of their children. Then there are issues like poor internet connectivity and the general disconnect between a teacher and a student who have to interact online.
If there is anyone who knows whether or not the system is working it should be the educators, the teachers, and the parents themselves.
Let's admit the fact that our educational system isn't up to standards. Remember that our students placed in the bottom of a list of 79 countries when it came to reading and mathematics two years ago. And that was when actual classes were being held in actual classrooms by actual teachers.
We know there may not be much the city council can change from its end when it comes to possible revisions in the learning system, as only the regional or national education authorities can make drastic changes to this. However, any information they gather can become useful when it comes to determining whether or not what we are doing right now is actually working.