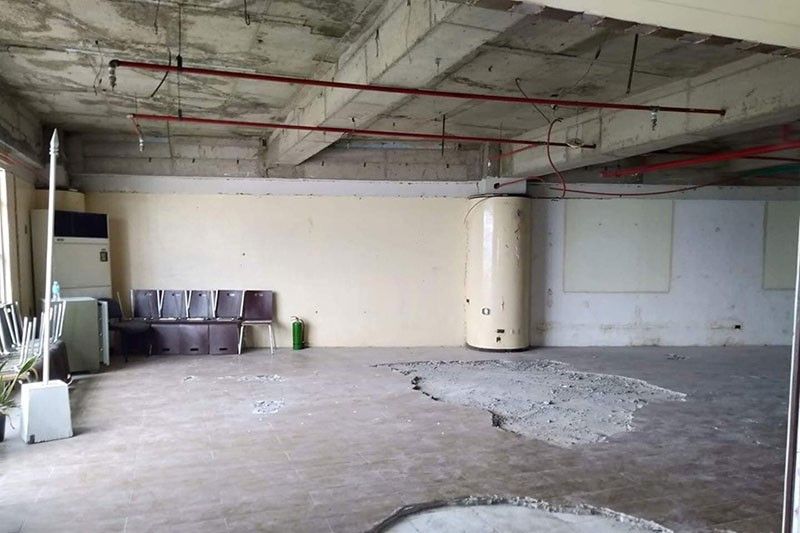 Outgoing Cebu City Mayor Tomas Osmeña left his office at City Hall free of cabinets, shelves, claddings, light plumbing fixtures, partitions and doors, ceiling, and floor works, which he spent personal money for, according to the Department of General Services. Odessa O. Leyson and Jean Demecillo
Mayor takes back 'personal property': Tomas strips office
CEBU, Philippines — The office of outgoing Mayor Tomas Osmeña on the eighth floor of the executive building was cleared to the gut barely three days before incoming mayor Edgardo Labella is set to assume office.
The Department of General Services certified that the furnishings were Osmeña's personal property but incoming city attorney Rey Gealon said there was malicious intent in the way Dakay Construction cleared the office.
"When we came in, we observed that everything was taken out even those immovable fixtures like tiles, there was a malicious intent on the part of those responsible (individuals) considering that even the plumbing and the wiring were destroyed or cut off respectively, just so to make the office an inhabitable," Gealon said.
Twenty-seven personnel of Dakay Construction cleared the office starting at 8:15 p.m. on Thursday until past 1 a.m. the following day. Osmeña's executive assistant, Raymund Paul Climaco Taboada, reportedly assisted the Dakay workers.
DGS said Osmeña owned the shelves, light and plumbing fixtures, partitions and door, ceiling, and floor works.
"This is to certify that the subject properties (attached pictures of brown colored cabinets/shelves/claddings, light plumbing fixtures, partitions and doors, ceiling and floor works) located at the 8th Floor Cebu Mayor's Office are not Cebu City Government Owned Properties but are personal properties of former Cebu City Mayor Tomas Osmeña," reads the certification signed by DGS officer-in-charge Ronaldo Malacora.
But Gealon said Osmeña should have just restored the room's original state. He said they are contemplating on filing charges against those who destroyed the room.
"Yes, conspiring, confederating and cooperating with around 20 laborers whom the guards have said were from Dakay Construction," Gealon said.
"The issue there, why everything is destroyed… granting there were works done, those destroyed were immovable property, immovable property that means it cannot be taken out without destruction of the permanent structure there," Gealon said.
Labella, meanwhile, said: "The ruin of the city mayor's office is hard to believe. It's a shocker. But as I reflect on it, perhaps it is no more than a microcosm of the way someone has left an entire city in shambles."
In a separate interview, Osmeña told The FREEMAN he used his personal money and monetary donations from friends to renovate the office, which reportedly costs P2 million.
He said he was forced to use personal funds because the City Council at that time, in 2016, junked his proposed budget for office renovation.
Some of the furniture displayed there was owned by Osmeña's parents and his wife, outgoing councilor Margarita Osmeña.
"When I became mayor again, I asked the Council for P2 million to fix the mayor's office and they rejected it…I spent for it so I am taking it out. I am restoring it to what it was before," he said.
He said he is willing to answer charges that may be filed against him.
"Precisely. Let them file a case but on the latest renovations, we have the program of works. They should also provide the evidence that the city spent for it. Sure, let them file a case… okay ra. Why not?" he said.
Taboada, for his part, said he was just following Osmeña's order to supervise the removal of the latter's properties.
He is also willing to answer any possible complaint in the proper forum.
"Kami nga staff ni mayor Tommy, we were asked to stay in our office, tan-awon namo kung ang mga butang sa gobyerno dili mahilabtan, unya diha ra. Ang mapagawas nila ang giingon nga mga gitawag nga butang ni Osmeña nga nakadaog siya pag 2016 (We in Osmeña's staff were asked to stay and supervise the work to make sure that government property won't be touched and only Osmeña's properties were removed)," Taboada said.
Gealon said Labella would still hold office on the eighth floor and will just put up tarpaulins for security and protection from debris. — /JMO (FREEMAN)