Hydro swimmers rule Tagbilaran tilt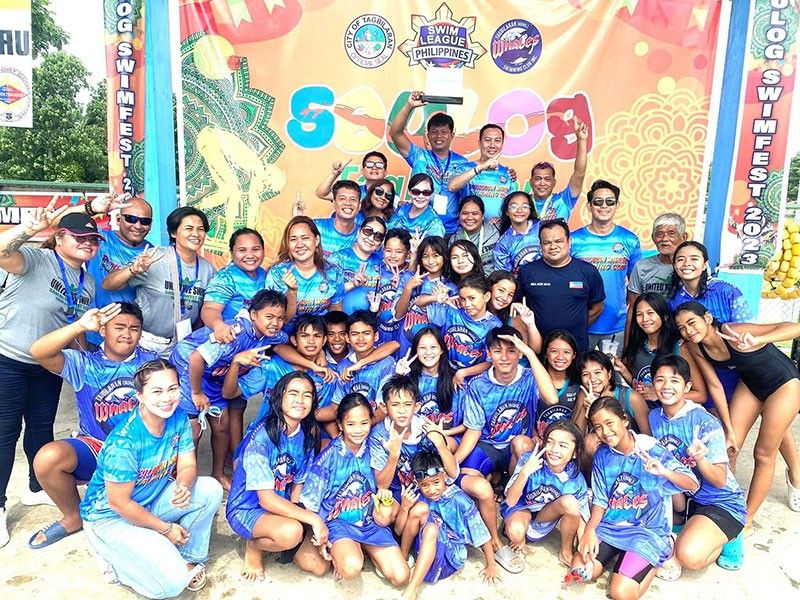 MANILA, Philippines – The Hydro Immersion Swimming Team claimed the overall championship in the recent Tagbilaran 2023 Swim Fest at the Victoriano B. Tirol Aquatic Center in Tagbilaran City, Bohol.
Hydro took the lead in classes A, B and C to complete its dominance in the tournament conducted by Tagbilaran Whales Swimming Inc. in collaboration with the Swim League Philippines (SLP) and the Provincial Government of Tagbilaran, and supported by the Solid Swimming Coaches Association of the Philippines (SSCAP) and Central Northern Luzon CAR Swimming Coaches Association.
The Cebu Blue Marlins Swim team placed second in the team standings followed by Tagbilaran Swim Club, while the Bohol Splashers, Bohol Island Sea Hunters, Bohol Black Marlins and Loon Dolphins Swim Team were part of the Top 7.
"Our hearts are full of joy and gratitude for the support of young swimmers in our tournament. More than 300 athletes participated, and the presence of swimming legend Master Ebyong was a real inspiration to the youth," said SLP president Fred Ancheta, referring to 73-year-old international veteran and Bohol swimming gem Eusebio "Master Ebyong" R Dequiña Jr.
Ancheta was accompanied by former Tagbilaran City Mayor Baba Yap and Tagbilaran Whales Swimming Club President Engr. Jerome John Gabin in presenting the award to the former Asian Games campaigner and veteran swimming coach.
Most Valuable Swimmer awards with the highest FINA Points were awarded to Vittorio Gallito, Tristan Cortez, Victoriano Martin Tirol III, Em-ji Mata, Victoria Rosales, Kate Dequina, Rhyn Porras and Kylie Yumul.
The Most Outstanding Swimmers (MOS) in Category A Boys were Kurt Zeus Jimenez (6-undr), Anton Tuto Trabajo (7-8), Luke Capone (9-10), Tristan Cortez (13-14), Eziquel Maut (15-16 ), Quintin Sabalande and Victoriano Martin Tirol IV (17-over), while MOS in Girls Class A were Kylie Danielle Yumul (7-8), Julia Celestine Origines (9-10), Raziel Pearl Villas (11-12), Bobyn Simone Wachter (13-14), Hera Eisha Flores (15- 16) and Anthony Kate Dequina (17-over).
In the Boys Class B, MOS awardees were Levi Matteo Trabajo (6-under), Cristiano Amaga (7-8), Rylee Tejano (9-10), Jobim Pialago (11-12), Bryle Villahermosa, Ace Carlisle Castillon and Prince Ragua ( 13-14), Zyann Quijada (15-16) and Jobert Indaya (17-under), while MOS in Girls Class B are Nakiesha George Reyes (7-8), Aleisha Olaivar (9-10), Olea Kate Valencia (11 -12), Jomeril Dwin Flores (13-14), Julian Alessandra Bongo and Daniece Tumanda (15-16) and Reesee Kurstein Navarro (17-over).
Dominating Boys Class C were Levi Matteo Trabajo (6-under), Khyle Villahermosa (7-8), Clintbryle Pena (9-10), Dave Kendrick Andersen (11-12), Jehan Luke Oquiana (13-14), Jhon Devon Ortega (15-16), and Adrian Jake Azucenas (17-over), while leading Girls Class C were Nakiesha Reyes (7-8), Kristelle Perater (9-10), Blake Arianne Bagares (11-12) , Savanna Arcayan (13-14), Juliana Alivia and Venice Herbias (15-16) and Aimee Joy Cobrador (17-over).
Leading swimmers in Boys Class D were Bryan Gadiel Bag-Ao (6-under), Brayden Gregg Bag-Ao (7-8), Ethan Maglinao (9-10), Justine Alexis Tan (11-12), Saijan Inson ( 13-14), Dirk Traya (15-16) and Jan Nino Rosales (17-over), while MOS in Girls Class D are Lilibeth Tan (6-under), Meiko Cefe (7-8), Brynn Simone Wachter (9 -10), Phoebe Diolan (11-12), Ruth Campomanes (13-14), Jhan Jaidah Alivia (15-16) and Erika Salera (17-under).