Thousands compete as 7-Eleven Trail Series returns after three-year hiatus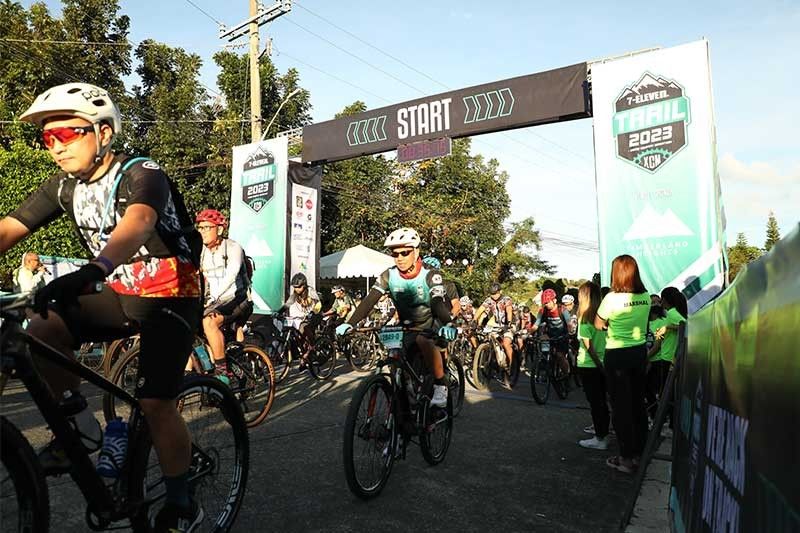 MANILA, Philippines — Thousands of bikers welcomed the return of the 7-Eleven Trail Series with the anticipated cross-country race in the country returned last weekend at Timberland Heights in San Mateo Rizal.
Over 2,400 cyclists ushered in the race's return since the pandemic began and rode on the challenging 40km single-loop course that comprised a mix of road climb,s fire roads, and single tracks.
The race catered to both pro and non-pro participants as selected portions of the trail were divided into two: A-Line and B-Line.
The A-Line is reserved for skilled riders, as it features a fast lane with obstacles like jumps, drops, sharp turns, and gaps. The B-Line, meanwhile, is less tehcnical and slower.
The B-Line still features twists and curves for the thrill.
"We anticipated a bigger and more intense competitive cycling experience in the Philippines in 2023," said Philippine Seven Corporation President and CEO Jose Victor Paterno.
"The 7-Eleven Trail is eager to conduct bolder races in the future so that our local cyclists may also challenge themselves and that we can identify upcoming racers who may soon be our nation's pride."
The race dangled gift bags from event sponsors and raffled two mountain bikes from GT Bicycle Philippines, specialized helmets, and an action camera from DJI.
The top three overall race winners were Emmanuel Dave Montemayor (1:46:30), Jericho Rivera (1:47:20), and James Carl Del Cruz (1:47:21).
The 7-Eleven Trail 2023 was made possible with the help of Coca Cola, Black Mamba, Selecta, Pepsi, Summit, Heineken, Gardenia, Mondel?z International, and Redbull. Special thanks to: Trust Condoms, PassionMAX, Monster Energy, Pocari Sweat, Suncoast and Delfi.