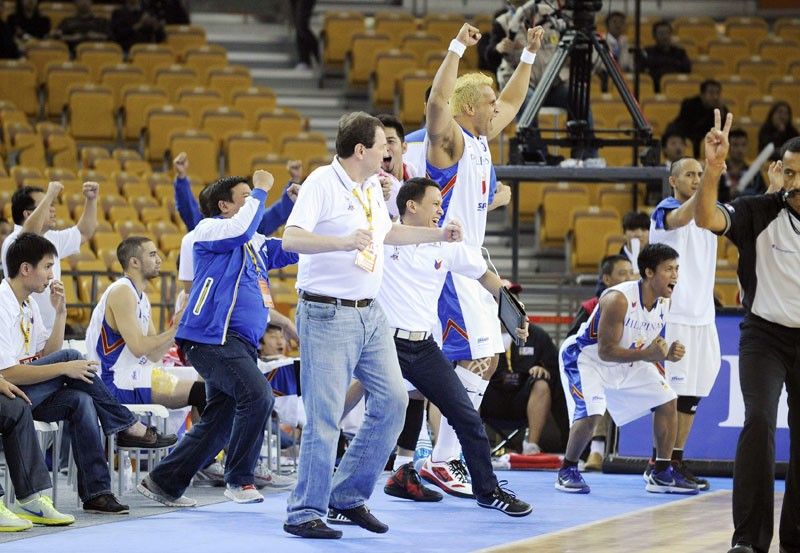 File photo shows members of the Philippine team celebrating one of their stirring triumphs in their fourth-place finish in the 2011 FIBA Asia Championship in Wuhan. Inset, PBA commissioner Willie Marcial recalls the Wuhan experience serving as a springboard to Team Phl's qualification to the 2014 FIBA World Cup.
AFP
MANILA, Philippines — Wuhan has been on the consciousness of Filipino sports fans long before it became a byword for where the deadly COVID-19 pandemic all started.
If not for the health menace that spread all over the world, savaging the global economy and putting the sports world to a complete halt, Wuhan would be best remembered as to where Gilas Pilipinas made the initial spark in its FIBA World Cup return in 2014.
"(The Hubei provincial capital) is attractive with its wide roads, vast transportation system, good food and fair weather," said PBA commissioner Willie Marcial on his impression of the city he had an opportunity to visit in 2011 as part of the PBA delegation to cheer on the Gilas team in its FIBA Asia Championship campaign.
"We had been to another Chinese city (Tianjin) two years back. Wuhan was refreshing as it's more modern with better atmosphere. Tianjin was smoggy with its industrial surrounding," Marcial also said.
And the PBA chief was quick to add Wuhan evoked good memories as it's where the seeds of the 2013 Gilas success were planted, leading to Team Phl's qualification to the 2014 World Cup in Spain.
With the core group of the original Gilas pool reinforced in the last minute by then TNT aces Asi Taulava, Kelly Williams, Ranidel de Ocampo and Jimmy Alapag, Team Phl barely missed a podium finish with a 68-70 heartbreaker against South Korea in the battle for third. But it's already a breakthrough as the Nationals had never had a better finish since the fourth-place showing of the Joe Lipa-mentored Team Phl in the 1987 Asian championship.
"In a casual talk shortly after, the PBA governors then wondered what if it were an all-pro team playing with (then naturalized player Marcus) Douthit," said Marcial, then serving as special assistant to commissioner Chito Salud.
"Pagbalik sa Pilipinas, nabuo na nga ang programa where most of the PBA teams had their representatives to an all-pro teams backing Douthit. And it was a success story," said Marcial.
From the fourth-place Wuhan run, Gilas made a great Taipei journey, winning the 2012 Jones Cup. Then came their 2013 FIBA Asia runner-up finish to Iran to bag a ticket to the 2014 world joust.
Before the World Cup, Gilas actually revisited Wuhan and also created ripples via an 80-79 cliffhanger over the host team on three charities by Paul Lee with no time left. That handed the Nationals a third-place finish behind Iran and Chinese Taipei in the FIBA Asia Challenge Cup.
Thus, Wuhan would linger in Filipinos' mind for those basketball memories – and now because of COVID-19.