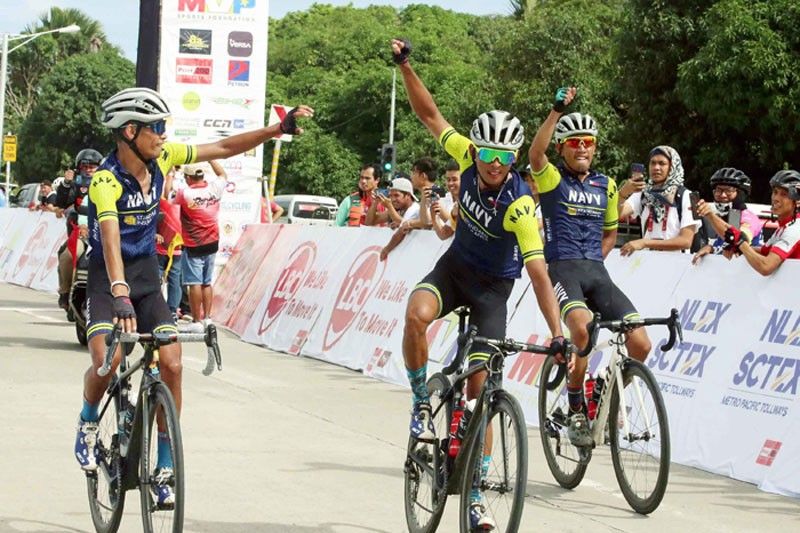 Ronald Lomotos raises his right hand in triumph.
Ernie Peñaredondo
Standard riders rule; Bordeos back on top
Joey Villar
(The Philippine Star) - February 27, 2020 - 12:00am
LUCENA, Philippines — Ronald Lomotos led a 1-2-3 finish by Standard Insurance-Navy while Mark Julius Bordeos of Bicycology-Army once again pedalled strong to regain the overall lead in Stage Four of the LBC Ronda Pilipinas 10th anniversary race yesterday.
Lomotos, 25, took top honors in the event's longest stage – a 206km ride – towing teammates Junrey Navarra and El Joshua Carino to a first-second-third windup in four hours, 56 minutes and 28 seconds.
Their sterling efforts catapulted the Navymen back to the top with an aggregate time of 51:00:54 while relegating the 7Eleven riders to second with 51:03:43.
Bordeos, for his part, was with the 18-man chase pack that clocked 4:57:31, enough to send him back to the top after being dislodged by Jerry Aquino Jr. of Scratch It in Stage Three in Naga the day before.
The 24-year-old Army man (14:41:17) gets to wear again the LBC red jersey in today's 128.5km Lucena-Antipolo ride in this 10-stage race presented by LBC and supported by the Manny V. Pangilinan Sports Foundation.
"I knew when I lost my jersey, I still have a chance to reclaim it. Good thing it happened quicker than I expected," said the Laoac, Pangasinan native in Filipino.
But the biggest gainer in the day was Standard, which totally outfoxed 7Eleven after getting outsmarted in the past few stages.
"We failed in the first three stages and we made sure not to fail four straight times," said Carino, the Le Tour champion who first made notice after he conquered the dreaded Busay ascent seven years ago.
Standard's George Oconer improved from third to second in the general individual classification race while 7Eleven's Rustom Lim was at third with identical clocking of 14:41:23.
Aquino, the overall leader after Stage Three, skidded to No. 5 with 14:42:07 behind No. 4 Marcelo Felipe of 7Eleven with 14:41:39.
Go for Gold riders also made significant strides as Daniel Ven Carino, Jonel Carcueva and Ismael Grospe Jr. barged into the top 10 at sixth to eighth at 14:42:21, 14:42:21 and 14:42:41, respectively.
Lomotos, whose best finish was sixth overall two years ago, jumped to No. 9 (14:42:41) while 2018 titlist Ronald Oranza also of Standard finally broke into the top 10 (14:42:47). Lomotos received an extra P20,000 prize from Lucena Mayor Roderick Alcala for his Stage Four win.
After humbling Standard the past two stages, 7Eleven took a slip and was left with only two riders – Lim and Felipe – in the top 10.