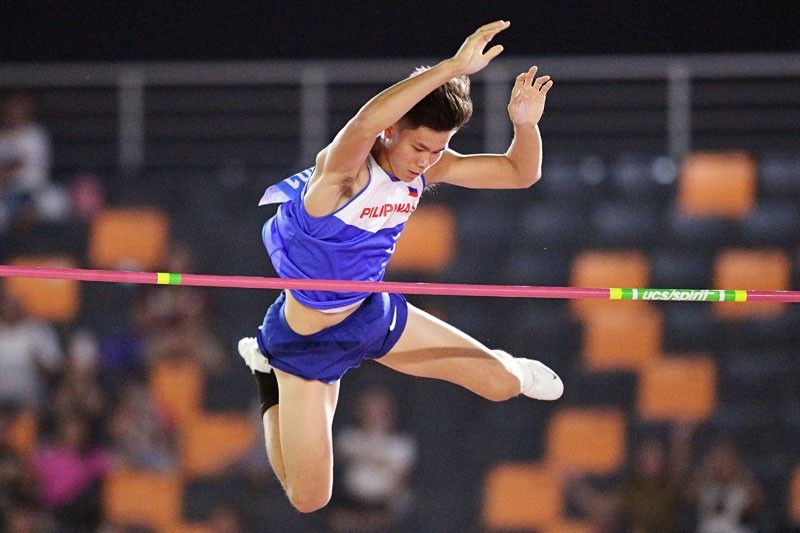 MANILA, Philippines — A day after Tondo-born E. J. Obiena set a new Southeast Asian (SEA) Games record of 5.45 meters and took the gold medal in pole vault at the Athletics Stadium in New Clark City last week, he flew back to training camp in Formia, Italy to do "foundation" work in preparing for the 2020 Tokyo Olympics.
Obiena, 24, wasn't happy with his SEA Games clearance, considering he registered a personal best of 5.81 in a Chiara, Italy, meet last September. "My coach (Vitaly Petrov of Ukraine) wanted me to do at least 5.6," said Obiena in an overseas phone interview from Formia yesterday. "I just wasn't in the zone. It didn't help that my coach wasn't with me. I tried to adjust on my own. Actually, coach Vitaly didn't want me to compete in the SEA Games. It's been a long season and the SEA Games extended it more. I did the Universiade in Naples in July and the World Championships in Doha in September. I've been based in Formia since December last year and shuttled back and forth to join competitions."
Petrov, 81, lives in Formia and attends to only two athletes, Obiena and reigning Olympic pole vault gold medalist and record holder (6.03 meters) Thiago Braz da Silva of Brazil. He previously coached former world champions Sergey Bubka of Ukraine, Yelena Isinbayeva of Russia and Giuseppe Gibilisco of Italy.
After clearing 5.81 last September, Obiena qualified for the Tokyo Games and became the second Southeast Asian to make it after Indonesian sprinter Lalu Muhammad Zohri. "I'm excited to compete in the Olympics for the first time," said Obiena. "I know I've got to put in the work and there's a lot to be done in getting ready. It's back to 'foundation' training. I'll join the World Athletics Indoor Championships in Nanjing, China in March. I'm spending the Christmas holidays alone in Formia. It's too expensive for my parents to visit."
Obiena made his first trip to Formia in 2014 on an International Association of Athletic Federations (IAAF) scholarship arranged by Bubka. "I met Sergey when he went to Manila and arranged my scholarship," he said. "I took a chance to speak with him and told him about my goals. My best at the time was 4.9. He must've liked something I told him because he offered a scholarship. I went to Formia and after three months, I cleared five meters." For three years, Obiena went to Formia to train three months at a time during college break.