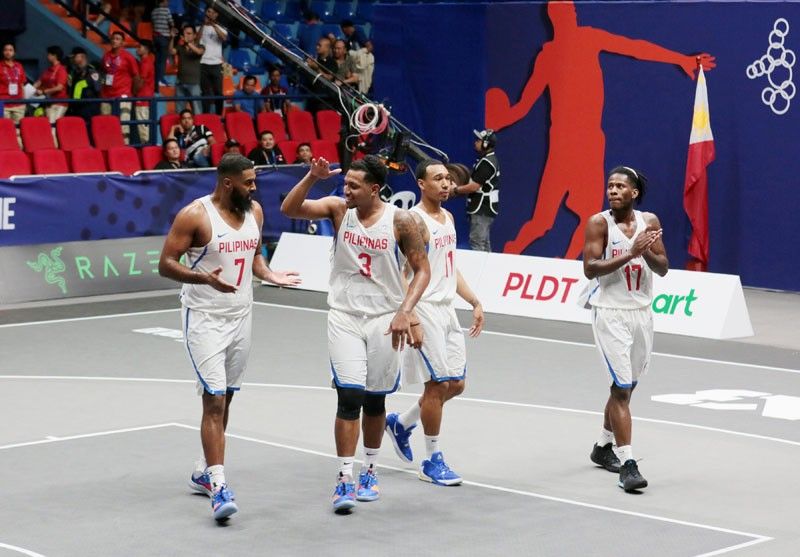 Mo Tautuaa, Jason Perkins, Chris Newsome and CJ Perez go 4-of-4 in Day One.
Michael Varcas
Gilas 3x3 guys, gals roar, soar
MANILA, Philippines — The Gilas men and women stamped their class and swept their Day One assignments in the 30th SEA Games 3x3 basketball at the Filoil Flying V Centre in San Juan.
The quartet of CJ Perez, Jason Perkins, Chris Newsome and Moala Tautuaa struggled before escaping past a gritty Indonesia side, 21-17.
Picking up from there, Gilas crushed Myanmar, 21-10; rolled past Vietnam, 21-15; and demolished Thailand, 21-10.
The Gilas women started their campaign on a high note, pulling of a 21-4 crushing of Myanmar with Claire Castro leading the way with seven points and Afril Bernardino logging in five markers.
Afterwards, the Phl cagebelles leaned on their defensive mindset to survive a very inspired Malaysian squad, 15-13.
Jack Danielle Aninam was a monster inside the shaded area but it was Janine Pontejos who delivered big in the clutch.
The 2018 World Cup two-point shootout champion tallied two critical points in the dying moments of the game to seal the win.
Back on the floor a little later, the Gilas belles warded off their Indon counterparts to make it 3-of-3 in the first of two-day 3x3 competitions.