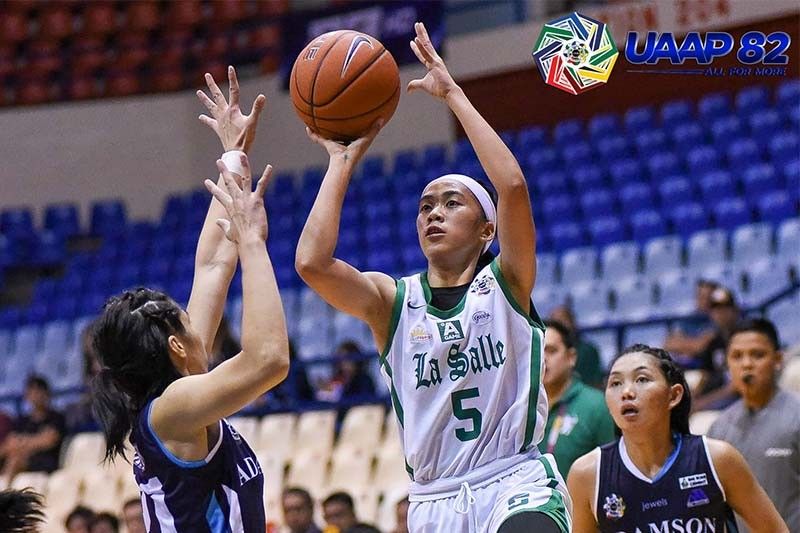 DLSU's Kent Pastrana
Contributed photo
Lady Archers shoot down Lady Falcons for 3rd win
(Philstar.com) - September 21, 2019 - 2:22pm
ANTIPOLO — La Salle rode its hot start to blast Adamson, 63-46, for its third win in the UAAP Season 82 women's basketball tournament Saturday at the Ynares Center here.
Kent Pastrana and Lee Sario conspired in the Lady Archers' early onslaught, slowly building their breathing room from the Lady Falcons and took a 33-23 halftime lead before the rest of the squad followed suit with a superb 20-9 third frame to establish a 53-32 lead.
La Salle was not threatened from that point on, enjoying leads as high as 26 points to pull its record even at 3-3.
Pastrana led the Lady Archers with 11 points, 10 rebounds and two assists, while Sario got 11 points and two boards in the win.
"We had a good start, that's why we had the rhythm throughout the game," said coach Cholo Villanueva as La Salle shot 33-percent from the field against a measly 23-percent clip for Adamson.
Nigerian center Maureen Okoli had her best game to date with nine points, 18 rebounds and six blocks, Angel Quingco added 10 points and six rebounds, and Bennette Revillosa had herself eight points and eight boards for the Lady Archers.
It was a tough defeat for Adamson, which dropped to 3-2 in the standings.
Lhyn Bilbao carried the Lady Falcons with 14 points and nine rebounds. Mar Prado was limited to just 13 points on a horrid 4-of-17 shooting while committing four errors.
"Prado's a very special player. We just had our team defense cover her. There's no one player who can play defense on her. It was a team effort to stop her in this game," said Villanueva about their defense on the Adamson ace.
The scores:
LA SALLE 63 — Pastrana 11, Sario 11, Quingco 10, Okoli 9, Revillosa 8, Torres 6, Dalisay 3, Paraiso 3, Binaohan 2, Camba 0, Castillo 0, Del Campo 0, Jajurie 0, Jimenez 0.
ADAMSON 46 — Bilbao 14, Prado 13, Araja 8, Catulong 5, Anticamara 2, Ornopia 2, Dampios 1, Flor 1, Balane 0, Dela Cruz 0, Mendoza 0.
Quarterscores: 17-12, 33-23, 53-32, 63-46.