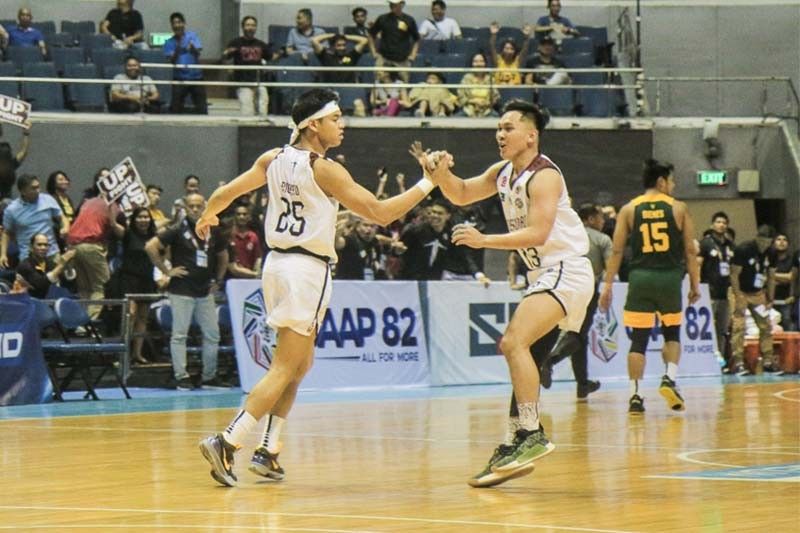 Ricci Rivero (L) and Jun Manzo (R) high five after converting an alley oop during the UP Fighting Maroons' UAAP Season 82 opener against FEU on Wednesday, September 4, 2019.
Philstar.com/Erwin Cagadas
UAAP title a natural goal for Maroons, says coach
MANILA, Philippines — The UP Fighting Maroons made a Cinderella run to the Finals in UAAP Season 81, exceeding expectations.
After falling short of the title against Ateneo last year, UP head coach Bo Perasol thinks aiming for the top prize is nothing but logical.
"That's the natural progression of what we want to happen," Perasol said after their season opener win against FEU.
"After getting into the finals, it's just natural for us to aim for the championship and going all the way," he said.
The Diliman-based squad enters the season with a loaded lineup, with prized recruits Ricci Rivero and Kobe Paras set to beef up their arsenal.
Their talented lineup, which also features the Gomez de Liano brothers, Jun Manzo and Bright Akhuetie, is surely a force to be reckoned with.
But Perasol knows the road to the top will not be a walk in the park.
"With the way we played earlier, it's not going to be easy," Perasol said of UP's tight 61-55 victory over FEU Wednesday.
"Even though we want to go through that kind of game, we know we can be better than that," he said.
The Fighting Maroons will gun for a 2-0 start when they face the UST Growling Tigers on Saturday.