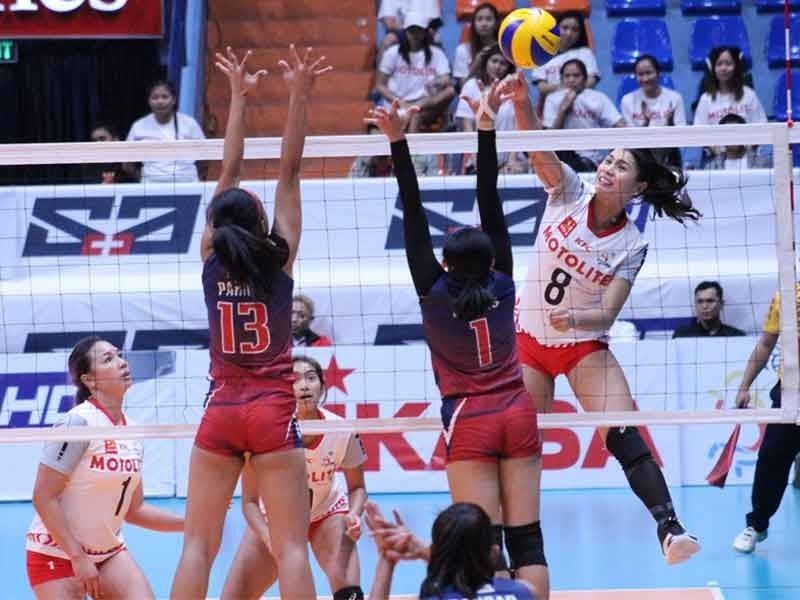 Myla Pablo goes up for a spike against Chef's Classics in their PVL Open Conference first round encounter on Saturday, August 17.
Philstar.com/Luisa Morales
PVL Open: On Motolite and Petro Gazz picking up badly needed wins
MANILA, Philippines – It was a badly needed win by Motolite over Chef's Classic after getting swept by Creamline in the conference opener.
Motolite took down Chef's Classic in three sets, 25-22, 25-19, 25-19. However, I am not convinced with the win. Chef's Classic was bowled over by Creamline yet against Motolite, they stayed close. Granted they have adjusted by their second official match as a team, but I wonder if this says something more about Motolite.
In fairness, Motolite has a power packed lineup on paper. Let's say that again… on paper.
All these players have tasted some form of success — individual or as a team. They have players with glittering resumes. It is even arguable that Myla Pablo, Tots Carlos and Iris Tolenada are some of the best if not the best at their positions. There is capable support up and down that roster with Marist Layug, Jessma Ramos, Ayel Estranero, Bern Flora, Fen Emnas and Isa Molde. They are all legit starters and significant contributors for their respective college teams.
I am not wholly convinced because Chef''s Classics doesn't have a really good team. Maybe in time they will get better but not now.
But Motolite… they have good potential. They can be a powerhouse team. At this point, it is all mental for them.
Take a look at Carlos scoring on six out of 29 attempts. She is much better than that. Furthermore, if they know Tolenada, she is a very aggressive setter — one who is willing to take huge risks. How her game meshes with the rest of her teammates' bears playing out.
Meanwhile, the Petro Gazz Angels rebounded from an opening-day loss to Banko Perlas with a three-set win over punchless BaliPure, 22-22, 25-18, 25-16. This is still a good win. They needed this to gain confidence.
For sure, they hear the criticism that they won the previous conference because of their incredible imports. That has to sting. But the onus is on the locals to show what they got.
And they do have some pieces. I think both Jonah Sabete and Cherry Nunag are up and coming players. They just need to be more consistent. Jovie Prado packs a wallop in her spikes. She can score. But if she wants to be a better player than what she is, it is about putting points on the board when it is needed.
It is easy to say that both Motolite and Petro Gazz got much needed wins to even their slate at 1-1. the wins remain important. It is best to take care of business with the lower tier squads then go for the bigger teams.