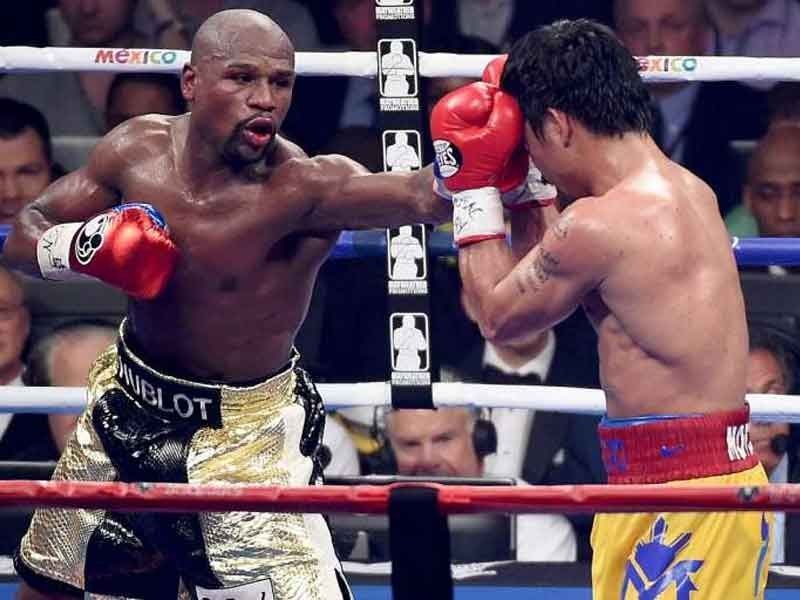 Floyd Mayweather Jr. throws a left at Manny Pacquiao during their welterweight unification championship bout on May 2, 2015 at MGM Grand Garden Arena in Las Vegas, Nevada.
AFP
Mayweather dismisses 'old video' on Pacquiao rematch plan in Saudi
MANILA, Philippines – "Basically, that's an old video."
Floyd Mayweather Jr. on Monday shut down talks that he's exploring the possibility of giving Manny Pacquiao a rematch in Saudi Arabia, despite a video that recently surfaced showing him confirming such a plan.
In the video, Mayweather is seen talking about taking a trip to the Middle Eastern country to sit down with some interested parties about hosting Mayweather-Pacquiao 2.
Undefeated, 50-0 boxing legend @FloydMayweather released a video on Sunday saying he was heading to #SaudiArabia for talks about a rematch with Filipino superstar @MannyPacquiaohttps://t.co/52EBxiUDsL pic.twitter.com/3yz9DQOFan

— Arab News (@arabnews) August 18, 2019
But speaking to fighthype.com, a US-based boxing website known for its close ties with Mayweather, the retired superstar said the video in question is an old one.
"The video that y'all been seeing is false because I've been went to Saudi Arabia. I went there a long time ago," Mayweather told fighthype.com's Ben Thompson.
"I talked to them about me fighting there, just different fights, but they wanted me to specifically say Manny Pacquiao," he added.
Mayweather said the video was recorded nearly 9 months ago to hype a visit he made to Saudi Arabia earlier this year.
"And actually, we didn't just talk about boxing; we talked about different events; us bringing different events out there," he continued.
Mayweather and Pacquiao first fought in 2015 in a financially successful but critically panned bout. The former emerged victorious, and the fight ended up as the richest in boxing history.
Pacquiao has since called for a rematch with Mayweather, who in contrast has shown little interest in it — until the video about his Saudi plan started circulating in social media early Monday.
Now, Mayweather has set the record straight — that the video is irrelevant, and that a rematch between him and Pacquiao will never happen.
"Basically, that's an old video. At the end of the day, there's no talks about me and Manny Pacquiao fighting a rematch. Even if we did fight, all they're going to do is have an excuse, just like the first time," he continued.
Mayweather then chided Pacquiao for making up an excuse for losing in their megabuck duel, particularly the Filipino icon's right shoulder, which he claimed he injured in sparring.
"The first time, you know, he can raise his hand after the fight is over, then all of a sudden, his shoulder is messed up. Excuse after excuse, you know what I'm saying. A real champion, you know, he takes his wins like a man and he takes his losses like a man," said Mayweather.
While Mayweather has stayed retired for a while, Pacquiao continues to fight and recently proved he can still perform at an elite level when he beat Keith Thurman last July.
Pacquiao is expected to return to the ring early next year, and Mayweather remains on his crosshairs. His camp earlier told Philstar.com that they were not aware of Mayweather's trip to Saudi to talk to investors to bankroll the rematch.
"Senator is not aware of anything," MP Promotions president Sean Gibbons told Philstar.com in a text message Monday.
Mayweather, for his part, said his saga with Pacquiao is over.
"But as far as me and Manny Pacquiao, as of right now, it will never be a rematch," he said.