The rise of gaming & esports in the Philippines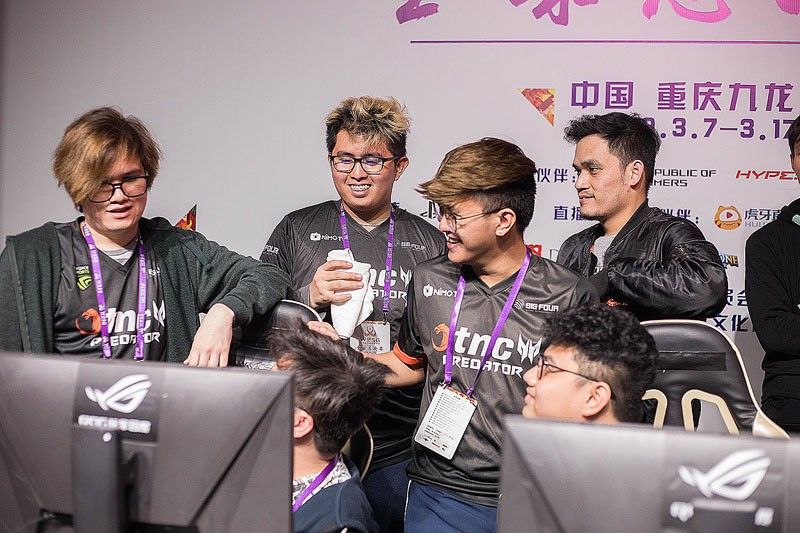 MANILA, Philippines — If everyone in the world is of the same height, how do you think the Philippines would fare in basketball?
If race and culture are defining factors, but not decisive; if upbringing and social status are critical constituents, but not conclusive — will we fare better? Will our hard work and talent put us above the world?
Will puso or passion propel us to the top?
We can never answer these questions with certainty. What we can tell though is that there is a sport where height is irrelevant, where race and social status are transcended, and where hard work, talent, and passion can possibly bring us to the top.
And we actually have been to the top of multiple international e-sports tournaments. We have Filipino players competing to be the best in the world within and outside the country. There are also local gaming organizations that are world-renowned.
Esports, or competitive video games, is one of the new crops of sports in this decade. Our local government has been issuing professional licenses for our players, and the country also included it as a medal sport in the upcoming 30th SEA Games that we are hosting.
While the popularity might have seemed out of nowhere for some, computer gaming has been steadily and consistently getting attention for a while now.
Rise of gaming and Esports
In the last decade or so, being a gamer (someone who plays video games) has transitioned from being nerdy, into cool, to now being normal. This trend is very parallel to how computer technology was perceived — from something very niche and expensive, to something everyone wants to have, to something everyone now has.
Cybercafes sprouted all over the country starting the early 2000s. They were a source of fascination not only because the internet was relatively new in the country at that time, but also because it was still limited and expensive.
These computer shops provided a new form of entertainment, a relatively cheap one at that. Something unique that presented itself at that time is that the players were not playing against AI, nor were they switching controllers — they were directly competing with and against each other.
It was a brand new experience for everyone. It was not a one-person thing. It was a social activity as much as it was for personal satisfaction. Players were going into cyber cafes, and they were going in bunches.
Home internet gradually became reliable enough, and it paved the way for the playability of new kinds of games that attracted a new set of players. If playing at home was not convenient enough, the advent of smartphones and cheap data connection made gaming even more accessible. People can now play everywhere.
With an enormous and still growing volume of players and the innate competitive nature of games, esports has grown naturally. There are prize-money tournaments, but for the most part, players enjoy the games just as they are. This organic growth gave competitive video games an edge that will be challenging for other sports to surpass — it's relatability. One would be hard-pressed to find a game where its audience plays as much, if not more than, as they watch.
This relatability is significant because the adoration of the fans to the professional players and teams turns from superficial to personal rather quickly. The viewing experience gives watchers a glimpse of not just what they want to be, but what they are trying to be.
Strength in numbers
The young demography of the Philippines consists of avid internet users. The connectivity paves the way to one of the cheaper forms of entertainment, and the youth leads the way in the usage rate. This translates to a bigger market for gaming, which then converts to a broader audience and player base.
The woes of traditional sports do not apply to esports. For one, where height and other innate physical traits matter, e-sports only takes skills and actual game performance. This means that we can better leverage the high number of players into successful competitors easier. We have seen flashes of this when our athletes display global brilliance on sports where size is mainly irrelevant (bowling, billiards, and chess) and where weight classes are applicable (boxing and weightlifting).
Aside from that, there is abundance in amateur and grass roots events. This is because the entry barrier is very low, and that solves a lot of facilities, awareness, and education problems of other sports. The internet also works as the great equalizer against our geography because players can compete against anyone instead of just playing someone within their locale.
The New Age
The young people now did not adapt to technology; they were born into it. As such, and with video games being as common as it is now, it is very vital that we understand gaming. After all, there are not a lot of avenues that are better in targeting the younger populace as this.
What sets gaming apart from other sports is that esports and its titles evolve and adapt. This process lets the video game industry acquire new players year-on-year. So despite gaming and esports in the Philippines rising in popularity, I am confident that the best is yet to come. We may have reached a lot of milestones, but we are not on our end game yet.
Good luck, and have fun.
* * *
Daren Vitug is the Commissioner of The Nationals, the country's franchise-based e-sports league. He is also the secretary general of e-sports National Association of the Philippines (ESNAP), a non-profit organization which aims to mold Filipino e-sports athletes. Daren Vitug