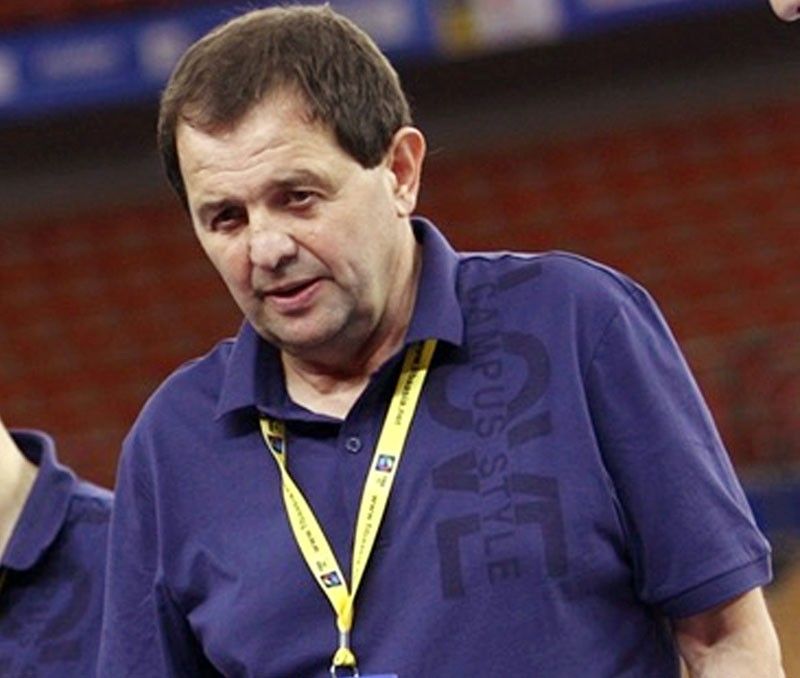 Rajko Toroman
WWW.FIBA.BASKETBALL
Toroman says Serbia out to rule World Cup
MANILA, Philippines — Former Gilas and PBA coach Rajko Toroman said the other day Serbia will parade a powerhouse lineup with 12 All-Stars, including Denver Nuggets center Nikola Jokic, in the FIBA World Cup in China this year and isn't settling for anything less than a gold medal.
The Philippines is bracketed with Serbia, Italy and Angola in the preliminary group stage in Foshan with the top two finishers advancing to the second round. Two wins will guarantee Gilas a ticket to the next elimination phase in Wuhan. So if the Philippines has no chance against Serbia, the challenge is to beat Angola and upset Italy.
"It will be the best Serbian team ever," said Toroman who comes from Belgrade. "They'll bring in Milos Teodosic, Boban Marjanovic, Bogdan Bogdanovic, Vasa Micic, Nikola Milutinov and Marko Guduric. I think the US will be severely challenged."
Marko Batricevic, a Serbian who once played for La Salle and lives in Manila, said on a bad night, Serbia will still beat the Philippines by 20. "They run a lot of back picks," he said. "They're always moving in the halfcourt. It's difficult to defend them because they're big, quick and excellent shooters and they work as a team."
Toroman said against Italy, the Philippines has a chance but it's slim. "Gilas has to play 150 percent and Italy, 60 percent," he said. "It will be a problem if Danilo Gallinari and Marco Belinelli play. But winning isn't impossible."
Toroman, 64, is here to hook up with coach Charles Tiu in preparing Mighty Sports for the Jones Cup in Taipei on July 12-21. Tiu is now in Greece with the coaching staff of the Philippine team in the FIBA U19 World Cup. Toroman will run the Mighty practices in Tiu's absence. The Mighty cast includes Joseph Yeo, Gab Banal, Aaron Black, Roosevelt Adams, Zach Graham, Hamady N'Diaye, Jason Brickman, Renaldo Balkman and McKenzie Moore. The Jones Cup isn't a FIBA tournament so there are no import restrictions.
Toroman recently signed a two-year contract to coach the Indonesian national squad competing in the coming SEA Games. In the Jones Cup, Indonesia will play with import C. J. Giles, a naturalized player with Bahrain. Toroman said his coaching staff will pilot the Indonesian team in the Jones Cup. After the tournament, he will take over the squad which is penciled to participate in competitions in Sumatra and Chinese-Taipei.
"Right now, if the Philippines is a 10 on a scale of 1 to 10, I think Indonesia is a 5," said Toroman. "My goal is to bring it up to 7. We've got a brand new national team with a lot of young players. A lot of the older veterans have retired. We're now looking for a naturalized player. Our former import Jamarr Johnson was 6-6 and a three. We need a four or five, like a Denzel Bowles. I plan to ask him if he's interested to play for us and if he is, I'll tell the Indonesian team management and they can pick it up from there. We have a 16-year-old Cameroonian-Indonesian player who's 6-7 1/2 but he won't be ready to play for the national team until two years from now."
Toroman said after the SEA Games, he will propose for the national team to play in the Indonesian league. "To balance the competition, the national team can enlist only one naturalized player while the other teams can recruit three imports, two to play at a time," he said. "I don't know if it will happen but it's a good way to keep the national team intact and playing together."
Toroman said his wife Tanya won't stay with him in Jakarta. "Tanya's busy taking care of our grandson Djordge who's 11 but already stands 5-7 and wears size 12 shoes," he said. "Djordge is a left-handed player who's deadly from three points. My daughter Sandra is working for an import company and often travels to check out suppliers. I'm excited to coach Indonesia because it's very close to the Philippines. I miss the Philippines and my Filipino friends. I'll be back in Manila for the SEA Games and since Indonesia is bracketed with the Philippines, Thailand and Korea in the FIBA Asia Cup qualifiers, I expect to be in town for the games."