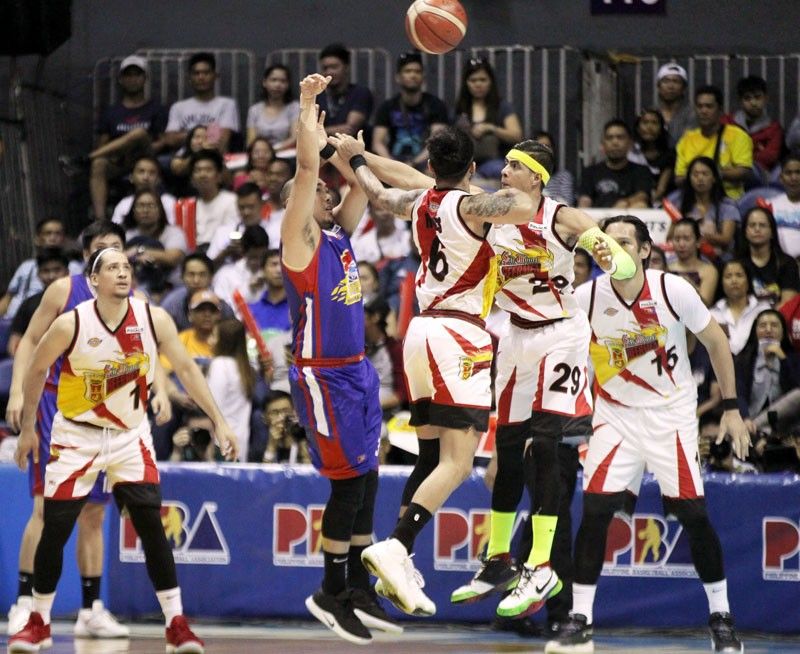 Magnolia's Paul Lee draws a foul from SMB's Arwind Santos, with another Beerman Chris Ross also trying to reach in. The Beermen won the match, 98-86, Sunday to force a winner-take-all setto.
Five-peat or back-to-back
Olmin Leyba
(The Philippine Star) - May 15, 2019 - 12:00am
Beermen, Hotshots all-out, all-in in deciding match
MANILA, Philippines — They're at the endgame now and the combatants, San Miguel Beer and Magnolia, intend to do everything in their power to win this long-drawn war. Whatever it takes.
"This is Game Seven. There's no more Game Eight, so everyone will give it his all," said SMB veteran Arwind Santos, whose squad shoots for a record-setting five-peat in the PBA Philippine Cup in tonight's winner-take-all against a Magnolia side out to make it back-to-back following its triumph in the previous Governors' Cup.
"We might bring every weapon we can find at home, even the rusty ones so we can inflict tetanus on our opponent right from the opening quarter and control the game from start to finish," added the "Spiderman."
Although they squandered their opportunity to dethrone the Beermen in Game Six after conceding a 86-98 setback, the Hotshots are in no way disheartened going into the 7 p.m. rubber match.
"We remain confident we can pull through. We won't go into Game Seven feeling down from our Game Six loss as they just tied the series. We're still positive and ready to bring our energy into the Game Seven. It's all-out, all-in," said Magnolia's Mark Barroca.
For the Beermen, a victory cements their legacy as the first and only five-peat champs in the history of the PBA's all-Filipino, leaving behind the legendary Crispa team that reigned in 1979 and 1980 and annexed the trophy when the tournament was held again in 1983 and 1984.
For the Hotshots, copping the season's crown jewel sustains the success they reaped in the import-flavored Govs' Cup last year.
"It's legacy we're talking about here and I'm sure the players know it too well," said SMB coach Leo Austria, looking to give the franchise its eighth Phl Cup diadem.
"We have a second opportunity to wrap it up so we'll grab it," said Magnolia counterpart Chito Victolero, whose team also looks to write a perfect ending to a campaign filled with amazing comebacks from deficits and tall odds.
The SMB-Magnolia Last Dance has been a see-saw affair throughout with the Hotshots ruling Games One, Three and Five, and the Beermen taking the other matches.
"I expect everyone to be at their best and I expect Magnolia to be at their best, too," said SMB's Chris Ross. "The first six games have been pretty good games; both teams are playing really well and I expect Game Seven to be no less."
The Hotshots feel pressure is not on their side in the final recknoning with the highly-touted Beermen.
"We don't think about that. All we're going to do is just play our game, be ready for Game Seven. There's no reason for us to be pressured," said Paul Lee, who's playing through a shoulder injury.
The Hotshots eye their first Phl Cup plum since 2013-14, the franchise's grand slam year, and seventh overall.