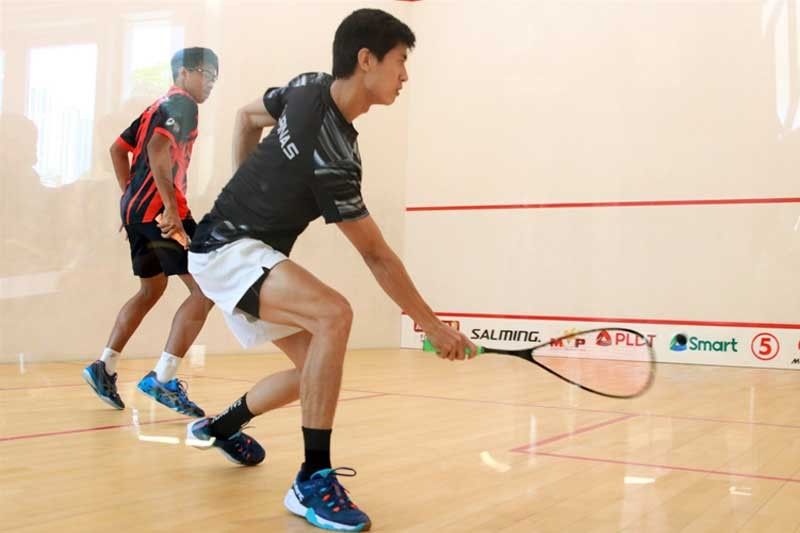 Reymark Begornia (right) hits a forehand against Malaysia's Muhammad Amir Aminul bin Azhar in the men's singles semifinals.
Reymark Begornia rallies to reach SEA squash final
(The Philippine Star) - April 11, 2019 - 12:00am
MANILA, Philippines — Reymark Begornia made a wondrous rally from two sets down and stunned fancied Malaysian Muhammad Amir Aminul bin Azhar, 7-11, 10-12, 11-6, 11-8, 11-6, for a berth in the men's singles finals of the fifth Southeast Asian Cup Squash Championships at the Kerrys Sports courts inside the Shangri-La at the Fort Hotel in Taguig City.
Begornia rallied and outlasted Azhar in 61 minutes of riveting play to gain a crack at a gold medal in the six-nation competition organized by the Philippine Squash Academy.
It was a splendid follow-up win for Begornia, who ousted top seed and compatriot Robert Begornia in the quarterfinals last Tuesday in the tourney backed by the Philippine Sports Commission, Philippine Olympic Committee and the MVP Sports Foundation.
Singaporean 13th seed Benedict Chan also made the finale in subduing Indonesia's Satria Bagus Laksana, 11-5, 2-11, 11-9, 11-3.
Yvonne Alisa Dalida absorbed a straight-set 6-11, 4-11, 5-11 setback to Malaysian No. 5 seed Noor Ainaa Amani Binti Ampandi in women's singles semis.
Nevertheless, her finish was worth a bronze for the country's first medal in the competition serving as a test event for the 30th Philippine Southeast Asian Games.
"I never gave up so I am very happy for this result because I never thought I could get this far," said Begornia after his thrilling comeback triumph.
He could have made the match shorter had he not squandered leads of 9-5 and 10-8 in the second set, allowing the Malaysian to stage his own rally.
"Begornia showed a lot of self-belief by not getting himself down after that close loss in the second set," noted national coach Manu Yam. "I merely told him to move on and play it patiently because I knew the Malaysian would eventually break down once Macmac (Begornia) applied the pressure."