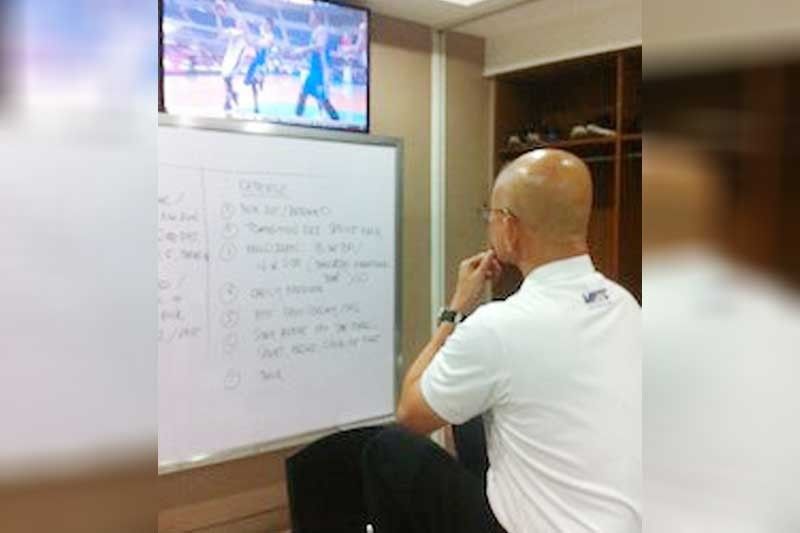 Guiao watches the game from inside the NLEX lockerroom.
Abac Cordero
Gilas coach OK with SEAG 'overkill'
Abac Cordero
(The Philippine Star) - March 16, 2019 - 12:00am
MANILA, Philippines — NLEX coach Yeng Guiao sat calmly inside the dressing room as he watched the remainder of the game against Alaska Wednesday night at the Big Dome.
Just minutes before, the fiery mentor had been thrown out of the game for incurring two technical fouls midway through the second quarter.
Guiao looked up a wall-mounted TV set and watched as his Road Warriors erected a 28-point lead in the final half en route to a 91-70 win.
It kept NLEX's playoff hopes alive in the PBA Philippine Cup.
"Blessing in disguise," he said of his ejection, not the first and certainly not the last. "Lumaki pa ang lamang (The lead ballooned)."
Guiao contested a call and picked up two technical fouls in a matter of seconds. He walked off the court with fire in his eyes.
"Sometimes you think you need to send a message to the referees," he said later on.
As the game went on, Guiao found time to talk about the 30th SEA Games which the country is hosting from Nov. 30 to Dec. 11.
The Philippines will win the gold medal in men's basketball. The only question is which team the host country is fielding.
"The SBP is going for the overkill. That's okay with me," said Guiao.
"But it's not clear yet whether the SBP wants a team made up of PBA players or the Gilas team," said the Gilas head coach.
Either way, Guiao said, will be fine.
"Overkill," he said.