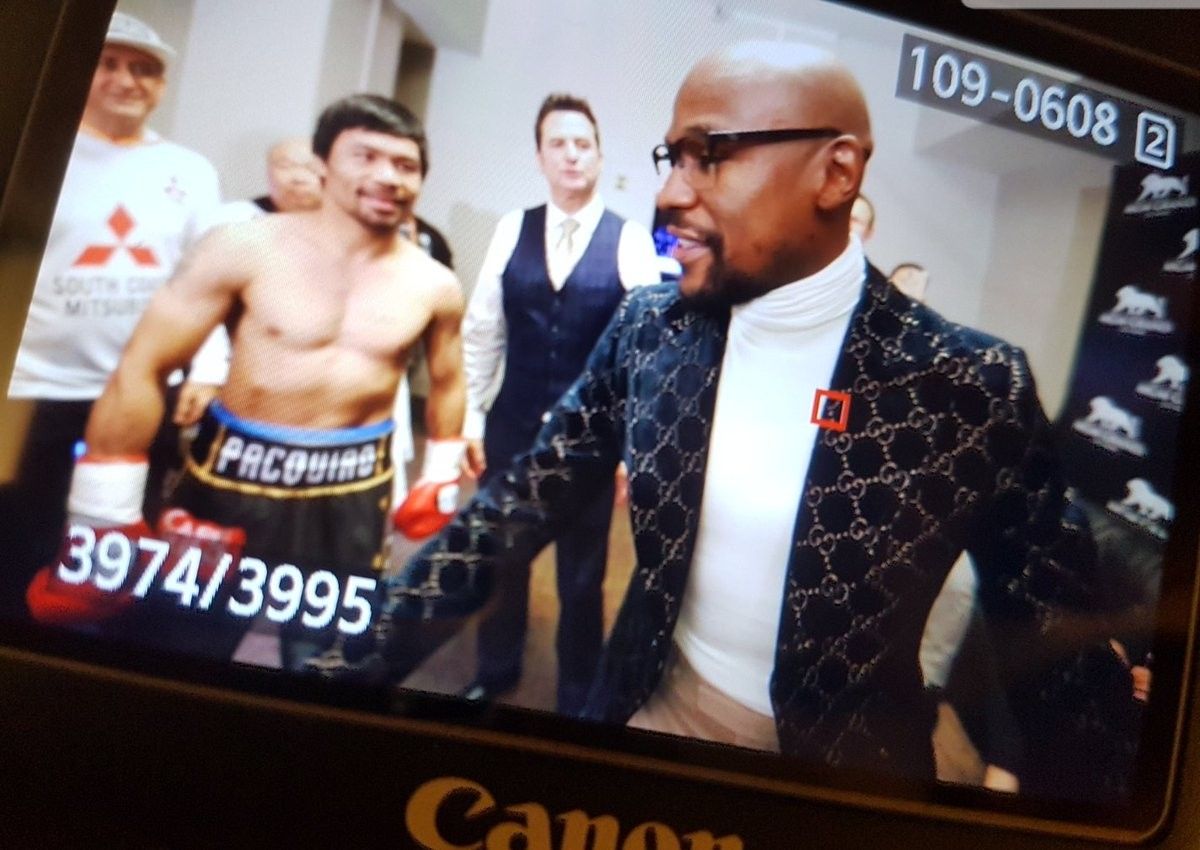 Floyd Mayweather visits Manny Pacquiao in his locker room before his bout against Adrien Broner at the MGM Grand Garden Arena in Las Vegas on Saturday (Sunday Manila time).
Wendell Alinea/MP Promotions
Pacquiao calls out Mayweather anew
LAS VEGAS – Now that he dealt with Adrien Broner, Manny Pacquiao again has his eyes on the bigger prize.
And that is a rematch with Floyd Mayweather Jr.
The Filipino icon called out Mayweather after his unanimous decision win over Broner in front of 13,000-plus fans that packed the MGM Grand Garden Arena Saturday (Sunday Manila time). And he is expected to continue doing so in the coming weeks.
"Tell him (Floyd Mayweather) to come back to the ring and we will fight. I'm willing to fight again if he (Floyd Mayweather)'s willing to come back to boxing," Pacquiao said in an interview atop the ring.
Many observers view the Broner bout as just a prelude to another Mayweather-Pacquiao showdown.
And Mayweather showing up to watch Saturday's fight at ringside just fueled talks that another lucrative meeting is inevitable. Before making
Pacquiao is keeping his lines open.
"I'm still active. I have the belt, if you want to challenge me," Pacquiao said at the post-fight presser. "If you plan to come out of retirement, announce it and challenge me."
Ever since Mayweather outpointed him in boxing's richest fight ever, Pacquiao had been vocal about wanting another crack at the former pound-for-pound king.
Mayweather's recent acts — including participating in an exhibition boxing match in Japan — suggest he's likewise open to a ring return, be it a rematch with Pacquiao or otherwise.
But Leonard Ellerbe, Mayweather Promotions CEO and a close confidante to Mayweather, tempered expectations.
"He has nothing else to prove. I'm very happy for him. He's retired. He has no interest in doing that. It's not always about the money," Ellerbe told the media
"He's living his best life. I'm very happy for him," he added.