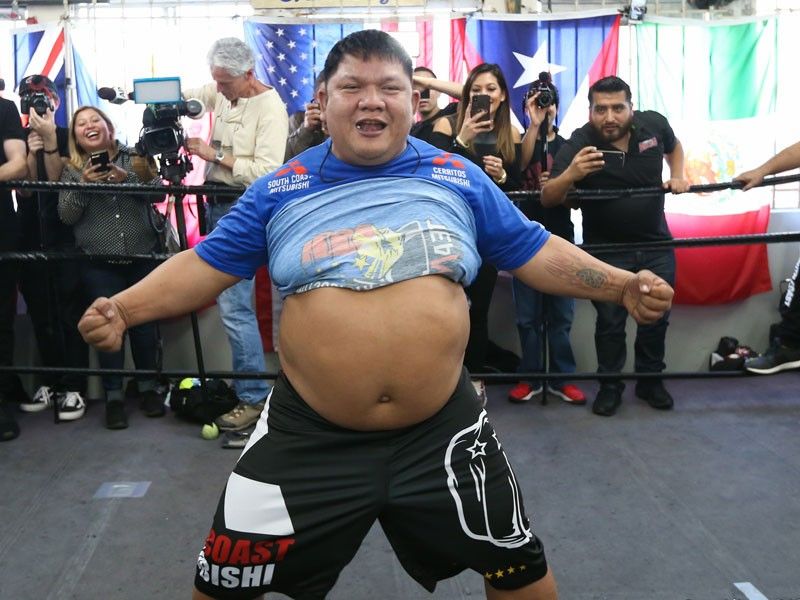 Buboy Fernandez goofs around with photographers during Wednesday's media workout at the Wild Card Gym in Hollywood, Los Angeles (Thursday Manila time).
Wendell Rupert Alinea/MP Promotions
'Bored' Pacquiao raring to go – Buboy
LOS ANGELES – If Manny Pacquiao will have his way, he'd rather fight Adrien Broner right now.
Buboy Fernandez, Pacquiao's close buddy who has assumed head trainer duties, said the Filipino icon could hardly wait to defend his WBA welterweight championship against Broner.
"Bored na eh, gusto laban na agad (He's bored and wants to fight right away)," Fernandez said during Wednesday's media workout the Wild Card Gym here (Thursday Manila time).
Fernandez earlier admitted that Pacquiao has already reached his peak, and his workouts the past few days here have been trimmed down to avoid a burnout.
At 40 years old, Pacquiao is obviously no spring chicken, and his team has made the proper adjustments to make sure his body won't succumb to the daily grind of training."
"Wala naman problema. Yung gusto naming makita nandoon na eh (No problems. We've achieved what we wanted to achieve)," added Fernandez.
"Nag-peak taming tama lang (He just peaked at the right time)," he said.
But the lighter workouts seemed to bore Pacquiao, who had been known to train like a madman during his prime. The Broner fight will be Pacquiao's 70th bout as a professional, yet still it likely won't be the last.
He is itching to test Broner.
"Broner, he is fast and can move fast," said Pacquiao.