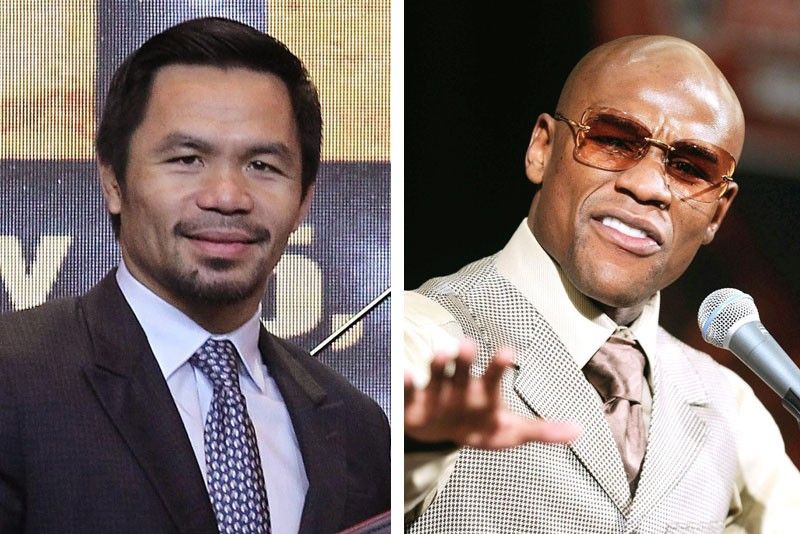 Manny Pacquiao, Floyd Mayweather Jr.
Pacquiao, Mayweather cross paths anew at NBA game
MANILA, Philippines - The NBA's Filipino Heritage Night became a dejavu moment for Manny Pacquiao and Floyd Mayweather Jr., who again bumped into each other during the Los Angeles Clippers-Charlotte Hornets game at Staples Center in Los Angeles Tuesday evening (Wednesday Manila Time).
Pacquiao's close aide David Sisson tweeted a photo of the two legends sitting across each other on the opposite sides of the court.
.@mannypacquiao here at the Clippers vs Hornets game for Filipino heritage night and guess who shows up? @FloydMayweather ???? pic.twitter.com/yfPDiKmvSM

— David Sisson (@david_sisson35) January 9, 2019
During the t-shirt toss at a game break, the Filipino boxer was seen approaching Mayweather, and the two briefly exchanged pleasantries.
They meet again. Only here.@mannypacquiao | @FloydMayweather | #ClipperNation pic.twitter.com/OQrezLim14

— LA Clippers (@LAClippers) January 9, 2019
The happenstance meeting was reminiscent of a Miami Heat game in 2015 where Pacquiao and Mayweather exchanged numbers after the game. The encounter eventually led to their historic bout later that year, with Mayweather outpointing the Filipino icon in what went down as boxing's richest bout ever.
Pacquiao, who faces Adrien Broner on January 19 (January 20 Manila time), also crossed paths with Mayweather at a rave party in Tokyo, Japan late last year.
With rumors of a rematch between the rivals buzzing in the air, fans may have enough reason to speculate: Will history repeat itself?