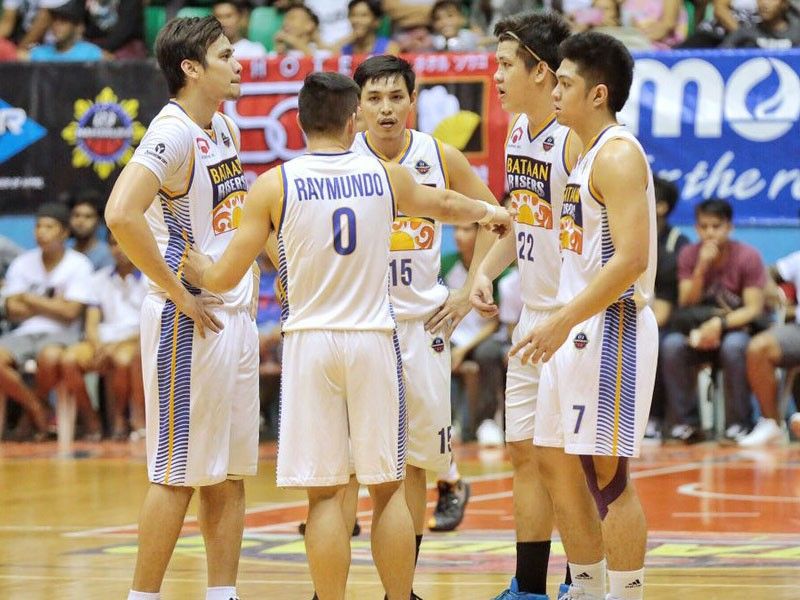 The Bataan Risers are currently on top of the food chain in the Maharlika Pilipinas Basketball League Datu Cup.
Bataan Risers still atop MPBL, team statistical rankings
MANILA, Philippines – The Bataan Risers might not have any of their players in the top individual statistical categories, but in the team rankings, they are right up there in the tables.
At 14-1, the Risers are not only atop the North Rankings of the ongoing Datu Cup of the Maharlika Pilipinas Basketball League, but they also have the league's best record.
They are the second-ranked offensive team with an average of 82.1 points per game (atop the standings are the Manila Stars with an 89.4 average). Defensively, head coach Jojo Lastimosa's boys are third as they hold opponents to 71 points per game.
What makes these two top rankings all the more special for Bataan is they are the only team to be listed in either category.
Now, three players are averaging double digits in scoring — Byron Villarias (12.7), Gary David (11.7) and Pamboy Raymundo (11.5). After the trio, the next best scorers are Robbie Celiz and Alfred Batino, who both chip in 8.0 points each.
Further to their team play, the Risers' unselfishness finds them ranked seventh in assists in the 26-team league with 20.1 per game.
Bataan is also the top rebounding team in the league with its all-hands-on-deck approach and a 51.6-rebound average per game. On the offensive glass, the Risers norm 14.5 grabs, which they are able to translate into 12.7 second chance points.
And lastly, Bataan is ninth in the MPBL in blocks with 4.0 per game.
With an all-important game against the 14-3 San Juan Knights at the Bataan Peoples Center at 9 p.m. Monday, December 10, , the Risers will be put into perhaps their sternest test of the season; one that will validate their title aspirations.
Knowing the Riser, they will compete with all hands on deck.