2019 SEA Games biggest, best ever
November 25, 2018 | 12:00am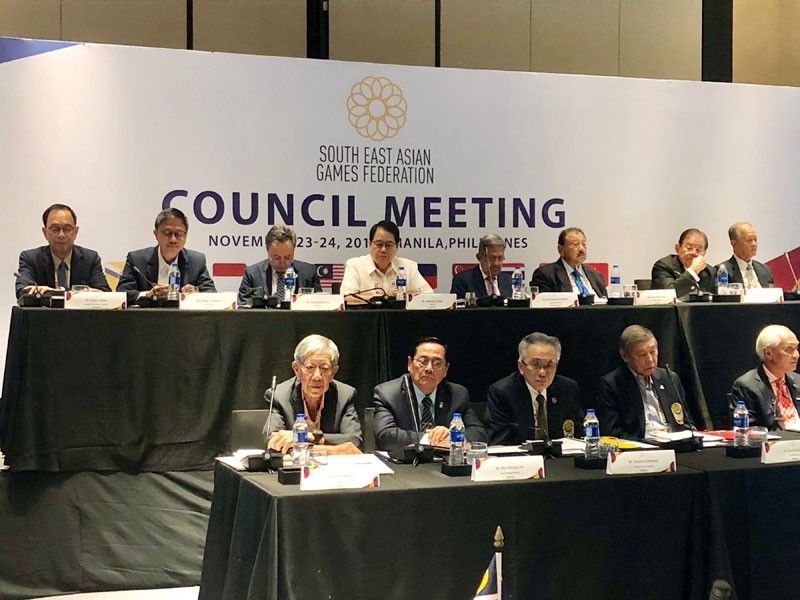 MANILA, Philippines — With 56 sports and 529 events, the 30th SEA Games in the Philippines next year will prove to be the biggest in the history of the biennial event.
The next SEA Games will carry the slogan "We Win as One," according to Philippine Olympic Committee president Ricky Vargas, who presided over a two-day SEA Games Federation Council meeting.
"We will fare well," Vargas told The STAR, hinting that the Philippines should place higher in the medal standings than the sixth-place finish in 2017 in Malaysia.
All 11 countries were represented in the two-day session at Conrad Hotel, and Vargas said there was unanimity in the approval of the list of sports.
"It's now final. Fifty-six sports have been approved and we're looking at 529 events," said POC chairman Abraham Tolentino, also head of the Philippine SEA Games Organizing Committe (PHISGOC) director for sports department.
Tolentino said while the number of sports is final, the number of events will have to be finalized and approved on Dec. 15. If there will be any changes in the number of events, it will be very minimal.
When the Philippines last hosted the SEAG in 2005, 40 sports offered 443 golds. The Philippines won the overall title with a haul of 112-85-93 (gold, silver and bronze).
Ramon Suzara, executive director of PHISGOC, said they expect around 9,600 athletes and officials, 2,000 technical officials and around 1,500 mediamen, both foreign and local.
"All these details were discussed over the past two days," Vargas said.
The POC chief said the foreign delegates were so impressed with the way things are going as far as the preparations are concerned.
"Some council members are saying that with what they've seen we are ready. It is said in the spirit of saying that the preparations are very good," said Vargas.
The 56 sports, based on plans, will be carried out in four clusters: Clark in Pampanga (21 sports), Subic (14), Metro Manila (19) and BLT (Batangas, La Union and Tagaytay) with four.
Vargas said it's very important for the Philippines to do well in hosting the event and in terms of participation.
"It is equally important. Both show a different part of the Filipino as an athlete and the Filipino as host.
If we can excel in both then what a wonderful Southeast Asian Games this will be," he said.