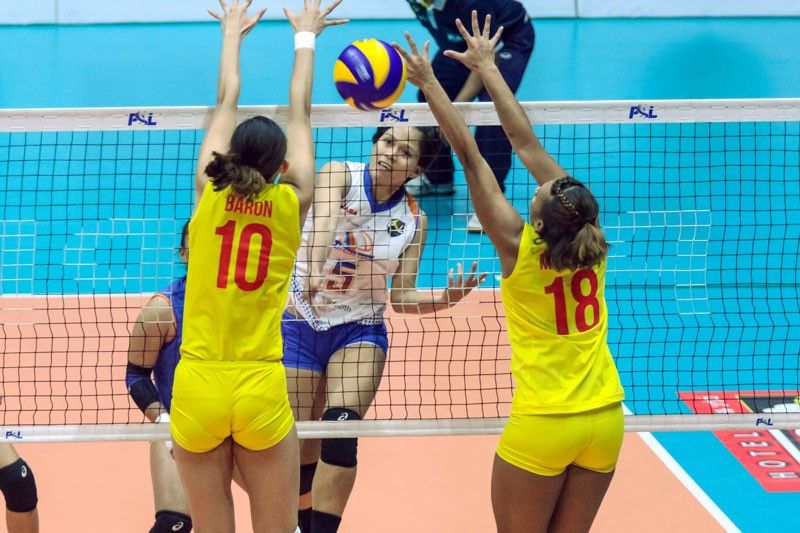 Patty Orendain of the Lifesavers hits the ball past Cargo Mover Majoy Baron in their Superliga All Filipino Conference game last night at the Filoil Flying V Center.
Generika shocks F2 Logistics
Olmin Leyba
(The Philippine Star) - November 14, 2018 - 12:00am
MANILA, Philippines — Generika Ayala caught a big fish on its way to scoring its breakthrough victory in the Philippine Superliga All Filipino Conference, netting a 19-25, 25-22, 25-16, 28-26 reversal over fancied F2 Logistics even as Foton streaked to its fourth straight win for a share of lead yesterday at the Filoil Flying V Center.
Patty Orendain punched in 18 points with 10 receptions while Angeli Araneta (15), Mikaela Lopez (12), Fiola Ceballos (12) and Ria Meneses (11) also delivered double-digit outputs as the Lifesavers upstaged the Cargo Movers to get on track after a 0-3 start.
The Cargo Movers, who blew three set-point opportunities in the fourth, slipped to back-to-back losses after winning their first three outings.
Generika's upset win overshadowed Foton's 26-24, 25-15, 25-19 dispatching of Smart for the win that put the Tornadoes on level with defending champion Petron (4-0) at the top.
Despite dropping the opening set, the Lifesavers persevered and were aptly rewarded with the next two sets. They were tested to the hilt in the fourth, where F2 scored 10 unanswered points to turn a 12-17 deficit into a 22-17 lead and even reached set point thrice but the Lifesavers held tough amid pressure.
After forcing a 26-26 tie on Araneta's off-the-block hit, Generika Ayala turned to its net defense to get on the hill then finally clinched it when Mitch Morente sent her attack out.
"Nagbunga yung pagtityaga," said Generika coach Sherwin Meneses, whose wards had the edge in attacks, 60-51, aces, 6-0, sets, 45-38, and reception, 40-29. "Thankful ako sa mga players binigay nila 100 percent nila and pinakita yung tibay kaya nanalo kami."
Morente delivered 14 points and 13 receptions to tow four others in twin digits (Cha Behag with 11 and Aby Marano, Ara Galang and Majoy Baron with 10 apiece) for F2 which played without injured Kim Kianna Dy.
Meanwhile, the Tornadoes pounced on back-to-back errors by the Grethcel Soltones-less Giga Hitters to take the first frame then asserted themselves in the next two to seal its first sweep.
"Sobrang saya kasi hindi naman namin inexpect yung ganito. We just play our game," said Maika Ortiz, who accounted for 10 attacks and one block for Foton to backstop Mina Aganon's nine attacks and four aces.
Arianne Layug came down with a knee injury in the first set but the Tornadoes overcame her unexpected exit.
Cignal stormed to its second straight win with a 25-17, 25-11, 25-18 drubbing of Sta. Lucia to tie F2 with 3-2. The Lady Realtors slipped to 0-4.