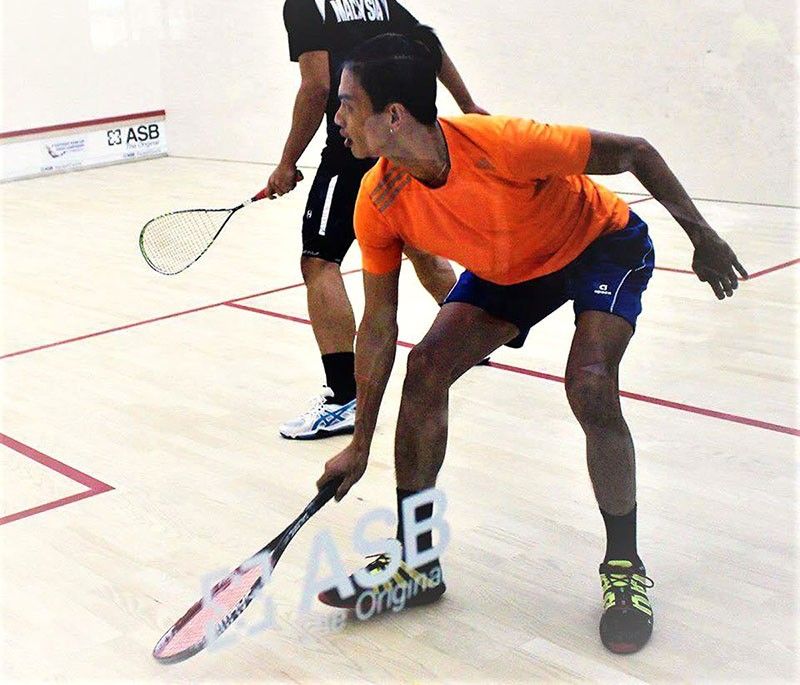 Squash bets aim for stars
MANILA, Philippines — There's nothing to lose and everything to gain for the underdog Philippine squash team of four men and four women as they shoot for the stars against all odds at the Asian Games in Jakarta, hoping the momentum of a record feat at the last SEA Games will carry over.
The Philippines made local history by collecting an unprecedented eight medals in squash, two silvers and six bronzes, at the 2017 SEA Games in Kuala Lumpur. The unexpected haul earned for the squash team, called Kayod Pilipinas, a chance to test rough sailing at the Asian Games.
The team is made up of Robert Garcia, 32, David Pelino, 25, MacMac Begornia, 26, Dondon Espinola, 22, Myca Aribado, 24, Aysah Dalida, 25, Rina Borromeo, 39 and Andrea Jemiolo, 17. Before leaving for Jakarta, the team trained two months under South African coach Carl Koenig in Manila. Four gold medals are up for grabs in men's singles, men's team, women's singles and women's team.
World No. 281 and 16th seed Garcia takes on world No. 318 Timothy Leong Yew Sing of Singapore while world No. 411 Pelino battles world No. 90 and eighth seed Ammar Al Tamimi of Kuwait in the Round of 32 tomorrow. In the women's side, world No. 82 and ninth seed Aribado faces unranked Hadis Farzad of Iran in the Round of 32 tomorrow with the winner to advance to the Round of 16 against world No. 16 and third seed Joshna Chinappa of India. Last year, Aribado met Chinappa and lost, 11-7, 11-9, 11-7 in the Asian Championships. Also in the Round of 32 tomorrow, world No. 266 and 16th seed Dalida tangles with unseeded Uyanga Amarmend of Mongolia with the winner to play world No. 11 and second seed Annie Au of Hong Kong in the Round of 16.
The men's team clashes with Hong Kong and Korea on Aug. 27, Pakistan on Aug. 28, Nepal on Aug. 29 and Japan on Aug. 30. The top two finishers of Pool A where the Philippines is bracketed will advance to the semifinals on Aug. 31. The women's team meets Japan and Malaysia on Aug. 27, Korea on Aug. 29 and Pakistan on Aug. 30. The top two placers of Pool A where the Philippines is situated will advance to the semifinals on Aug. 31. The finals of the men's and women's team competitions will be on Sept. 1.
"In my three years as president of the Philippine Squash Academy and watching our Kayod Pilipinas team develop and grow, I've learned that the ball is indeed round and anything can happen if you work hard for it," said Philippine deputy chef de mission Bob Bachmann. "A top six placing in both men's and women's team would be an accomplishment. Of course, a medal of any color would be even sweeter. In singles, I'm hoping for a top four placing by Robert and Myca. You'll never know with David and Aysah though as they may surprise us all."
Koenig will not join the team in Jakarta because of a previous commitment in the Netherlands. "Coach Carl's contract ended Aug. 20 and unfortunately, he won't be with us for the Asian Games," said Bachmann. "The team is in the best shape ever mentally and physically. I've witnessed the transformation first-hand. Their confidence level has gone up not only inside the court but even in how they conduct themselves outside. Coach Carl got the team in their best shape as they could possibly be in two months' time. The team can't get any better. The ball is in their hands now and I hope they give it their all and use what they've learned from Coach Carl in every match."
Six-time SEA Games squash bronze medalist Edgar Balleber, assigned as referee in Jakarta, confirmed Bachmann's assessment. "Maganda ang kundisyon ng mga bata ngayon," he said. "Si Robert, sure win sa Round of 32 pero si David, medyo mahihirapan pero may chance na manalo. Si Myca, mas malaki ang chance na manalo sa first round. Si Aysah, 50-50. Si Andrea is only 17 but malaki ang chance niya lumakas while si Rina dati na naglaro sa SEA Games. Hindi sila susuko, lalaban sila hanggang dulo para sa bayan."