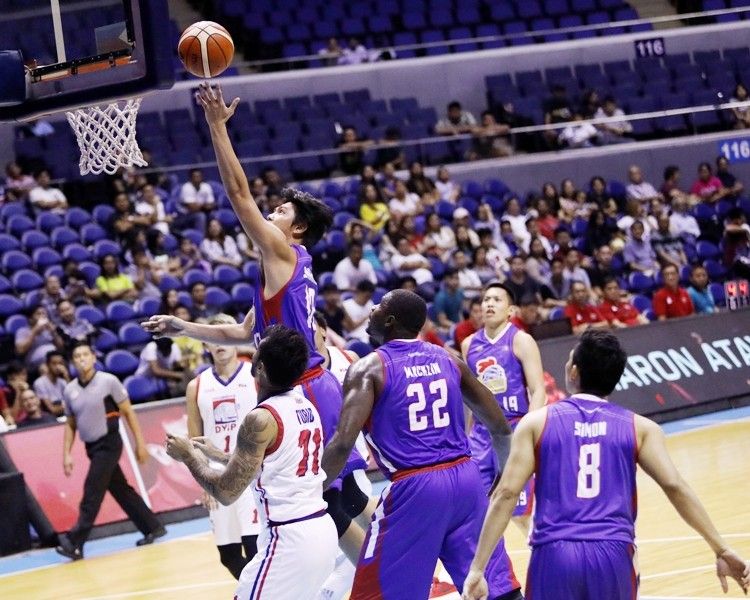 Ian Sangalang of Magnolia takes the rock to the rack during their elimination phase clash with Columbian, Wednesday night at the Smart-Araneta Coliseum/
PBA Media Bureau
Balanced scoring lifts Magnolia over Columbian
MANILA, Philippines – Magnolia benefitted from a balanced offensive night to carve out a 126-101 decision over Columbian in Wednesday night's PBA Commissioner's Cup action at the Smart Araneta Coliseum.
The Hotshots drew double-figure production from five locals to go with a stellar outing from Vernon Macklin, who was playing his penultimate game with the team.
"Pinagusapan namin na we have to respect this Columbian Dyip dahil maganda tinatakbo nila," head coach Chito Victolero said.
"It was a battle of our defense against their offense, buti na lang maganda mindset ng mga bata right from the start," he added.
The Dyip, who have scored impressive routs earlier in the conference, was powered by import Jon Fields, who finished the game with 22 points.
Jerramy King and Rashawn McCarthy were in their usual high-scoring selves but they were the only cagers to able to significantly contribute significantly.
Columbian was averaging 111.8 points per game going into the clash with Magnolia.
The victory sends Magnolia 2-1 in the mid-season joust. They face the Meralco Bolts on Friday next.
Columbian, on the other hand, fell to 3-3 after escaping the clutches of Rain or Shine Wednesday last week. The expansion team tangles with TNT to kick off June's hostilities.
The scores:
MAGNOLIA 126 — Macklin 19, Sangalang 18, Barroca 17, Lee 17, Ramos 12, Jalalon 11, Dela Rosa 8, Abundo 7, Pascual 6, Herndon 5, Brondial 2, Mendoza 2, Simon 2, Gamalinda 0, Reavis 0.

COLUMBIAN 101 — Fields 22, King 19, McCarthy 12, Khobuntin 9, Tubid 9, Corpuz 8, Celda 7, Cabrera 6, Lastimosa 5, Cahilig 4, Ababou 0, Escoto 0, Gabriel 0, Yee 0.
Quarters: 37-18, 72-43, 97-71, 126-101.