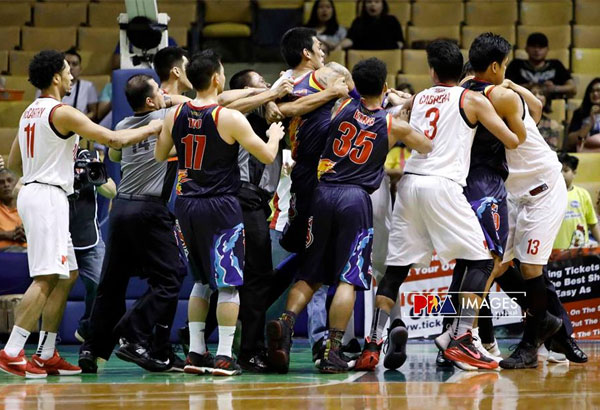 Players from Rain or Shine and Kia get entangled during a scuffle that involved Eric Camson and Raymond Almazan. | PBA Images
Kia's Camson, Rain or Shine's Almazan banned one game for scuffle
MANILA, Philippines – Kia's Eric Camson, Rain or Shine's Raymond Almazan and NLEX's Michael Miranda all drew a game suspension and a combined fine of P70,000 for their misconducts in their most recent outing in the PBA Philippine Cup.
Mark Yee of Kia was also penalized, fined P10,000 for two infractions in the tumultuous Kia-Rain or Shine showdown where the Picanto emerged triumphant, grinding out a breakthrough 98-94 win.
Camson incurred the stiffest sanction with a one-game suspension plus a fine of P30,000 for instigating a fight with Almazan. Almazan and Miranda were fined P20,000 each.
The stocky forward from Adamson hit Almazan with an elbow, then the NLEX center retaliated, and all hell broke loose in the first scuffle seen during a PBA game in a while.
PBA technical chief Eric Castro said it's clear in their probe that Camson instigated the fight without provocation.
Camson, however, showed remorse and was apologetic in a meeting with PBA officer-in-charge Willie Marcial.
Still, the league OIC didn't spare the Kia player a suspension that he will serve in their game versus Meralco at 4:30 p.m. Wednesday night at the Smart Araneta Coliseum
San Miguel Beer stakes its clean slate versus GlobalPort in the day's other game at 7 p.m.
Almazan and Miranda serve their suspension in the ROS-NLEX setto on Friday.
"I apologize to everybody. Right after the game, I already regretted my action. First, I was needed by my team. Secondly, I hurt somebody. I'm actually not that kind of player," said Camson.
The Beermen shoot for a fifth straight win while the Batang Pier hope to stretch their own run to three games in the return of the tourney to the Big Dome Wednesday.
GlobalPort will ride the momentum of stirring back-to-back triumphs over Rain or Shine (78-70) and Blackwater (101-76), but the Batang Pier may well need to double their effort if they're to pull the rug from under the Beermen.
San Miguel, the reigning Philippine Cup three-time champ, is the lone remaining unbeaten team through the first five weeks of the tourney. The Beermen won their first four games over the Phoenix Fuel Masters (104-96), the Meralco Bolts (103-97), the TNT KaTropa Texters (88-76) and the NLEX Road Warriors (109-98).
The Batang Pier, meanwhile, dropped their first two games against the Road Warriors (104-115) and the Barangay Ginebra Kings (97-104) before finally breaking through with two successive wins.
Sean Anthony and Stanley Pringle produced double-double games, and the whole GlobalPort team played a relentless up-tempo game to repulse Blackwater.
Minus the injury-hit Terrence Romeo, Pringle has emerged GlobalPort's lead gun, pacing the team and the whole field in scoring with 25.5 points an outing.