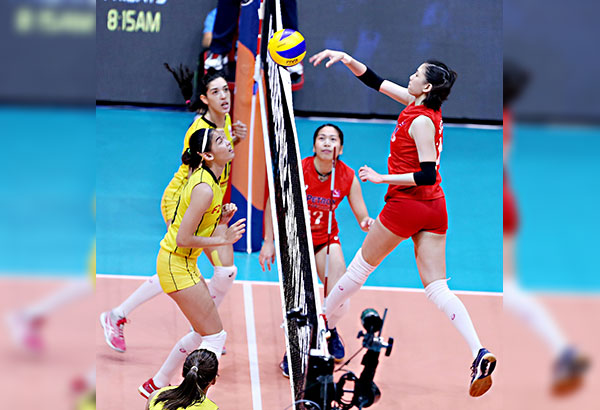 Mika Reyes (foreground) and Rhea Dimaculangan of Petron Blaze Spikers provide the local support behind imports Lindsay Stalzer and Hillary Hurley in their title retention campaign in the Philippine Super Liga Grand Prix at Filoil Flying V Center in San Juan. Joey Mendoza
Blaze Spikers go for the kill, crown
MANILA, Philippines — One blazing finish to claim No. 2.
After dishing out a near-impeccable game to overwhelm F2 Logistics in Game One, Petron vows to come out ever stronger and fiercer in tonight's Game Two of the Chooks to Go Philippine Superliga Grand Prix at the Filoil Flying V Center in San Juan.
"We will double our effort. We need to continue to play relaxed because in our past few games, we were a bit stiff at the start. In Game One, we were able to sustain our attack from start to finish. That's what we want to see in Game Two," said Petron coach Shaq Delos Santos.
That could spell more trouble for the Cargo Movers.
With imports Lindsay Stalzer and Hillary Hurley on the firing end, the Blaze Spikers scored a masterful 25-14, 25-21, 25-16 victory late Tuesday, dominating the Cargo Movers in all but one department to move closer to reclaiming the crown in the import-laden conference which they last held three years ago.
Petron, which also won two All-Filipino titles, bested F2 Logistics in attacks, 42-33, service aces, 9-4, blocks, 8-5, digs, 28-19, sets, 32-21, while limiting their errors to nine against the Cargo Movers' 16. They were tied in receptions at 12.
Despite the straight-set setback, F2 Logistics remains confident of its chances, vowing to come up with the necessary adjustments to neutralize Petron's power while unleashing its own attacking game.
Gametime is at 7 p.m.
"We played very tight and I guess the team got intimidated. I told them to relax and bring back their confidence. Petron was well-prepared," said F2 Logistics coach Ramil De Jesus.
"We will work on our passing. All I asked of them was to give their hundred percent and their best in the next game," added De Jesus.
Stalzer and Hurley, who outgunned their counterparts with a combined 31 attacks and a total of 20 points apiece in the series opener, also brace for a big F2 fightback.
"I don't think it is going to be quite as easy in Game Two. They are going to think of anything they can do to stop us. We'll try to anticipate and just prepare as well," said former MVP and two-time champion Stalzer.
"We're still working hard. Just because we won the first match doesn't mean we are going to relax. We're going to work harder. We know they are a very good team and they are going to come back stronger so we need to prepare for that and be ready for the fight. We'll be ready," said Hurley.
Former Olympian Maria Jose Perez of Venezuela, who turned in 15 points in Game One, is out for a big rebound along with American Kennedy Bryan, who was held to eight markers by the tough-defending Blaze Spikers.