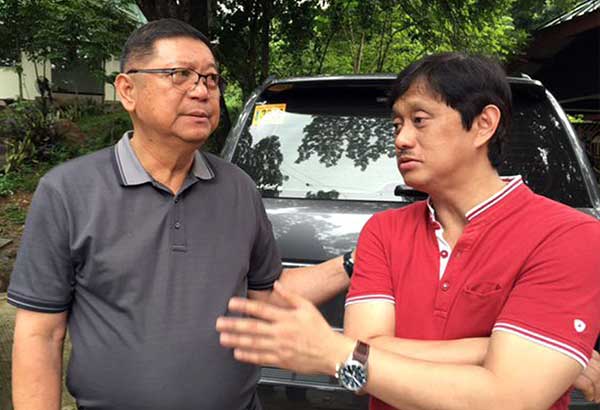 Rep. Conrad Estrella III (right), chairman of the House Committee on Youth and Sports Development, confers with PSC chairman Butch Ramirez in Pangasinan.

Estrella calls for end to fence-sitting
MANILA, Philippines — Rep. Conrad Estrella III, chairman of the House Committee on Youth and Sports Development, said it's time to put an end to fence-sitting in the wake of the country's poor performance at the recent SEA Games as he urged Department of Education and LGU officials in Pangasinan to work together with the PSC and NSAs in turning out world-class athletes within a five-year framework.
Estrella gathered over 300 school and provincial officials and coordinators in a sports summit in Rosales, Pangasinan, last Tuesday to confer with PSC chairman Butch Ramirez and Philippine Sports Institute (PSI) national training director Marc Velasco. The officials, including DepEd division superintendents and executives of the Pangasinan State University, submitted wish lists in their sports priority programs to Ramirez in requesting for PSC support. Others who attended were national triathlon coach Melvin Fausto, muay association secretary-general Pearl Managuelod and House Committee on Youth and Sports Development secretary Percie Managuelod.
Estrella himself proposed a collaborative initiative with the PSC in creating a sports hub in Balungao, a town in southeastern Pangasinan being primed as an adventure travel destination. He guaranteed all-year usage of the hub with maintenance provided by the Pangasinan State University which has nine campuses in the province with a student population of 21,000. At the center of the proposed hub is the 29-hectare Hilltop Adventure Resort whose property was donated by Estrella to the government. The resort's facilities include a nine-bedroom villa for rent, a 2,000-foot zipline, ATV and quad bike trails, a bungee trampoline, mountain climbing, a camp site for a Boy Scouts jamboree and hot/cold spring swimming pools.
Estrella said he will add another 10 hectares to the resort to put up an archery range, cycling track, a pool for aquatic sports and other facilities. He asked the PSC for a counterpart contribution of a rubberized, all-weather track oval. "Usage won't be a problem," said Estrella. "Sports activities are all year round in Pangasinan from intramurals to interschool to district level to provincial to regional all the way to the Palarong Pambansa. Walang patid. We will tackle the challenge of sports development from the grassroots level. We hope to get the support of the PSC and PSI to make a model out of our collaboration for other provinces to replicate." Ramirez said he would study the matter closely.
Estrella said the key is to dig deeper at the grassroots level. "If you want to construct a strong and big building, you need a solid foundation and that means digging deeper," he said. "We experienced a debacle in the SEA Games. It's time for all of us to be actively involved as key players in developing new sports heroes. The involvement of teachers and parents is critical to provide a base for a support system. There are over 100 million Filipinos in our country and 10 million more overseas, including Filipino-foreigners. With the PSC's backing, we can bring up the level of sports competition in Pangasinan. Training, coaching and technology transfer are essential. We won't look at only basketball and volleyball. For decades, Pangasinan has been a breeder of cycling champions. We'll promote sports that don't give an advantage to height like gymnastics, diving, synchronized swimming, triathlon, lawn bowls, archery, shooting and of course, cycling."
Pangasinan has produced a slew of sports heroes over the years, including Sen. Ambrosio Padilla of Lingayen, two-time PBA MVP Danny Ildefonso of Urdaneta, NCAA standout C. J. Perez, two-time world female boxing champion Ana Julaton and basketball star Marc Pingris of Pozzorrubio, Asia's first international chess master Rodolfo Tan Cardoso of Anda and cycling legends Jacinto Sicam of San Manuel, Santi Barnachea of Umingan, Modesto and Romeo Bonzo of Sual and Jess Garcia.
"If we work together, we can make ripples and if it cascades across the country, the ripples will create big waves to carry us to gold medals in the SEA Games, Asian Games and the Olympics," said Estrella. "In Pangasinan, we can deliver world-class athletes within five years with the support of the PSC, PSI, NSAs, the six district superintendents of DepEd, LGUs, our school system and our communities."