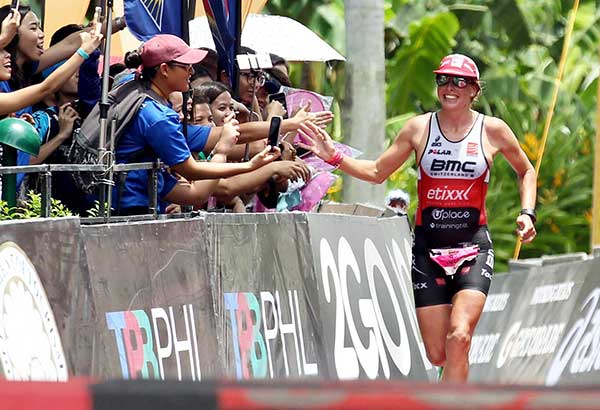 Women's champ Amelia Watkinson of New Zealand smiles to the crowd at the finish line of the 70.3 Ironman. JUN MENDOZA

Reed completes treble; Watkinson triumphs
CEBU , Philippines – Aussie Tim Reed went full throttle in the bike leg and kept his pace in the closing run stage to annex his third straight Ironman 70.3 Philippines crown at Shangri-La's Mactan Resort and Spa here yesterday.
Kiwi Amelia Watkinson also picked up the pace in the bike and run parts as she turned a slim two-second lead after the swim stage to a convincing victory in the women's side one year after struggling to finish sixth in the country's premier triathlon event.
But the day belonged to Reed, who made it look so easy the third time around, flashing a wide smile and raising his arms in triumph as he crossed the finish line to complete the rare treble.
"Every win is different. This is a really pleasing result for me because I worked really hard for this," said Reed, who clocked 3:54:07 to beat Mauricio Mendez of Mexico by more than two minutes.
"I knew I was very fit and I knew I'd have a good chance. If somebody else beat me but I put in a really good performance, I'm okay with that. Today (yesterday) was just all about focusing on myself and racing as hard as I could," added Reed, who emerged fourth in the swim course but shifted to high gear in the bike to seize control before cruising to victory in the grueling 1.9K swim-90K bike-21K run event.
"I'm not the best swimmer. Early on in the bike, I made my move. That opened up a few minutes and I was able to build on that," said Reed, who was nine seconds behind in the swim before taking a dominant 4:51 lead after the bike phase.
"In the run, I realized I could only lose it if I went too hard. In the first 10 kilometers, I was a little bit conservative, trying to get in plenty of fluid then in the second half, I tried to hold my gap and stay for the win," he added
Mendez rallied in the run to finish at second place in 3:56:46 Erstwhile leader Ryan Fisher, also from Down Under, settled for third in 4:00:20. Watkinson logged 4:29:17, six minutes and 36 seconds ahead of Jacqueline Thistleton. Kerry Morris of Australia came in third in 4:39:11.
While the leaders were at it, a participant succumbed during the swim stage, officials said.
"We are deeply saddened to confirm the death of one of our athletes following the Ironman 70.3 Philippines in Cebu. The athlete required medical attention during the swim portion of Sunday's race and was properly transported to a nearby hospital where they (sic) were treated. Our condolences go out to the athlete's family and friends, whom we will continue to support," said the statement.