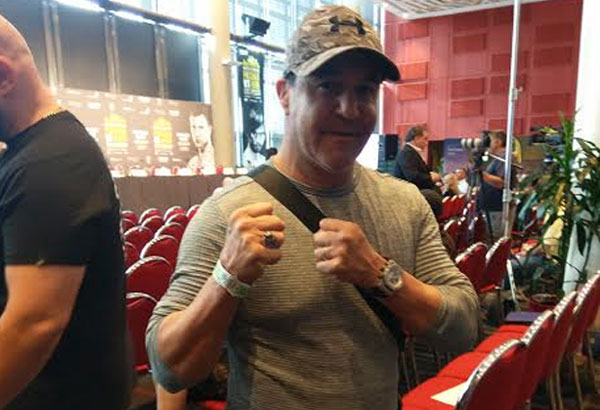 Former world champion Jeff Fenech of Australia
Aussie boxing great sees Pacquiao vs Horn ending in KO
BRISBANE, Australia – Australian boxing legend Jeff Fenech just cannot picture Sunday's fight between Manny Pacquiao and Jeff Horn going the full 12 rounds.
In a chat with Filipino reporters Wednesday in the pre-fight press conference at the Suncorp Stadium here, the former three-division champion is expecting a lot of fireworks when Pacquiao stakes his WBO welterweight title against Horn.
While he is rooting for his countryman Horn, Fenech, 53, did not pick a clear winner. But what he is sure of is that the fight will end in a stoppage.
"Whoever's gonna win is gonna win by knockout. I don't believe it will go the distance," said Fenech, discounting the fact that Pacquiao hasn't scored a knockout in a long while.
"I know Manny hasn't knocked out anybody out in a long time but it won't go the distance," he insisted.
But at the same time, Fenech—who retired in 2008 after compiling a record of 29-3-1, with 21 KOs—questioned Pacquiao's desire to win, which could pave the way for a massive upset by Horn.
"Manny's not hungry anymore. You can't be hungry when you've got $300 million. You lose your hunger," he continued.
"Of course, He's still sharp. He can still punch. But that hunger, probably Jeff Horn is gonna be hungrier. I'm hoping for an upset."
Fenech, who has held world titles as a bantamweight, super bantamweight and featherweight, then gave Horn some advice on how to deal with a difficult opponent like Pacquiao.
"I would probably hit straight on Manny's chest. I'll give him no room to punch. You fight Manny's fight, give Manny distance, nobody can beat Manny," explained Fenech, who remarkably won his first world title—the IBF World bantamweight title in 1985—in just his seventh pro bout.
Fenech, now a boxing trainer, wants Horn to fight dirty and rough Pacquiao up.
"Do something that he (Pacquiao)'s not used to. Take him somewhere he hasn't been before," he said.
It is now up to Horn if he will—or more importantly, can—follow Fenech's advice.