LeBron, Cavs 2-0 vs Raptors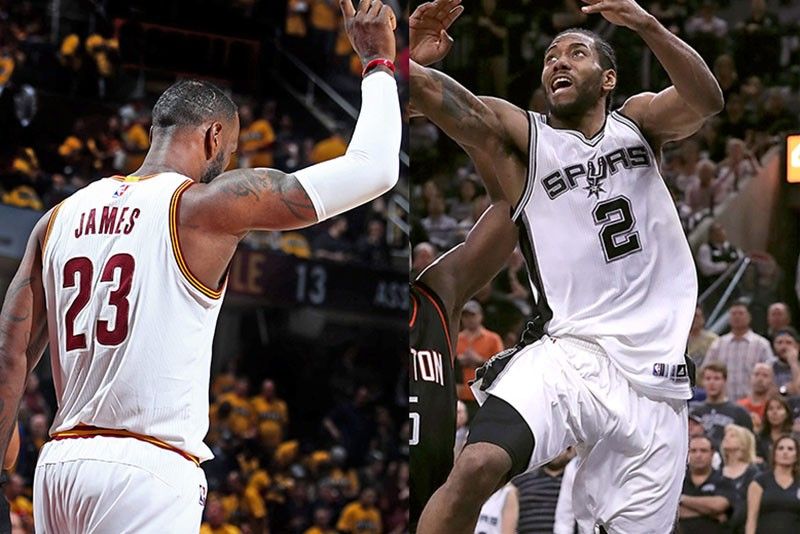 Spurs get back at Rockets
CLEVELAND – Unstoppable. Untouchable. Undefeated.
Back on the playoff stage, where he's starred so many times before, LeBron James is making things look easy.
James scored 39 points, hopped Kareem Abdul-Jabbar on the career playoff scoring list and pushed the Cleveland Cavaliers to a 125-103 blowout over the Toronto Raptors in Game 2 of their Eastern Conference semifinal series on Wednesday night.
And while he may not win another regular-season MVP, James is again showing that May and June belong to him.
"I'm feeling pretty good," he said, downplaying his break-neck start to this postseason. "Just blessed I'm able to make a few plays tonight to help us win another game."
In San Antonio, Kawhi Leonard scored a game- high 34 points as the Spurs defeated the Houston Rockets, 121-96, to level their NBA playoff series at one game each.
Leonard also delivered eight assists and seven rebounds for the Spurs, who now travel to Houston for games three and four of the best-of-seven second round Western Conference series.
"We were focused," Leonard said. "We lost by 30 points last game so we didn't want to disappoint the fans."
San Antonio's win could prove to be costly because of an injury to guard Tony Parker. The Frenchman had to be carried off the floor by teammates with 8:43 remaining after suffering a left leg injury.
San Antonio led 97-83 at the time of Parker's injury. The incident took place when Parker missed a short layup and landed underneath the Rockets' basket. He had scored 18 points before leaving the game.
Parker clutched his left knee as he lay on the floor. He was carted off by teammates Dewayne Dedmon and Dejounte Murray and did not look up as the crowd chanted his name.
"I just hope he is OK because we need him the next game," Leonard said.
Spurs coach Gregg Popovich said of Parker, "It is not good."
LaMarcus Aldridge scored 15 points for the Spurs while Jonathon Simmons added 14 points and Danny Green scored his 12 points all in the first half.
Back in Cleveland, just like a year ago in the conference finals, the Cavs are up 2-0 on the Raptors, who had better figure some things out or this series will be over quickly. Toronto was blown out for the fifth straight time in Cleveland in the playoffs, losing each by an average of 24.2 points.
"We take our butt whupping and head home," said Raptors coach Dwane Casey.
Game 3 is Friday night at Toronto's Air Canada Centre, where the Raptors will have the crowd on their side.
However, they won't have James, who has won a road game in 27 consecutive series and appears determined to toss Toronto aside. He finished 10 of 14 from the field, dropped four 3-pointers and 15 free throws.
"He did miss six free throws," cracked Toronto's Kyle Lowry. "He's playing unbelievable. He's playing like LeBron James. We got to figure out a way to not let him beat us, which is easier said than done."
In Cleveland's last nine playoff wins, James is averaging 34.9 points, 10 rebounds and 8.1 assists.
Kyrie Irving had 22 points and 11 assists and Channing Frye scored 18 points for the reigning champions, who are 6-0 so far defending their title. Cleveland is 9-0 since losing Game 4 of last year's NBA Finals.
"They're defending champs and that's what they look like right now," Lowry said.
The Raptors didn't start Jonas Valanciunas, but he led them with 23 points. Toronto only got five points from All-Star DeMar DeRozan, who didn't make his first field goal until the first minute of the fourth quarter.
Of bigger concern might be the status of Lowry, who sprained his left ankle in the third quarter. Lowry scored 20 points but spent the fourth quarter in the locker room icing his ankle.
"It's pretty sore," Lowry said after limping onto the postgame podium. "It's painful, but I'm not going to complain about it. Get treatment and get ready to play in Game 3."
James came in needing 25 points to pass Abdul-Jabbar, and he overtook the Hall of Fame center with a 3-pointer in the third quarter, when he scored 17 and helped the Cavs open a 26-point lead. James (5,777 points) now only trails Michael Jordan (5,987), the player to whom he has been compared since he was a teenager.
(AP/AFP)