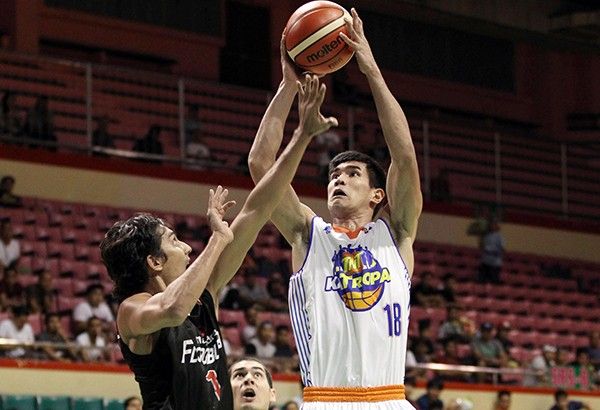 TNT KaTropa's Troy Rosario pulls up a jumper against Mahindra's Alex Mallari as Floodbuster Jason Deutchman looks on during their PBA Philippine Cup duel at the Astrodome.
JUN MENDOZA
TNT explodes with treys, ties for 4th
MANILA, Philippines - TNT KaTropa groped for form early but found its deadly touch in the last two quarters, exploding with crucial treys for a 104-92 win over Mahindra that lifted the Texters to joint fourth place in the PBA Philippine Cup at the Cuneta Astrodome last night.
Larry Fonacier and Ryan Reyes combined for three straight triples to spark TNT's blitz from a close 88-87 count on the way to the 12-point victory that forced a tie at fourth among the Blackwater Elite, the Texters and the Phoenix Fuel Masters at 5-4.
Later in the night, Simon Enciso bounced back strong from a woeful three-point performance the last time out, firing away five treys and a team-high total of 21 points as Phoenix Petroleum rammed past NLEX, 102-91, to force a three-way tie at fourth.
Enciso spearheaded Phoenix's charge in the third quarter that saw the Fuel Masters post a 24-point lead after trailing by seven in the second period.
With the win, the Texters wheeled back into contention for the Top Two and its twice-to-beat incentive in the quarterfinals. TNT may get a shot at No. 2 spot with a sweep of its last two games against GlobalPort and San Miguel Beer.
Three-point shooting proved to be a big factor in the TNT-Mahindra showdown with the Floodbuster taking the first half at 57-51 with 5-of-13 treys as against the Texters' awful 0-of-11 clip.
But the Texters struck with their own three-point bombs after the halftime break, moving ahead, 82-78, at the end of the third on an attack triggered by a triple each by Roger Pogoy and Troy Rosario.
Then Fonacier and Reyes took over in the fourth as the Texters kept the Floodbuster at bay and went on to hand Mahindra a sixth loss against two wins.
"They had great confidence with their shots and it took our best effort to cover their shooters," said TNT coach Nash Racela.
"I'm not satisfied based on this game. But the players did find a way to deliver a positive outcome for us. I'm hoping we're headed in the right direction," Racela also said.
The Texters thus checked a two-game slide versus the NLEX Road Warriors and the Star Hotshots after going 6-of-14 from the three-point land in the second half.
Sophomore forward Rosario top scored with 18 markers, including two treys, that went with nine rebounds, one assist and one block against three turnovers in 27:16 minutes of play.