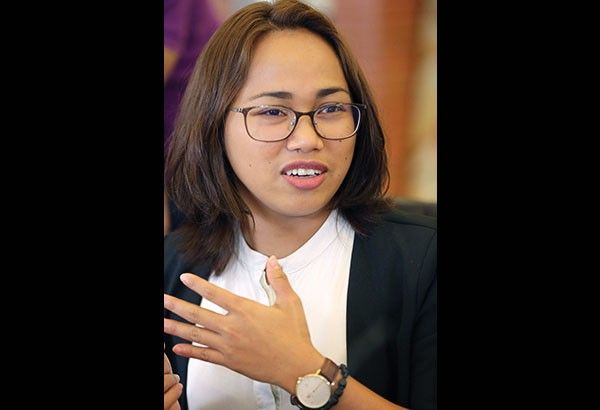 Hidilyn Diaz.
ERNIE PEÑAREDONDO
Benilde gives Hidilyn big lift to chase dream
MANILA, Philippines – After putting her college education on hold to pursue her weightlifting dreams, Olympic silver medalist Hidilyn Diaz has gone back to school through a full scholarship program at College of St. Benilde.
The 25-year-old lifter has just started school as a first year business management student last Jan. 5, seeing the importance of education in pursuing her dreams.
Baring her plans of putting up businesses and becoming a sports official someday, Diaz said she would want to set an example to other athletes who would simply settle for excellence in their respective sports, learning more in other aspects of life and continue to grow as a person.
"I have achieved something in sports but there's nothing like a college degree. There will be more opportunies. I see other athletes who reached a dead end in their careers for lack of good education," said Diaz in Filipino. She plans to put up weightlifting gyms to help in the grassroots development program and possibly go into a food business venture.
"It's a must for us to get higher education since athletes seem to be contended with being good in training and in their events, happy where they are. But I try to change that mindset, let them be aware of other things and grow as a person."
Diaz was in her second year as an irregular computer science student at the Universidad de Zamboanga in 2010 when she decided to shift her focus to weightlifting after heeding the advice of her coach who saw a dip in her performance.
The hard work paid off and Diaz went on to vie in a number of international competitions and went on to represent the country in two Olympic Games since, 2008 in Beijing and 2012 in London.
After almost seven years of school hiatus, Diaz is now hurdling the tough task of balancing school and her preparations for the 2020 Tokyo Olympics where she is seeking to give the country its first-ever gold medal.
Diaz, whose Rio feat snapped the country's 20-year medal drought in the Games, takes five subjects or a total of 15 units and is given a free hand by St. Benilde in choosing her class schedule where she could still train at least twice a day on her Tuesday and Thursday classes where she has a late afternoon to early evening schedule and once a day on her Monday and Wednesday classes where she has a morning and evening schedule.
At the moment, she is preparing to meet at least 90 percent of her lift in the 2016 Olympics 88 kg in snatch and 112 kg in clean and jerk in the Hidilyn Weightlifting Open set on April 15 and 16 she co-organized with Patricia Bermudez-Hizon and Crossfit Alliance's Jason Truman.
Open to all hopefuls, the two-day event, where she hopes to raise weightlifting awareness and at the same time be a potential member of the weightlifting pool, will also serve as a gauge for her target lift as she prepares for the fifth Asian Indoor and Martial Arts Games in Turkmenistan this September and the International Weighlifting Federation World Championships this November in the US.
CSB athletic director Stephen Fernandez hopes their move of offering a scholarship to the Olympian will inspire other schools to help other athletes.