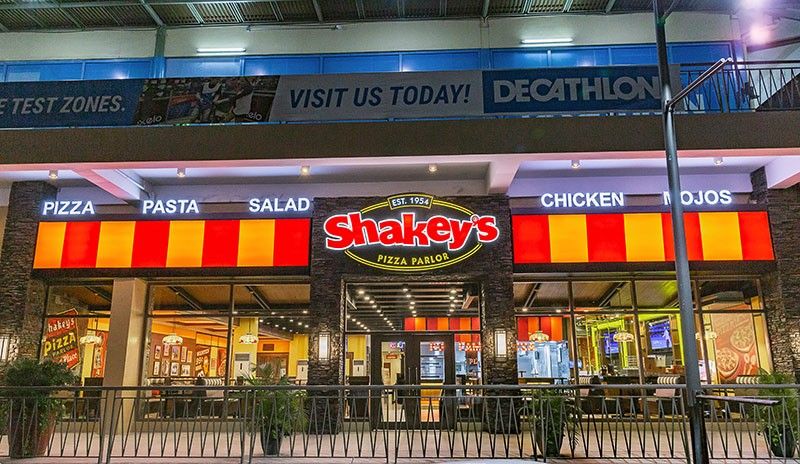 One of the highlights for this year is the opening of Shakey's Tiendesitas, the first franchise legacy store in Metro Manila.
Photo Release
Shakey's: The fun, family, pizza that keeps on growing!
(Philstar.com) - November 15, 2019 - 12:00am
MANILA, Philippines — This year is another milestone for Shakey's as it continues to be bigger and better. As of end-September, the company has added 10 new Shakey's stores, going 20 by the end of the year. With more than 200 stores, Shakey's is the largest pizza casual dining restaurant in the Philippines.
"We will continue developing the long-term fundamentals of our business—investing in our brands, investing in our people, and investing in our stores—as we strive to exceed Filipinos' continuing need for an affordable yet WOW-ing dine-out option," said Vicente Gregorio, president and chief executive officer of Shakey's.
One of the highlights for this year is the opening of Shakey's Tiendesitas, the first franchise legacy store in Metro Manila. The legacy stores of Shakey's are free-standing stores that showcase all the restaurant's services, from dine-in and carry-out to delivery, and Fun Zone center for kids.
Shakey's has always been focused on strategic business expansions, especially increasing its presence in the Visayas and Mindanao regions. The company has been in long-term key partnerships with franchisees who are more familiar with the local regions and markets. Its priority is building more stores that are comfortable, clean, and has a fun aura, so more people around the country would experience great times and great memories. This is in line with the company's aim to continue being the preferred family casual dining restaurant in the country.
The company also strengthens its bond with guests through top-notch services. Bringing the experience closer to people, Shakey's on Wheels travels to all cities and provinces to offer its famous products such as the thin-crust pizza and chicken 'n' mojos. In rewarding its loyal guests, it continues to intensify the value of the Shakey's SuperCard with perks and discounts to strengthen its position of being the number one food loyalty program in the country.
In keeping up with the times, Shakey's continues to improve the guest experience with technology. In the Shakey's SuperApp, the one-tap feature allows the guests to order their favorites conveniently. Also, through the Shakey's website, www.shakeyspizza.ph, guests can easily send their loved ones Shakey's products with the Send-a-Shakey's feature.
This year, Shakey's has been named one of the Philippines' Top Restaurant Brands by Campaign Asia, next to two fast-food giants. It was an unexpected feat, but the company looks at it as motivation in further providing fun, family, pizza.
The continuous investment in the company is a statement of trust to the Shakey's brand and its people. One thing is definite, Shakey's will continue to grow and be relevant by innovating products and services only for its guests.
'Tis the season of cheers
Christmas is just around the corner, and for sure, there will be a lot of celebrations.
Filipinos are known for celebrating Christmas the longest. The countdown to this day starts as early as September and Christmas carols can already be heard in households and establishments. Christmas is really the most festive season in the country.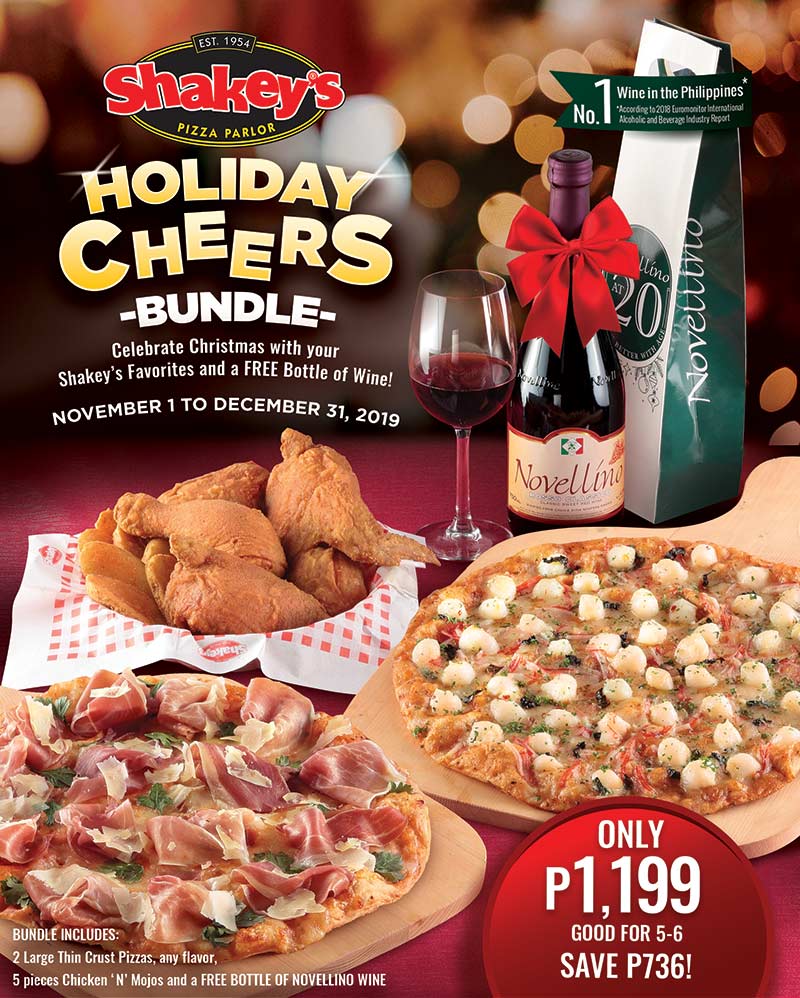 Filipinos do not run out of reasons to celebrate and feast during Christmas. This is a time for everybody to be together, to catch up and indulge in festive treats. Christmas parties are all over the place. Get-togethers of friends, families, and relatives are scheduled with usual activities such as playing fun games, exchanging gifts, and indulging in big meals.
This year, Shakey's is making Christmas even more special with the Holiday Cheers Bundle. If you love their premium pizzas and Chicken 'N' Mojos, this promo is right for you. Aside from these Shakey's favorites, you also get a bottle of Novellino Rosso Classico wine. All these for just P1,199.
Bring a different experience in your gatherings with the Holiday Cheers Bundle as it is a feast perfect as a gift, ideal for potlucks and great for Noche Buena.
The Holiday Cheers Bundle is available for dine-in, carry-out, and delivery orders, in all Shakey's stores until December 31. Visit www.shakeyspizza.ph for more details.
Peri-Peri: Bigger, better, bolder!
The term "Peri-Peri" means "African Bird's Eye Chili." In the Philippines, Peri-Peri is a casual dining restaurant known for its signature Peri-Peri Charcoal chicken and sauces. Aside from being known for the charcoal chicken and its spices, Peri-Peri also has a strong edge with its eight signature sauces: Chili Peppa, Mesquite BBQ, Harissa Exotica, Garlic Brew, Honey Pinakurat, Sweet Soy, Hoisin Sesame and Cajun Remoulade. These sauces give you a different, flavorful experience as you try it with any of the dishes.
In 2018, Shakey's Pizza Asia Ventures, Inc. led by the Po Family, acquired Peri-Peri Charcoal Chicken and Sauce Bar as part of its direction to become a multi-brand dining business operator in the Philippines.
"This Peri acquisition is another vote of confidence in the growing middle class in the Philippines. We will continue to invest in the restaurant space and diversify the business portfolio in the hope of achieving our vision of establishing WOW brands—a handful of industry-leading, full-service restaurant chains appealing to the Filipinos' increasing need for affordable yet premium dining out options," said Christopher Po, chairperson of Shakey's.
"We are excited by the potential of Peri to scale. We expect it to be an important future growth driver for our fast-casual chain restaurant business. Our deep insights into how to best serve the typical fast-casual restaurant guest should allow us to further grow the Peri brand. This is in addition to leveraging our team's execution capabilities, which remain best-in-class, and our restaurant operating systems, which have also continued to improve over the last few years," he added.
With its efforts as a team, Peri-Peri has been holding on to what Po stated, and is very aggressive in reaching their goal to expand their borders as they open new branches, grow in the restaurant chain industry, and position their brand to be the "top-of-mind" of charcoal chicken cravers.
"We see that the Peri-Peri charcoal chicken, ribs, together with its 8 signature sauces, and a very solid and goal-driven team, can bring Peri-Peri Charcoal Chicken & Sauce Bar to the top," Po said.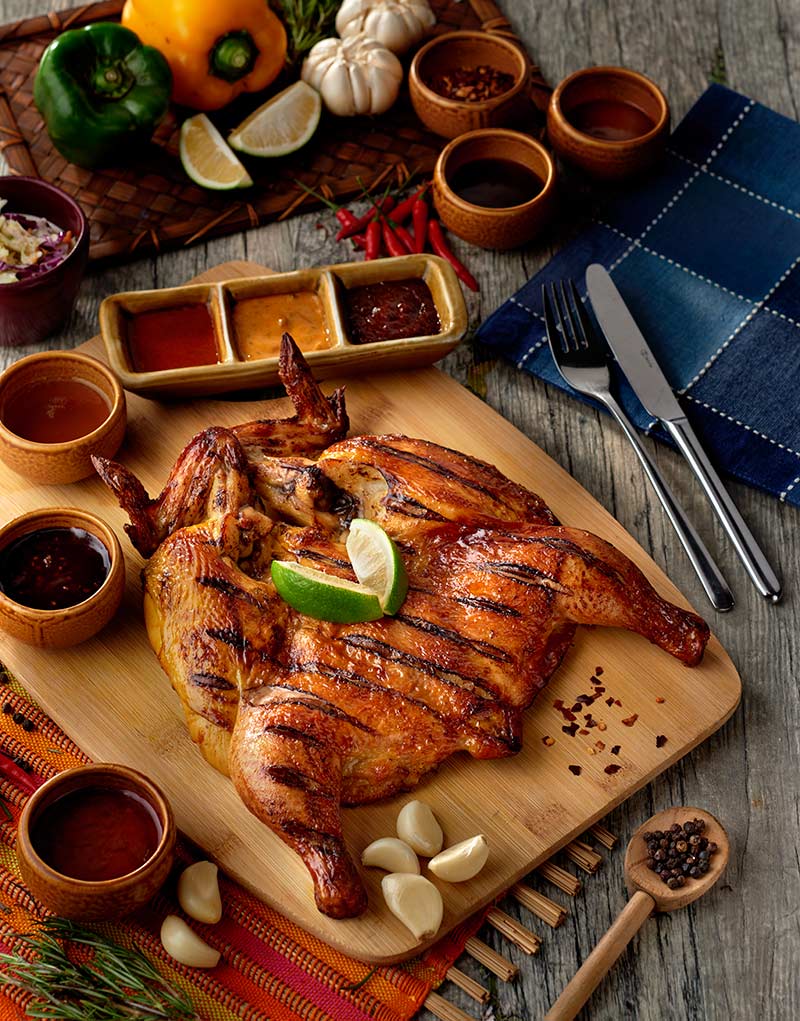 Peri-Peri Charcoal Chicken & Sauce Bar current branches: Promenade Greenhills, Capitol Commons, SM Megamall, Solenad 3, Nuvali, Eastwood Mall, UP Town Center, Mandaue Cebu, Greenbelt 3, SM Bacolod, Alabang Town Center, Trinoma, Uptown BGC, Gateway Mall, Evia Lifestyle Center, SM Marikina, Robinson's Place Manila, Ayala Malls Feliz, Brittany Square, Banawe QC, Venice Grand Canal, Market Market, Resorts World Manila, Ayala North Exchange, Robinsons Galleria, Ayala Malls Manila Bay, Tomas Morato, Robinson's Magnolia and Peri-Peri Jr. Paranaque.