Durban has more!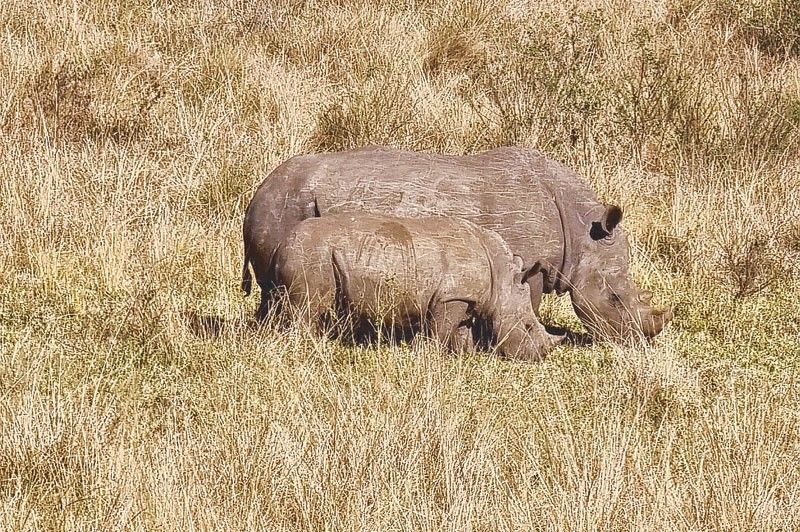 Following the successful reopening of the Durban July races, which I wrote about last week, I got to see what more Durban has in store. As their hashtags say, #Durbanbounceback and #Durbanhasmore!
Durban is a coastal city in the eastern part of South Africa's KwaZulu-Natal. A game drive is the most popular activity in Africa. There are many excellent choices in this province. The big five (elephant, rhino, buffalo, lion, and leopard) are in several of these game reserves and going to one is a must! A unique and special spotting for us this time was a pregnant female rhino with her one-year-old calf.
Heading to the Drakensberg Mountain range is a wonderful experience. We stayed at Didima Camp (www.didima.info) with their quaint chalets with a stunning backdrop of the mountains. The Lord of the Rings author J.R.R. Tolkien saw this landscape as inspiration for the part of Middle Earth called the Misty Mountains.
The Makoto-Drakensberg Park is a UNESCO World Heritage Site. We explored these mountains and admired the beautiful landscape via quad biking (think of a four-wheel-drive motorcycle) and horseback riding.
The kind staff of Didima prepared a braai (an African barbecue) for us around a bonfire for dinner and lunch the next day at Mike's Pass, a high-altitude pass located at Cathedral Peak in the Central Drakensberg Mountains. We also took a sundowner cruise around the Durban Harbour to catch the spectacular South African sunset.
When in Durban, have the specialty of the area: Bunny Chow! This dish is a quarter or half a loaf of bread with the inside removed and stuffed with a curry filling of chicken, seafood, lamb, vegetables, or beef. My favorite South African dishes include oxtail potjie (an oxtail stew in red wine sauce), the mildly sweet, firm, big flake kingklip (a conger eel fish endemic to South Africa and Namibia), and malva pudding (a soft cake with butter, sugar, and apricot jam).
The beef of South Africa is amazing. It is full of flavor and has great marbling! The prices are extremely reasonable compared to the high prices in Manila. A 34-day dry-aged 600-gram prime rib costs P1,000. The one-kilo version would cost P1,430. The 48-day dry-aged 600-gram T-bone will cost the same as the prime rib of the same weight. The steaks are tender and extremely delicious! Have this at Butcher Boys (www.butcherboysgrill.co.za), a must- visit restaurant.
Durban is also a shopper's paradise! There are several malls in Durban and Gateway (www.gatewayworld.co.za) is the biggest, with a floor area of 186,526 square meters. It has over 4,330 shops and over 70 restaurants. I like shopping at uShaka Village Walk, where African products are available. Victoria Street Market (www.victoriastreetmarket.co.za) is the oldest market in Durban and offers a wide range of African souvenirs and a variety of spices.
It was great to be back in Durban and I can't wait to go back again someday to discover what more this wonderful city has to offer!
* * *
Check out @Durban Tourism on Facebook and @dbntourism on Instagram and Twitter.
Follow me on Instagram @pepperteehankee.