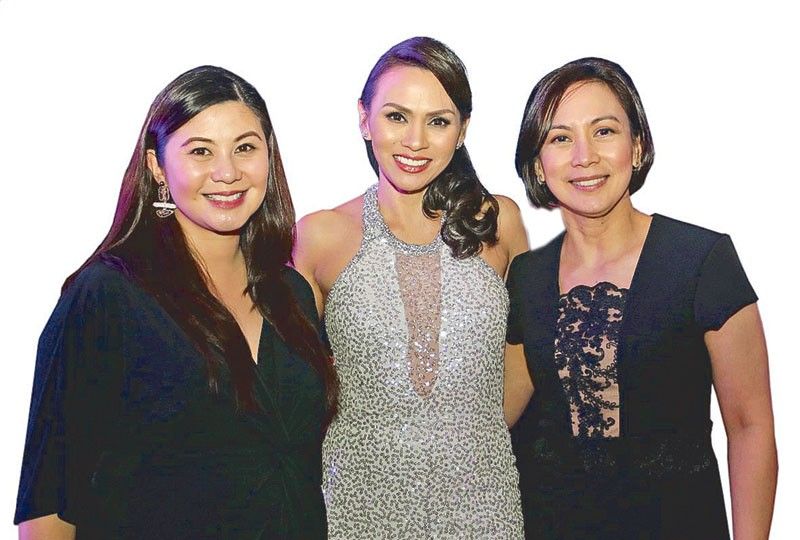 Singapore Airlines head of marketing and PR Aiza Soller-Garcia, Issa Litton and Mastercard Philippines account management director Ailea Zialcita.
For more travels & beyond
Good news for the frequent travelers.
Singapore Airlines, one of the world's most awarded airlines, recently partnered with one of the country's largest universal banks, EastWest, to launch the new EastWest Singapore Airlines KrisFlyer Mastercard.
The partnership between EastWest and KrisFlyer, the airline company's frequent flyer program, gives cardholders the power to earn more miles through everyday spending and online purchases with the new premier credit card. Platinum or World cardholders can earn up to three times KrisFlyer miles when they purchase tickets from the airline group or use the card overseas.
The card was recently introduced at an event, emceed by Issa Litton, held at Shangri-La at the Fort in Bonifacio Global City, Taguig. The night was made more memorable with a performance by EastWest brand ambassador Lea Salonga, who sang Broadway classics and even did a duet with the airline company's regional vice president WK Lim.
Cardholders get to enjoy access to over 1,200 Priority Pass airport lounges around the world, free travel inconvenience benefits, and a low foreign currency exchange rate of 1.70 percent. Cardholders are also given access to a global concierge service that can assist with hotel and restaurant reservations, flower and gift delivery services, car rentals, limousine reservations, salon reservations, courier services and much more around the world with Mastercard Travel and Lifestyle Services.
Apply for an EastWest Singapore Airlines KrisFlyer Mastercard now and receive 3,000 bonus KrisFlyer miles on your Platinum card when spending P100,000 within three months of card activation.
(For more information, visit www.ewbanker.com.)
An exemplary recognition
Congratulations to Hans Sy for being honored as a Xavier-Kuangchi Exemplary Alumnus for his active involvement in various charities and for his personal advocacy for disaster risk reduction and climate change resiliency in the Philippines.
Sy is the chairman of the executive committee of SM Prime Holdings and is also the sole Filipino ARISE (Alliance for Disaster Resilient Societies) global member of the United Nations Office for Disaster Risk Reduction and the co-chair of the National Resilience Council. ARISE Philippines is a network of the Philippine private sector companies that promote disaster resiliency in the country, which is especially vital during typhoon season.
Under Sy's leadership, SM Prime was the first to join the new Adopt-A-City campaign, an innovative city-specific partnership model that will link the resources of private sector companies with the Local Government Units (LGUs), academic partners, and the communities themselves in transforming their climate and disaster risk landscapes and establishing their resilient LGU systems.
My co-alumnus from Xavier is the driving force in accounting for the risks of climate change and natural calamities in the design and construction of all SM structures, including 73 SM malls nationwide. I'm personally looking forward to more of his good work that will pave the way towards a disaster-resilient Philippines!
Cleopatra's touch
Nowadays, essential oils are gaining popularity perhaps because of their reported relaxation and wellness benefits.
A brand making itself known in the market is Essence of Cleopatra Aromatherapy, a line of essential oils owned by Judith Barran. The Canadian brand's beauty and wellness products were formulated by Judith's husband, Lloyd Barran, a pharmacist, chemist and aromatherapist for over 20 years.
Recently, Judith hosted an intimate get-together at the home of Tessa Prieto-Valdes, one of the brand ambassadors. Guests tested the products and enjoyed some snacks.
The Essence of Cleopatra Aromatheraphy combines the ancient tradition of plant-based healing with modern-day aromatherapy. Its products include the Youth Serum, which contains argan oil extracted from the kernels of the argan tree native to Morocco; popular essential oils with specific healing agents such as peppermint for energy and digestion, lavender for stress relief, bergamot for skin conditions, tea tree for infections, and sandalwood to calm the nerves. Among its bestsellers are the Cold & Cough Blend, Sleep Softly and Headache Relief. It also has blends for hair loss and massage oils. *
(For more information, visit Cleopatra Aromatherapy on Facebook and @cleopatraaromatherapy1999 on Instagram.)
(Follow me on Instagram @pepperteehankee.)