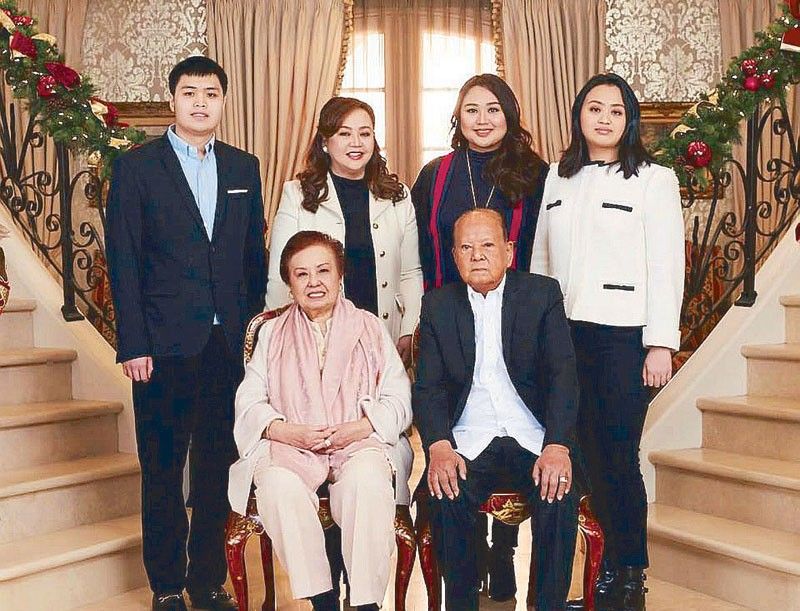 Alice Eduardo (second row, second from left) with her parents Andres and Elisa Eduardo and her children Jameson, Jacqueline and Jessica Vitangcol.
Photos courtesy of Alice Eduardo
How being a good daughter built Alice Eduardo's success
Few know that the person known as the Philippines' "Woman of Steel" is as pliant as the stem of an orchid before her mother.
Alice Eduardo, president and CEO of Santa Elena Construction & Development Corp., may have dinner with presidents but she always has breakfast with her mother Elisa, and father, Andres, no matter how busy she may be.
"Mama always tells me, 'You don't have to do this'," Alice tells us on the eve of Mother's Day, "But I feel that starting my day close to my roots — literally — makes me soar the rest of the day."
"Tuwang-tuwa naman sila to start their day with me," adds Alice.
Born to a well-to-do family in Jaen, Nueva Ecija, where her father was a dentist and her mother, a CPA, Alice remembers her mother always teaching her to be "grounded and humble."
"Ang sabi ng Mama, do not discriminate," says Alice.
Now even more well-to-do — to put it mildly — than when she was a child, Alice says that teaching of her mother has served her well in life, and even in business.
For instance, while she was starting out, she always gave importance to project managers even if she knew the owners of the construction projects she was bidding for. As we all know, when you give due respect to lieutenants and other people on the frontlines, they will take you to the generals and make the "battle" easier for you. (Alice's parents used to accompany her to construction sites and she would listen to their gut feel about certain situations.)
"One lesson taught to me by my mother that I can share as a secret to success is, 'Don't bypass people'," Alice reveals a trade secret. "Always pass through the proper channels."
* * *
A single mother (her marriage to her children's father has been annulled), Alice has always lived by this motto: "Live for your children."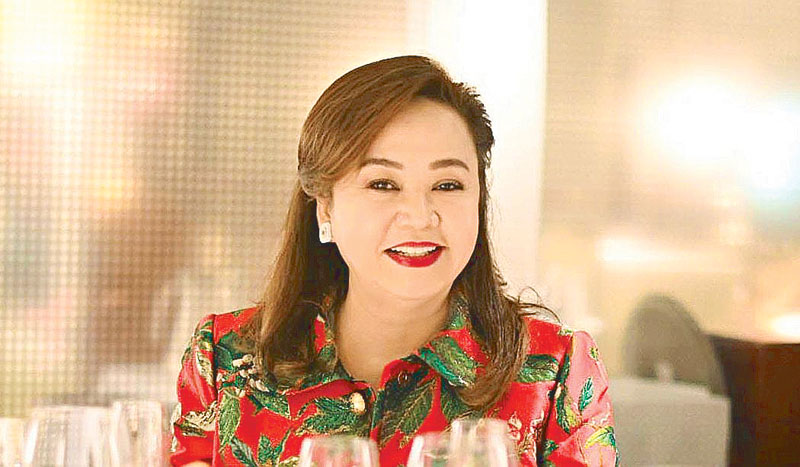 Santa Elena Construction & Development Corp. president and CEO Alice Eduardo.
To her, they were her impetus to work harder, stay the course and be a "Woman of Steel."
"I tell other single mothers, 'Focus on your children instead of on your problems'," she shares.
She says her steel backbone in business wasn't built by an easy life. "I believe adversity is one of the building blocks of character," says Alice, who has also known pain as a mother when she lost her youngest child, who was born prematurely after she contracted German measles in her second month of pregnancy. Her only son Jameson had learning problems, and Alice says she was very hands-on in his education, and learning to be patient has "brought out the best in me."
"Jameson ended up being my teacher," she believes.
"I believe that my passion to succeed was fueled by my wanting to be an example to my children and to give them the best in life."
Alice also believes that one should look at one's everyday life with the mindset of an engineer.
"You have to learn how to balance things even as you build them. You learn the value of a good foundation if you don't want things — people or projects or relationships — to crumble," says Alice, recalling how she would build houses in the family-owned bowling alley by aligning soft drinks cases to be the "walls" and putting a blackboard over them. "I learned that the roof would not balance if I place the cases in the middle. Ganyan din ang buhay, dapat balanse."
As a single mother, she struggled with work-life balance, and managed to keep the roof of togetherness over her children Jacqueline, Jameson and Jessica. "I try to keep sacred regular breakfasts, dinners and prayer time with my children and my parents. When I travel, I make sure it coincides with the children's school vacation. And I make sure our itinerary is easy on my parents."
"One of my greatest blessings is the way my children have turned out. They are far from high maintenance," Alice says proudly. She recalls that when she was tidying up her closet, she lay down all her bags on the floor — a sight to behold.
"My daughters just looked at them and said, 'Nice bags, Mama' and then they left the room," says Alice. Neither Jacqueline nor Jessica fought over which bag goes to whom.
"They are my greatest source of pride and fulfilment, as well as support and inspiration," adds Alice.
* * *
Alice feels her heart is big enough to hold enough love, not just for her family but for children who need her help most.
For its 12th annual philanthropy roundup, Forbes Asia proudly presented to the world 40 individuals — three from the Philippines — who the magazine called its "heroes of philanthropy."
"The goal is to capture individual philanthropists — those making donations with personal funds and not through their businesses (unless they own a substantial stake in the companies, in which case we consider the giving a part of their fortune)," Forbes Asia said.
From the Philippines, in the order they were mentioned, were: Jose Mari "Butch" T. Albert, 68, chairman, Fila Isport Life; the Philippines' "Woman of Steel" Alice Galang Eduardo, 53, president and CEO, Santa Elena Construction & Development Corp.; and Susana Abad Santos Madrigal, 63, president, Consuelo Chito Madrigal Group of Companies.
"Nakakapuno ng puso (It fills my heart)," Alice says of the honor bestowed upon her by Forbes Asia. Forbes Asia cited Alice's personal donation of $277,000 to build a 320-sq.-m. isolation ward at the Philippine General Hospital and an additional $370,000 to build a nearby dormitory to house patients' families; and $370,000 initial funding for Tuloy Foundation, which cares for and educates abandoned children. She also contributed $185,000 to building 100 homes for typhoon Yolanda victims and provided $184,000 to Habitat for Humanity.
After she received news that she was one of the 40 "heroes of philanthropy," Alice celebrated by visiting PGH again. Alice was in PGH in March this year to visit the isolation ward she had donated. During Alice's previous visit to PGH, she was told by PGH director Dr. Gap Legaspi that it had reduced the mortality rate of cancer-stricken children by 70 percent. During her visit, Alice noticed that the children's isolation ward didn't have an air-conditioning system. Thus, she donated one.
"When I give, it comes straight from my heart," Alice says. "If you give and it is not heartfelt, manghihinayang ka lang (you will feel like it's a waste)."
Straight from the heart of a mother who has known joy and pain, success and adversity, and has come out still standing. Truly a woman of steel. *