Eclectic, efficient, energetic: Why Hong Kong still beckons
December 11, 2018 | 12:00am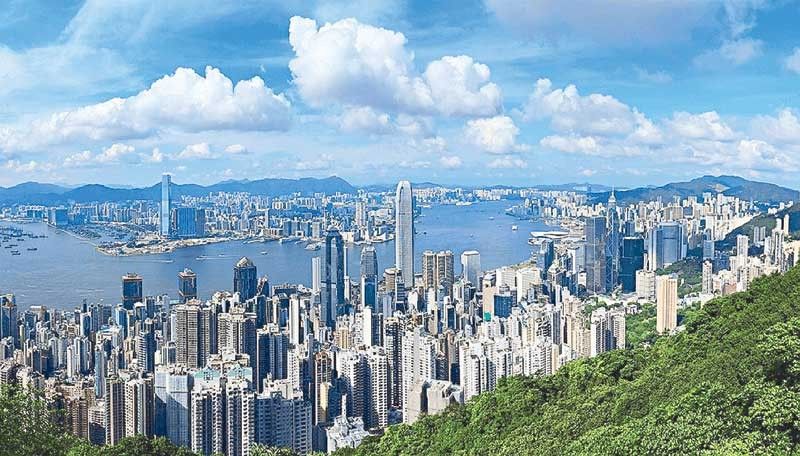 When I won a ticket for two to Hong Kong via Cathay Pacific in a media raffle, it felt like I had won a ticket to a homecoming. I had not flown to the former Crown Colony, though less than two hours away from Manila, in about five years.
Hong Kong, to many of us, is usually the first stop to our discovery of the world. I'm talking of my parents' generation, my generation and my son's generation. In our middle class world, one "arrived," so to speak, when one had travelled to Hong Kong. Hong Kong was the go-to destination and it never disappointed.
My very first overseas flight landed in Hong Kong's Kai Tak airport and the sight of the lights in the Hong Kong harbor blinking as our Cathay Pacific jet glided from the sky to the tune of Love's Theme made me feel like a star. A galaxy of lights was welcoming me, after all. It was just a stopover en route to Europe but I never got over that feeling and that "first."
So going back to Hong Kong this year on the very airline I flew in on my very first trip abroad 30 years ago felt like a homecoming, indeed.
* * *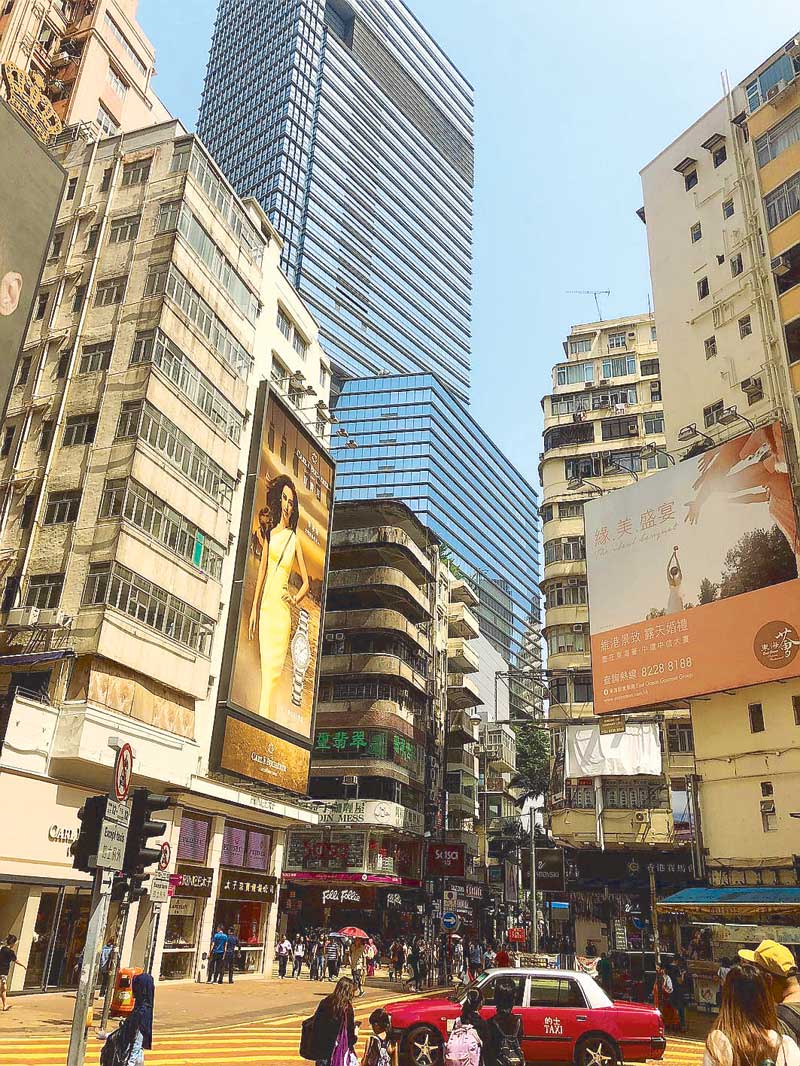 The old and the new in HK. Photo by

Joanne Rae M. Ramirez
Hong Kong, the epitome of efficiency, makes a good impression from its doorstep. Designed by Lord Norman Foster, the state-of-the art Hong Kong International Airport on Chek Lap Kok on Lantau Island handles as many as 68 flights per hour on peak hours, and houses over 100 airlines. And yet our luggage got to the carousel on time and still inside the airport, we simply walked to the MTR Airport Express train terminal that would take us to the city.
To us, the best way really to go to the city, unless a limo picks you up, is to go by the MTR Airport Express train. After a brief 30-minute ride, you get off at a terminal where most hotels have a shuttle bus waiting to take you to the hotel, free of charge. (But usually, free shuttle services from the hotel to the Airport Express terminal are not offered.)
And that foretells of the convenience a HK visitor is pampered with during his stay — whether for business or pleasure. You can get anywhere via its efficient MTR system, which spares you from the traffic you normally encounter in bustling cities. In fact, over 90 percent of Hong Kong's population of 7.4 million travel by public transport.
I notice, though, that the taxis in Hong Kong haven't quite leveled up — they're old.
One really feels safe walking around Hong Kong, rated one of the safest cities in the world, whether by The Independent or the Asia Times.
The territory has the largest number of skyscrapers in the world, most surrounding Victoria Harbour. At night, they compete with the stars, for these skyscrapers have a myriad of lights that dazzle like diamonds on the velvet sky.
* * *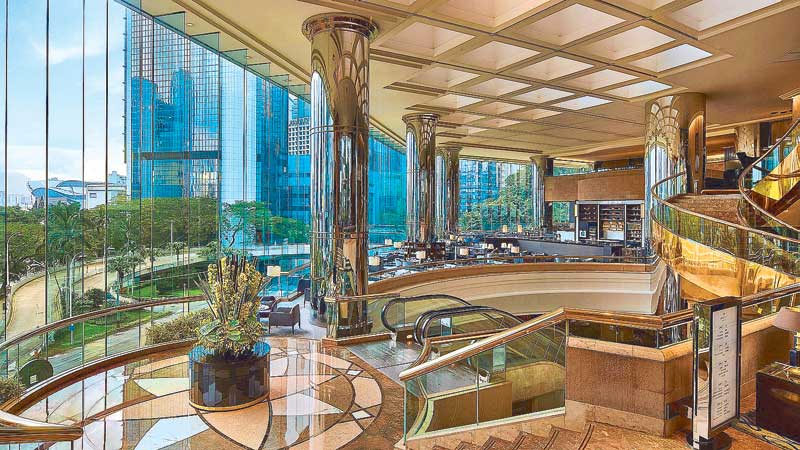 JW Marriott Hong Kong lobby. Photo from www.marriott.com
We stayed at the JW Marriott, one of my favorite hotels not only because of its views, amenities and dining outlets but also because it is a door away from Pacific Place, a four-level mall that is home to over 130 shops and boutiques (from Cos to Chanel) and one major department store.
Though in a relatively small city in terms of area, the JW Marriott welcomes you with one of the biggest hotel lobbies in the world. With glass walls that give you breathtaking views of a nearby lush mountain, and almost as high-ceilinged as a ballroom, the lobby is stunning. The lobby leads up to the JW Café. The Hotel is also known for its restaurant Flint, whose specialties include USDA Nebraska rib-eye and Iberico pork burger; its Chinese restaurant Man Ho, and its Bar Q88, with its extensive collection of whisky brands, cocktails and exquisite champagnes.
During our stay, our favorite place to hang out was the hotel's Executive Lounge, where we would have coffee and cocktails. It was more than a lounge; it was a destination in itself. Its staff was extremely attentive, too.
The rooms either have a city view or a mesmerizing mountain view and the bathroom has luxurious amenities and practical ones — like adhesive bandages.
From the hotel, we could take the MTR effortlessly and speedily — to Times Square or even to Harbour City on the Kowloon side. Whether Zara or YSL, MAC or Gucci, I find it easier to find what I'm looking for in Times Square than in Harbour City.
Our hotel was also near Lan Kwai Fong, one of Hong Kong's most popular nightlife hot spots and home to over 90 restaurants and bars.
"I love Hong Kong because it's alive and it's easy to get around," says my husband Ed.
My colleague, the well-travelled Büm Tenorio Jr. likes Hong Kong because it is "Eclectic." Another colleague, well-known stylist Luis Espiritu says you can shop for anything you want — in their latest styles — in Hong Kong. Being tax-free, shopping in Hong Kong is a perk. You may not save more, but you are able to buy more!
Foodies find Hong Kong an eclectic feast as well — whether you're dining on roast duck in a hole-in-the-wall or in a by-reservation-only restaurant.
Indeed, Hong Kong is a place where East and West, old and new, tradition and modernity, simplicity and sophistication — "blend and collide." And when they collide, they give off a certain energy and character that make revisiting this close neighbor of the Philippines well worth it, no matter where else in the world you have been.
(You may e-mail me at [email protected] Follow me on Instagram @joanneraeramirez.)