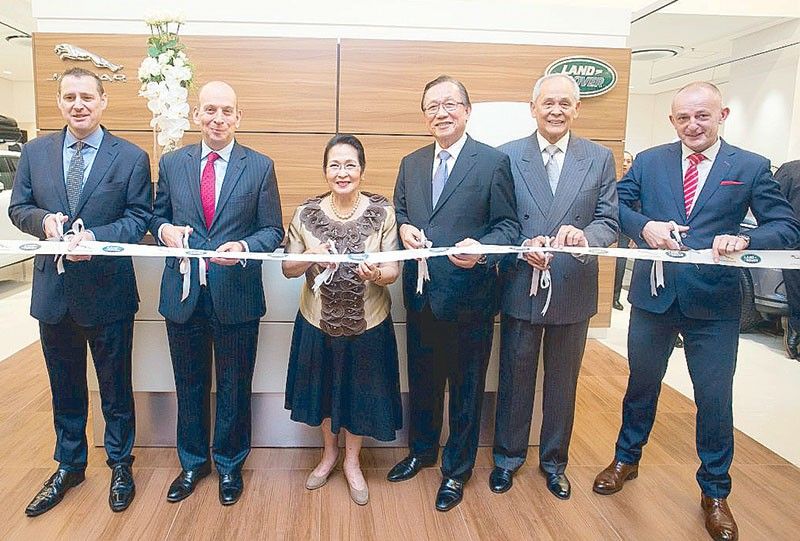 (From left) Jaguar Land Rover Asia Pacific Importers' Alistair Scott, British Ambassador Daniel Pruce, San Juan City Mayor Guia Gomez, Coventry Motors Corp. chairman George Barcelon, All British Cars president Mandy Eduque and Jaguar Land Rover Asia Pacific Importers' Andy Wust. Not in photo is All British Cars chairman Rikki Dee.
I've said it before and I will say it again: I'm an Anglophile.
As in most of us men and women alike, this penchant to admire anything British started with our exposure to a plethora of James Bond movies.
It's so easy to get seduced with the immaculate suits, fast cars, stunning locations and, of course, the ubiquitous Bond girl.
There are those who, however, inveighed against anything British.
My love for almost anything British (except, perhaps, traditional British cuisine) was ratcheted up several notches when I became a scholar of the British government under the Chevening program.
(From left) George Barcelon, Ambassador Daniel Pruce, Andy Wust, Alistair Scott and Coventry Motors Corp. president Gerry Alejandro.
This allowed me, at no cost to my parents or myself, to pursue my dream of tucking-in, under my belt, a Master of Laws degree at the London School of Economics and Political Science.
So many beautiful memories of my stay in London: the Tate Gallery, West End, Covent Gardens, Notting Hill Gate where I lived (yes, yes, yes, the same location as that 1999 Hugh Grant and Julia Roberts blockbuster!), the pubs…But, I digress.
There is a certain degree of esteem, of understated quality and refinement, of gentlemanliness and of rugged tradition, in what is British.
My friend, British Ambassador Daniel Pruce, would attest to that. So, too, with my other good friend, the former British Ambassador to the Philippines Asif Ahmad (whose standing invitation to visit his current posting in Jamaica I have yet to accept). Both sporty, in a way, yet refined and distinguished. Very much the same as the marriage of Jaguar and Land Rover.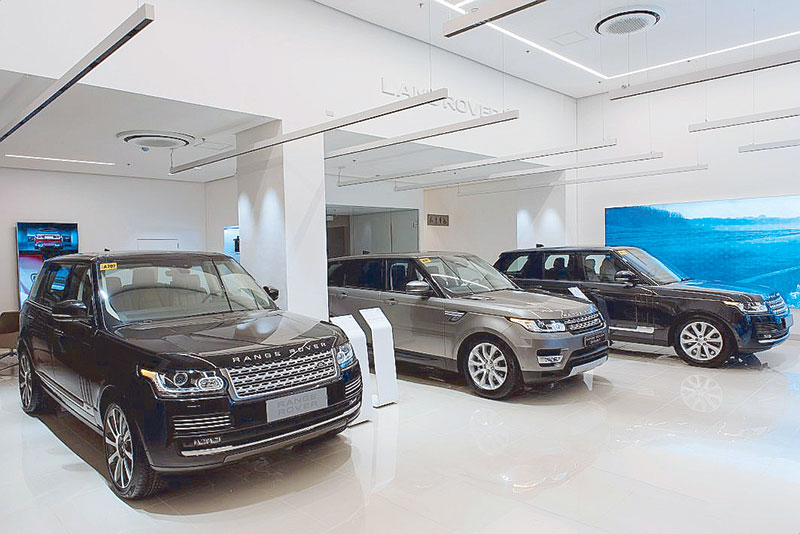 The official showroom of All British Cars proudly displays the latest and greatest Land Rover and Range Rover SUVs available in the market today. Among those in the showroom are the classic Range Rover, the very popular Range Rover Velar and the ultra-luxurious Range Rover Autobiography.
Jaguar was founded in 1922 as the Swallow Sidecar Company, which built sidecars for motorcycles. In 1945, it started making cars with high-performance engines and changed the name to Jaguar. In 1947, the Rover Company produced the Land Rover, its first off-road vehicle based on the American Jeep of World War II.
In 1957, British Leyland acquired the Rover Company. In 1968, Jaguar merged with the British Motor Corp., which was eventually acquired by British Leyland. In 1984, Jaguar was split off from British Leyland, but was bought by Ford in 1989. In 2000, Ford acquired Land Rover, thus having both marques under one roof. In 2008, Ford sold Jaguar Land Rover to Tata Motors, India's biggest vehicle manufacturer.
Today, Jaguar Land Rover Automotive PLC is the holding company of Jaguar Land Rover Limited, the UK's largest car manufacturer. With headquarters in Coventry, United Kingdom, the original site where Jaguars were built back in 1945, the company is still a subsidiary of Tata Motors of India.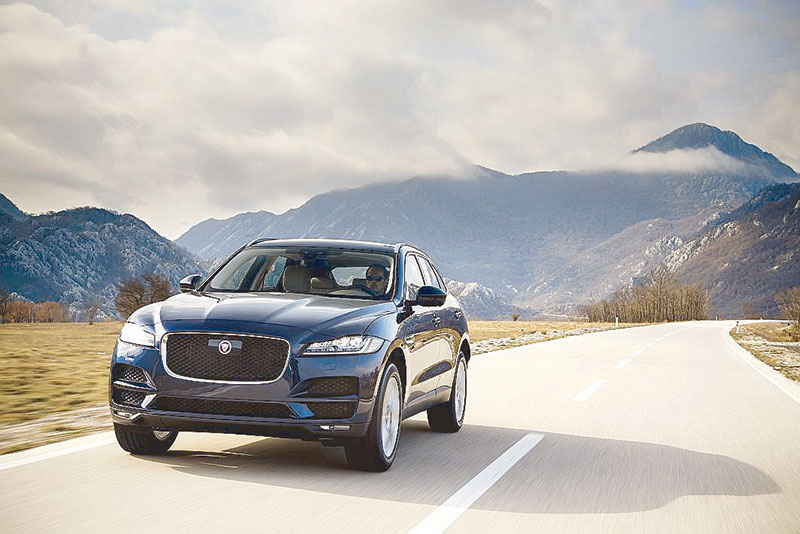 Jaguar F-PACE,the first model to be built by Jaguar in its crossover SUV class and was named honorary winner of the 2017 World Car of the Year and World Car Design of the Year Awards at the New York International Auto Show.
Last year, Land Rover celebrated its 70th anniversary and, with it, the signing of an exclusive partnership contract between Coventry Motors Corp. of the Philippines and Jaguar Land Rover Asia Pacific Importers for the former to become the sole and exclusive distributor of Jaguar Land Rover in the Philippines.
Coventry Motors is headed by its chairman George Barcelon (of PCCI fame, or the Philippine Chamber of Commerce and Industry) and president Gerardo Alejandro.
Just recently, All British Cars (ABC), the new official dealer of Jaguar and Land Rover in the Philippines, opened its first showroom in the country at 1008 EDSA, Greenhills.
On hand for the showroom launch and opening were Ambassador Daniel Pruce and San Juan City Mayor Guia Gomez.
Also present from Jaguar Land Rover Asia Pacific Importers were sales director Alistair Scott and customer services director Andy Wust, Coventry Motors Corp. chairman George Barcelon and All British Cars president Mandy Eduque.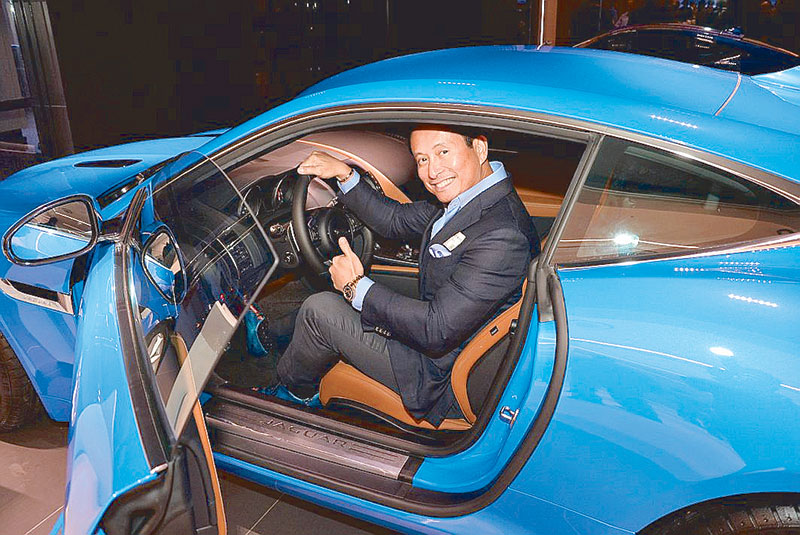 In the cockpit of the Jaguar F-Type Coupe, a wickedly fast, proper British sports car.
The showroom itself was designed to reflect the very marques that it represents, that of modern, understated elegance and refinement, yet giving homage to the sporty and rugged tradition that both Jaguar and Land Rover have carried through the years.
Blending performance and luxury, as the Jaguar slogan would put it, but moving it "above and beyond," as the Land Rover slogan would say.
A perfect marriage of British ingenuity, craftsmanship and innovation.
The British are not coming, they are already here!