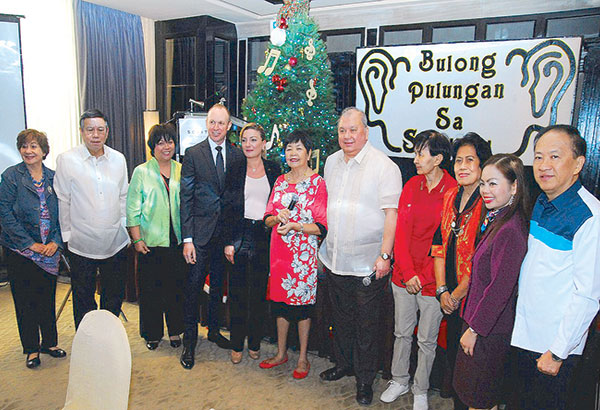 At the Bulong Pulungan Christmas party at the Sofitel Philippine Plaza are (from left) Mandy Navasero, Frank Evaristo, Chay Santiago, Sofitel Philippine Plaza GM Adam Laker and sales and marketing director Assia Daourova, Deedee Siytangco, Bob Zozobrado, Aida Sevilla Mendoza, Domini Torrevillas, Sofitel's Yasmine Hidalgo with Joy Fong. Photos by Ed Santiago
PEOPLE
-
Joanne Rae M. Ramirez
(The Philippine Star) - January 4, 2018 - 12:00am
Bulong Pulungan at 32
In 1986, energized by the gust of fresh air from the restoration of press freedom in the country, a group of journalists banded together to form a lunch media forum at the Philippine Plaza Hotel (then Westin). They included Deedee Siytangco of the Bulletin, Letty Magsanoc of the Inquirer, Jullie Yap Daza, Ernie Evora-Sioco of MOD magazine, Gilbert Perez and Donnie Ramirez. They called the lunch forum, to which they would invite newsmakers and other resource persons, "Bulong Pulungan," which loosely translated means, "whispering in a huddle."
Tita Ernie, Gilbert, Letty and Donnie have written 30, but 32 years after it was born, Bulong Pulungan, the lunch forum they conceived and nurtured, is still very much around. Bulong Pulungan has also flourished through five different administrations (Aquino, Ramos, Estrada, Arroyo and Aquino), and is now covering its sixth Philippine president, Rodrigo Duterte. It is still in its original home, the Philippine Plaza (now Sofitel).
Deedee Siytangco invited me to join the lunch group in the late '80s, and despite some absences, I have remained an active member of the forum and got a number of scoops from it. Many newsmakers have sat on the Bulong Pulungan's hot seat, from Gloria Macapagal-Arroyo to the late Fernando Poe Jr., from Cory and Noynoy Aquino to Imelda Marcos.
At the end of the year, the Bulong Pulungan Core Group honors "exemplars," who have made an impact on the year just past.
This year, during its annual Christmas party at the Sofitel, the group chose: Davao City Rep. Karlo Nograles; Jaime J. Bautista, president and chief operating officer of Philippine Airlines; San Juan City Mayor Guia Gomez; and Philippine Amusement and Gaming Corp. chairman Andrea Domingo.
* * *
Karlo Nograles
Nograles is the son of former House Speaker Prospero Nograles, whose family was a political rival of the family of President Rodrigo Duterte.
Last September, Karlo, who used to be president of the National Unity Party, was sworn in as member of President Duterte's PDP-Laban Party. President Duterte gladly welcomed Nograles, whose mother is a second cousin of the President.
The young congressman finished valedictorian at the Ateneo de Davao University in 1989 and received the Citizen Advancement Training Leadership Award when he graduated from the Philippine Science High School. He obtained a Bachelor of Science degree, major in Management Engineering, at the Ateneo de Manila University, where, in its Law School, he also aced his post-graduate studies for a Juris Doctor title.
At 34, he first served in the 15th Congress (2010 to 2013) as assistant majority leader. Now on his third term, he is chairman of the powerful Committee on Appropriations of the 17th Congress.
He is the author of Republic Act 10771 or The Green Jobs Act, which grants special tax deductions and duty-free importation of capital equipment for companies that will help create employment that contributes to preserving or restoring the quality of the environment, or a "green economy" for the Philippines.
He has appropriated his congressional district funds for his Oplan Kaalam Scholarship Program, Oplan Kalusugan and Oplan Kabuhayan.
Jaime J. Bautista
At the helm of the Philippine flag carrier, and Asia's first commercial airline, Bautista, 58, has an impressive career record.
Bautista took up Accountancy at Colegio de San Juan de Letran. Right after becoming a certified public accountant, Bautista, then only 20 years old, joined the SyCip Gores Velayo or SGV and Co.
He joined Philippine Airlines, then owned by tycoon Lucio Tan, in April 1993 as vice president. Bautista was promoted to senior vice president and chief finance officer in 1994, then elected by the board as president and COO in 2004. He served until 2012 and was re-appointed president and COO in 2014 by Lucio Tan after he regained majority ownership of the flag carrier.
Under Bautista's watch, PAL has been embarking on modernization of its products and services and expanding its network by opening new international and domestic routes, ultimately to make PAL a five-star airline.
PAL was in the news lately when the government demanded that PAL settle its liabilities, which amounted to a whopping P6.9 billion.
To its credit, PAL promptly settled its debts earlier than the December 2017 deadline and, in a statement, assured that the airline would continue providing quality service to the Filipino people.
Guia Gomez
Gomez has carved her own niche as a public servant.
She finished her elementary education as valedictorian at the University of Negros Occidental Recoletos, and she completed high school at the Philippine Women's College in Davao City.
Then, the young Guia started a career in showbiz but later decided to get a degree in Business Administration at the Philippine Women's University. A wise move, for then she would need the management know-how as she accepted the challenge to manage San Juan — to continue what her son JV, former mayor of San Juan, had started as a master plan for the city.
And now as a testament to Mayor Gomez's management prowess, San Juan City has received the Seal of Good Governance from the Department of Interior and Local Government — awarded to cities with effective financial management, disaster preparedness, social protection, environmental protection, business-friendly government, and peace and order.
Andrea Domingo
Domingo was recently at the Bulong Pulungan to present the state-run gaming firm's achievements under the administration of President Duterte.
In 2016, PAGCOR posted a gross income of P55.06 billion — the highest gross income on record.
PAGCOR has increased its total contribution to nation-building by 25.45 percent. The total contribution amounted to P36.47 billion, of which P25.32 billion went to the National Treasury as the government share.
Another beneficiary was the Philippine Sports Commission, whose share amounted to P1.26 billion.
PAGCOR's corporate social responsibility programs have provided financial assistance to victims of calamities, medical assistance to indigents, relief operations in typhoon-stricken areas, support for the Department of Education's Brigada Eskwela, feeding program for undernourished school children, and school building projects, plus shares for the Dangerous Drugs Board, help for farmers, soldiers, and policemen — not to mention program to eliminate the 5-6 debt plague, the main victims of which are the poor.
In her brief speech as she accepted the Bulong award, Domingo said PAGCOR hopes to still increase its revenues.
"Although that means we're asking people to gamble some more," she said.
Earlier during her Bulong visit, Domingo answered the nagging question on gambling: Does the end justify the means?
"Gambling has been in the world for so long," Domingo said. "It's better that government regulates it."
(You may e-mail me at joanneraeramirez@yahoo.com.)