GlaxoSmithKline (GSK), one of the world's leading research-based pharmaceutical and healthcare companies and maker of doctor-recommended Paracetamol Calpol, joined forces with the Department of Health (DOH) and the Philippine Pediatric Society (PPS) in spearheading a campaign called "Aksyon Laban sa Dengue: A Dengue Fever Awareness and Education Program" as well as a Barangay Caravan that will bring dengue awareness efforts to everyone.

The World Health Organization has recommended paracetamol as the preferred and only recommended analgesic treatment for dengue fever. Aspirin or ibuprofen is not advised as this may aggravate bleeding. Dengue is serious and potentially fatal. Quick and accurate detection is needed to arrest this disease.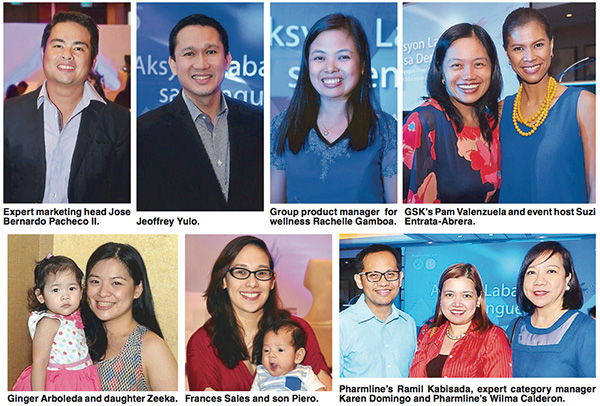 Philippine Pediatric Society secretary Dr. Sally Gatchalian said, "Dengue is a clever and cunning disease. It can disguise itself as other diseases. So, during the rainy season, which is when we usually see an increase of dengue cases, it is important to be on the lookout for fever that is at least of two days duration."
According to doctors, aside from fever, other signs and symptoms of dengue include headache, nausea and vomiting, loss of appetite, abdominal pain, muscle and joint aches, rashes and bleeding manifestations. Experts advise that if any of these symptoms are present, the patient must seek his doctor's advice immediately.
General manager of GSK Consumer Healthcare Jeoffrey Yulo said, "While there is no specific medicine to cure dengue, we can, however, alleviate the pain felt by the child by at least managing his fever, like giving him Paracetamol Calpol, which provides soothing fever relief. When a child has fever, he feels weaker and lacks the energy to enjoy life."
Eliminating dengue must be a community effort. One such initiative is the partnership of the DOH, PPS and GSK targeting selected barangays within Metro Manila with identified high cases of dengue incidence. The DOH will initially be facilitating the training of health practitioners to discuss new dengue incidence and disease trends as well as updates on its prevention and treatment guidelines. The PPS health committee will then cascade these dengue modules based on DOH guidelines with the selected barangays. GSK will be bringing doctors to these areas to lead the Dengue information campaign to help Filipinos protect their families from dengue.
Yulo added, "You can protect your loved ones by knowing more about this debilitating disease, its prevention and management. At the onset of dengue-related symptoms, immediately seek the advice of your family physician."
(Visit www.calpol.com.ph or facebook.com/CalpolPH.) The sweet taste of Patis
Patis Pamintuan-Tesoro is known for creating traditional Filipiniana designs for the modern-day woman. Having redefined classic and conventional dressing to suit the tastes of her discerning customers, Patis manipulates indigenous materials such as Mindanao hand-woven balud, piña and abaca to form elegant and wearable clothes. Her creations have been exhibited in France, Thailand, the US, Spain, China, Australia, United Kingdom, Belgium, Italy, Canada and Japan.
To celebrate Patis' new home at Rustan's and to unveil her Holiday 2014/2015 collection, the department store organized an evening of fashion and Filipino heritage at The Gallerie in Rustan's Makati.
Guests were served Filipino delicacies while enjoying the fashion show featuring Patis' designs for the coming holiday season.
"Tesoro Ladies" need not look further for well-made Filipiniana designs as they can visit the department store's Makati and Shangri-La branches for the perfect ensemble to wear.
The brand's move to Rustan's also signals a new chapter for the Patis Pamintuan-Tesoro label: a stronger ready-to-wear collection that will no doubt be appreciated by shoppers in need of off-the-rack purchases made with haute couture craftsmanship.
(Patis Pamintuan-Tesoro for Rustan's is exclusively available at Rustan's Shangri-La and Rustan's Makati.) A grand treat!
For 20 years, Taters has been the favorite entertainment food concessionaire in the country. And to celebrate its two-decade milestone, the company recently hosted a larger-than-life event dubbed "Le Grand 20," an anniversary festival of grand proportions at the TriNoma activity center in Quezon City.
The celebration, which also served as a tribute to the entrepreneurial drive of Filipinos, included store promos throughout the anniversary season at the TriNoma activity center and mall tours nationwide.
Taters patrons were given one ticket for every P20-purchase that allowed them to exchange it for prizes such as gift certificates, merchandise items and free snacks via the Le Grand Treats promo. Patrons who purchased at least P100-worth of snacks were given exclusive passes to the Le Grand event.
The main event featured a fair filled with fun games, snacks and drinks, photo booths and a world-class carnival show mixed with modern opera.
The nationwide mall tour that started in September will end in November. The Le Grand booth features an augmented reality snack game that patrons can enjoy. Free snacks will also be served.
Founded by Annie Tanchanco in 1994, the first Taters stall was located in a cramped mall space measuring only 8.5 sq. m. Tanchanco said, "The store initially carried three products — popcorn, peanuts and fries. At that time, there were no other branded food outlets in the cinemas, only the generic popcorn concessionaires. Taters became the first branded entertainment snack store."
The company has since included other snack items that has defined its innovative approach to the snack industry. A wide selection of toppings and dips, premium New York beef hotdogs, and healthy choices such as tofu chips and tuna mushroom sandwiches have raised the bar for entertainment snacking in the Philippines.