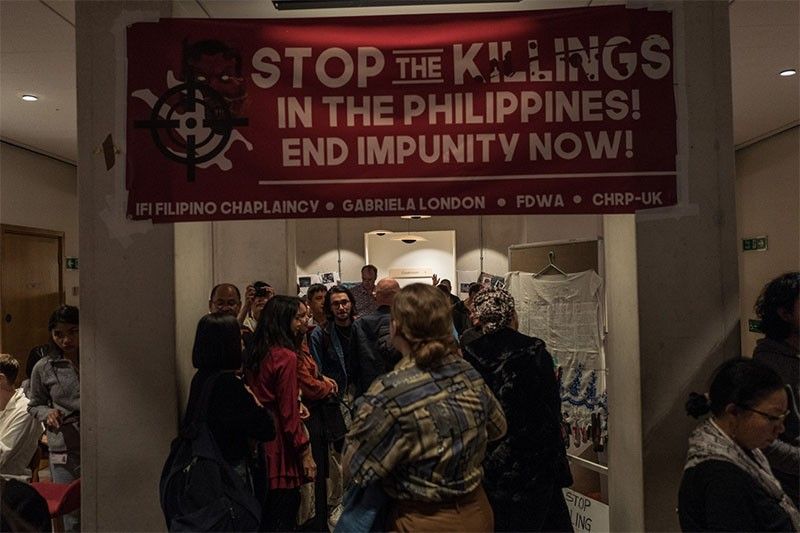 The Tao Po: Rising Up for Justice and Humanity Europe is culminating its month-long truth-telling tour in the historical city of Berlin.
Rise Up Philippines/Released
'Tao Po' monologue on EJKs to be staged in Berlin
(Agence France-Presse) - October 22, 2019 - 9:09pm
MANILA, Philippines— The controversial monologue on extrajudicial killings in the Philippines will be staged in Berlin, Germany for a month starting this week.
"Tao Po: Rising Up for Justice and Humanity Europe" seeks to portray and bring to global attention the realities behind the EJKs being linked to President Rodrigo Duterte's bloody "war on drugs."
It features artist and political activist Mae Paner, also known as Juana Change.
Berlin is the last of the show's six-city Europe Tour.
The staging of the play is through the partnership of faith-based network Rise Up for Life and Rights as well as other human rights advocates, Juana Change Movement, International Coalition for Human Rights in the Philippines, the Philippine Commission on Human Rights and its country partners Gabriela Germany, Anti-Colonial Berlin and Migrante Europe.
The monologue was first performed at the Cultural Center of the Philippines' celebration of Human Rights Month in September 2017.
It had its international debut in Australia during the Melbourne Fringe Theatre Festival and in Canberra in September last year.
After this, "Tao Po" also had a successful staging at Brunei Gallery Lecture Hall, School of Oriental and African Studies, University of London, United Kingdom last October 16.
According to Rise Up Philippines, almost 200 Filipinos and British watched the London leg of "Tao Po" play and attended the Nanlaba(n) Photoexhibit.
They raised questions on why the government-backed drug war is still enjoying public support and how the Filipinos in UK can help.
"Ang mga pagpaslang ng rehimeng Duterte simula 2016 ay krisis din ng pakikipag-kapwa-tao. Dalawang konsepto: 'pakikipag-kapwa' at 'tao'…Sa krisis ng pakikipagkapwa-tao ng rehimen na ito, ang pinapaslang at pumapaslang ang dehado, maging ang mga tahimik na nakikinood lang at mga taga-palakpak sa mga patayan: hindi ako magiging ako, kung binura na ng mga pagpaslang ang kapwa," Rogelio Braga, a reactor for the play said in a release.
(The killings of Duterte administration since 2016 is also a crisis of human relations. The two concepts: "pakikipagkapwa" or sharing of identity and "tao" or human… In this crisis, those being killed and those who are commanded to kill are at the losing ends; even those who remain silently watching and those who support the killings. One can no longer be her/himself when the killings have erased and deprived her/him of her/his fellow human.)
"Ang 'war on drugs' ni Duterte ay pumaslang at pumapaslang ng mga tao at ng kanyang kapwa," he added.
(Duterte's 'war on drugs' is killing people and their sense of self)
The play will be staged at the traditional cultural Berlin space at Al Hamra Bar, Raumerstrasse 16. —Rosette Adel